Home
Cottage Rentals
White's Falls Retreat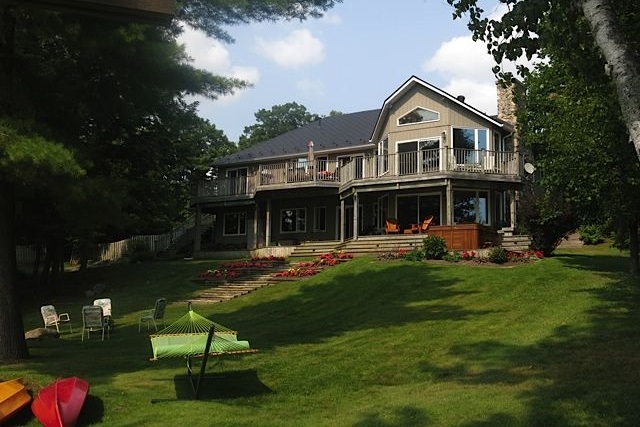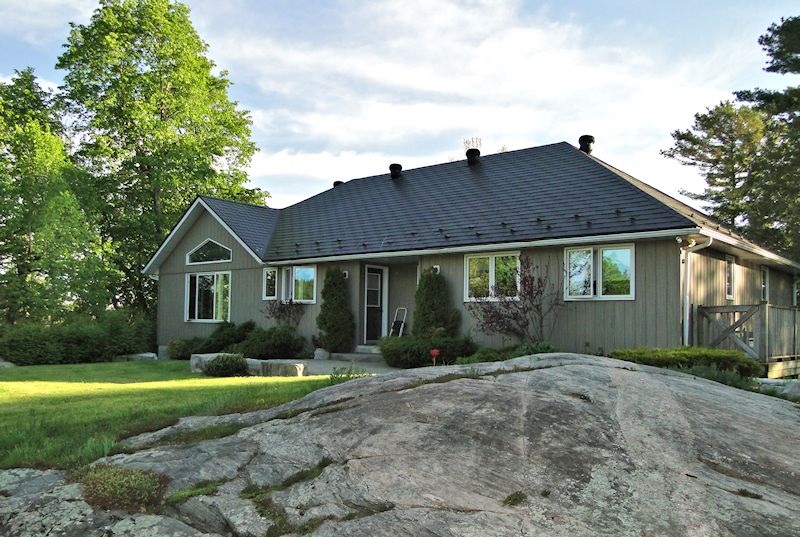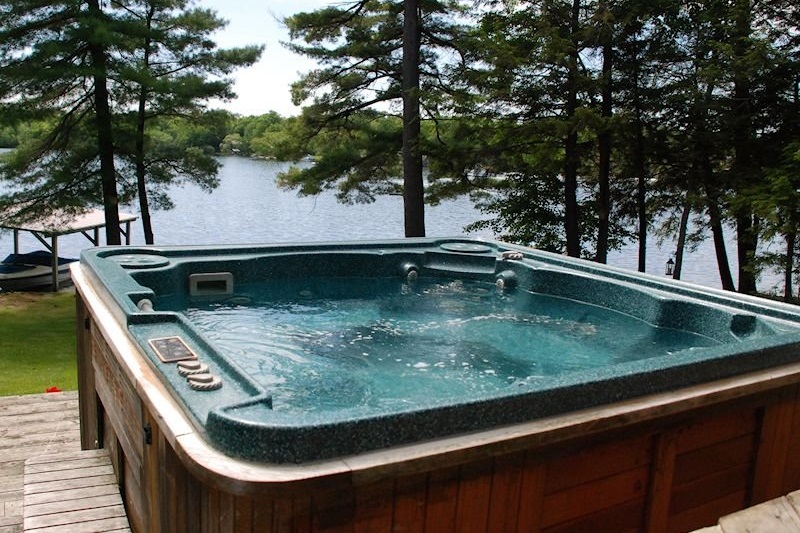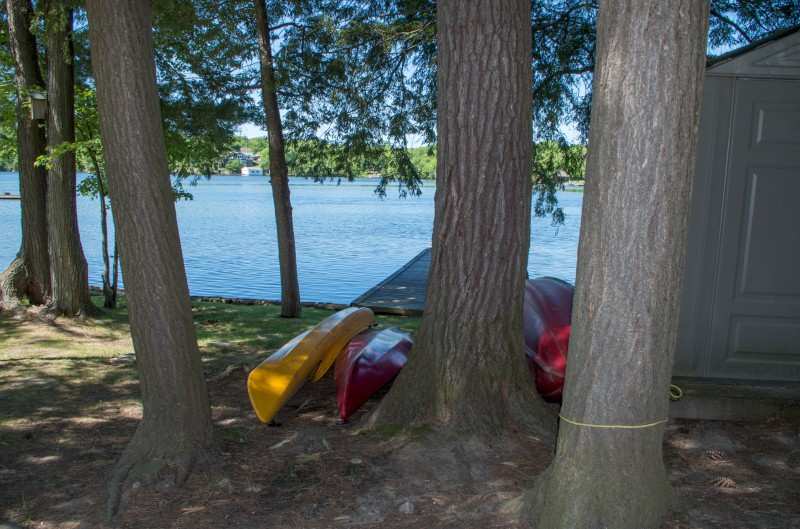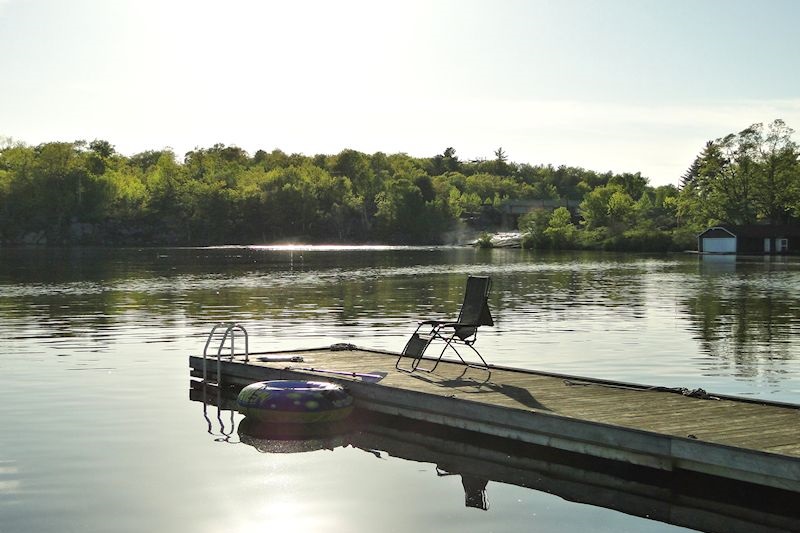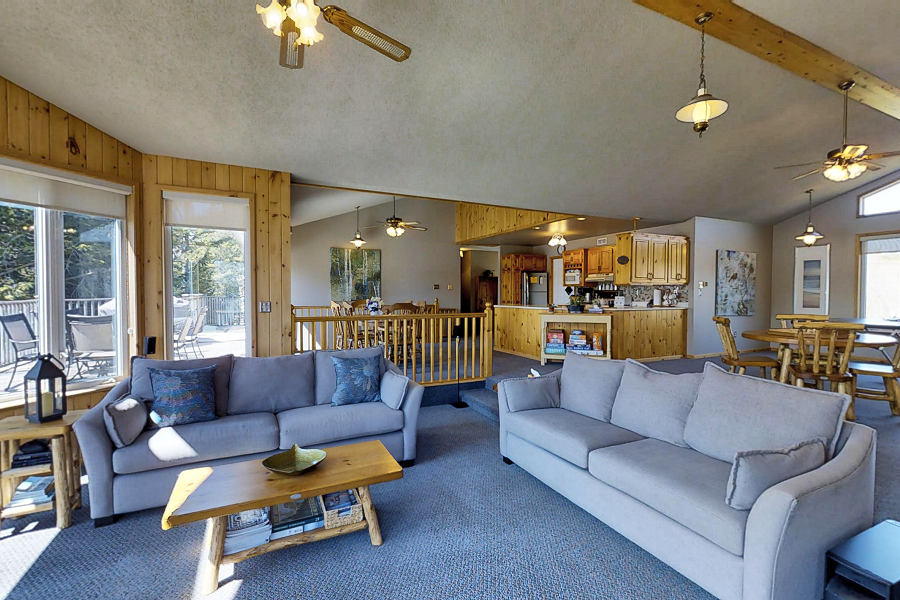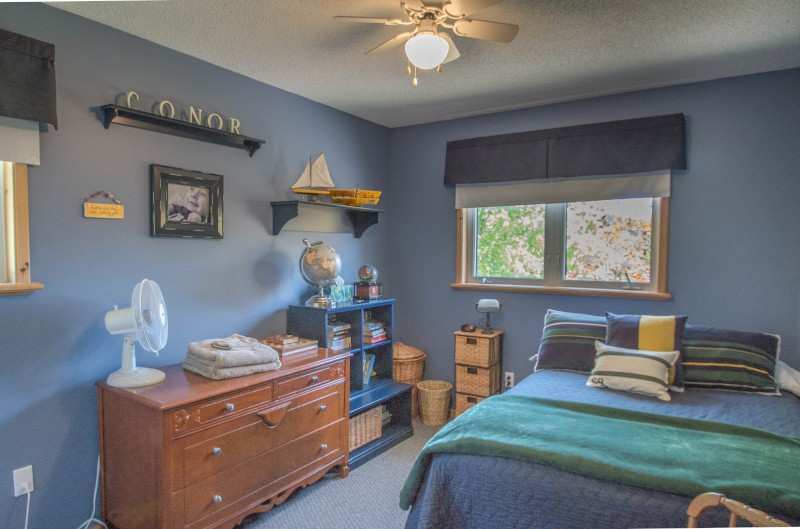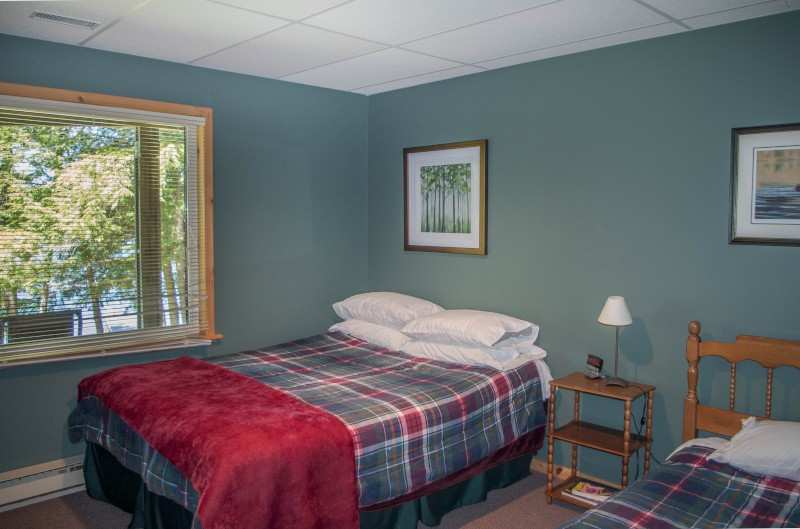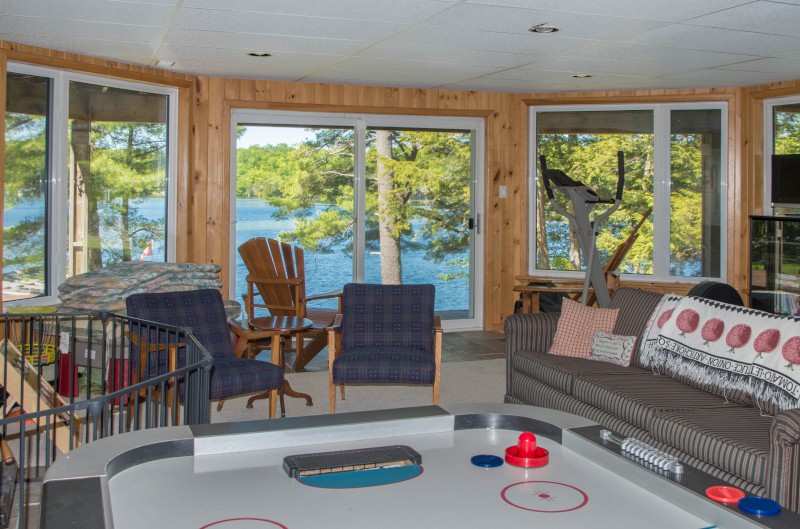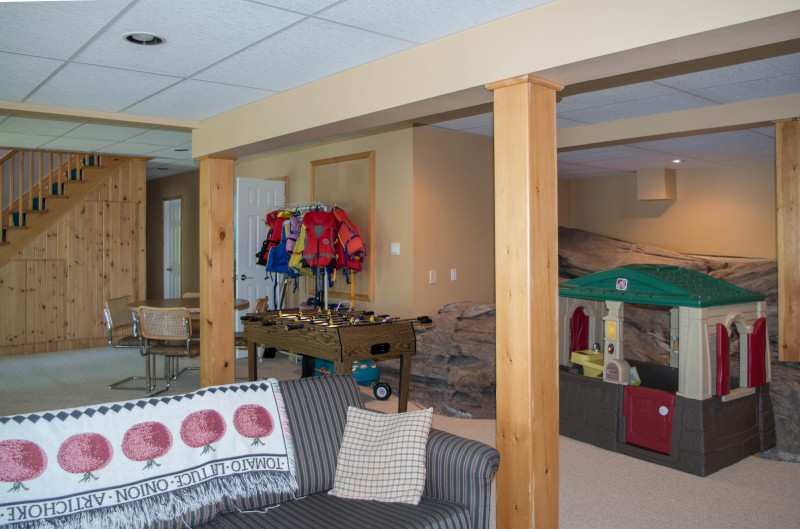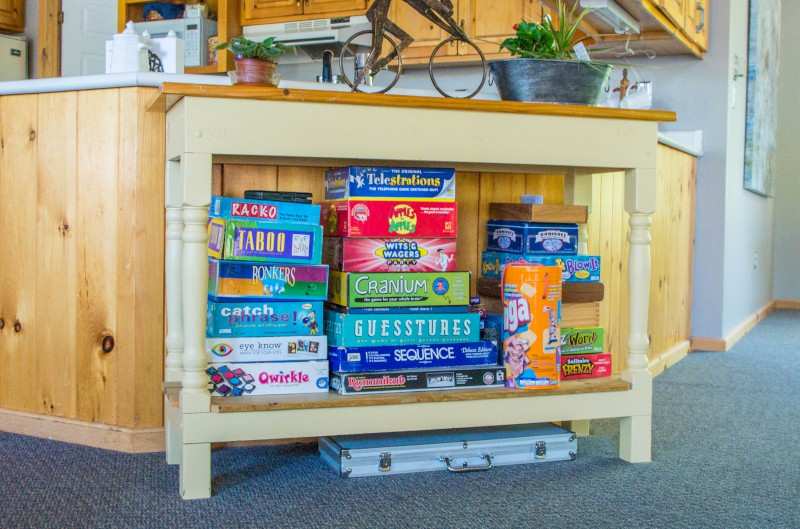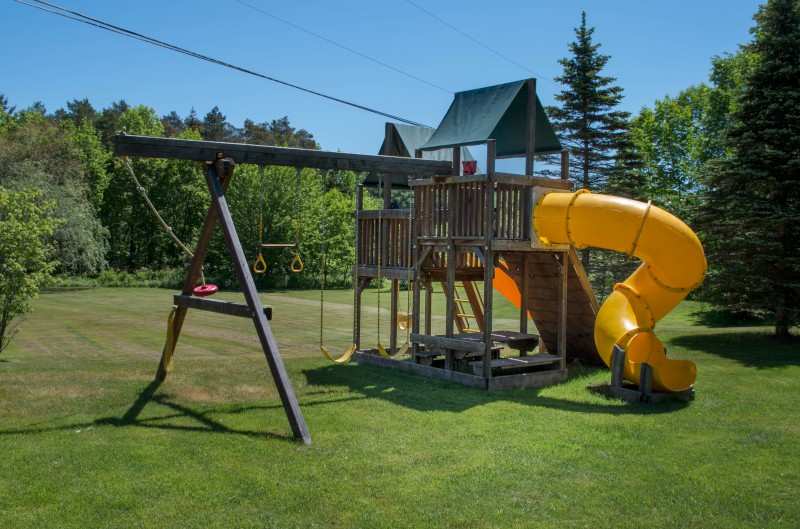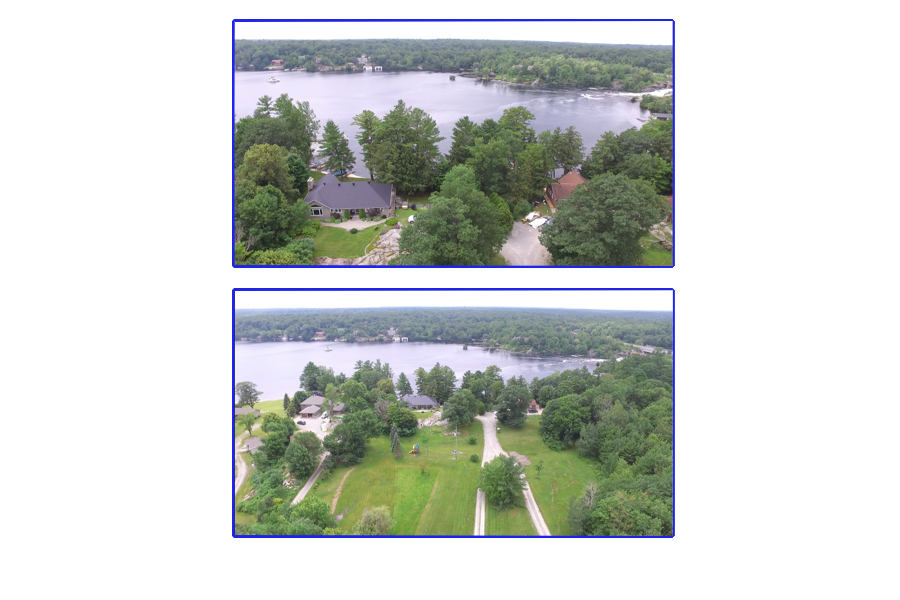 Bedrooms: 5
Bathrooms: 3.1
Area: Muskoka and Almaguin
Town: Port Severn
Sleeps: 11
Type: 4 Season
Water: Gloucester Pool
About This Cottage
Location, location, location - Just 1.5 hours from the GTA.. White's Falls Retreat is one of those special cottages that seems to have a little bit of everything - from western exposure waterfront on prestigious Gloucester Pool, to plenty of space to roam, to fabulous amenities to...but wait, we're getting ahead of ourselves here.
Easily accessible from Highway 400 with just a short drive on paved roads, this cottage is very easy to get to - no 4-wheel drive required here. As you turn into the long driveway, you might hear the kids give an excited shout when they notice the play center with slides, swings and all sorts of fun things on which to ramble. The immense - 2 acres of land - yard offers the equivalent of your own private park - perfect for an impromptu family game of soccer or football. Of course there is accommodation for the whole family team - this 4000 square foot cottage sleeps 11 people comfortably.
When you enter the cottage, you are greeted by the open concept living/dining/kitchen area, with a walkout to a full deck complete with BBQ and furniture and a great view of the waterfront. The kitchen allows the family chef to prepare meals for the hungry hordes while at the same time keeping your eye on them. Around the corner you might notice the continuous bounce-bounce from the ping pong table that sits next to the living room, or maybe the clack of checkers as family members vie for the esteemed title of crokinole champion of the week. The living room offers a wonderful mix of shade and sun, courtesy of the trees and waterfront. Of course, there is satellite TV here for catching the games or enjoying family movie nights. There are two dining tables that will sit your group in comfort for indoor meals, but we're guessing you'll opt for outdoor dining when the weather is fair. You will find 3 bedrooms on this level as well as the main bath. The master has an en suite, of course.
Downstairs you will find two more bedrooms as well as a huge play space - this offers gamesters in the crowd the option of Foosball, Air Hockey and a walkout to the waterfront area. Did we mention the hot tub? Well, we should - it's a great place to cap the day if you've been out kayaking all day and your muscles need some pampering...and it's an entirely new experience to sit out under a starry sky in the winter in your bathing suit.
You'll want to use the kayaks to explore Gloucester Pool...from here you can go anywhere - and we DO mean ANYWHERE. Since it is connected to the Trent Severn waterway, you can theoretically travel to any waterway in the world, but don't venture too far if you want to be home for supper. Just across the bay there is a cascading waterfall where the waters from Six Mile Lake feed Gloucester Pool. The lake has many islands and bays and makes for a rich exploration experience. The Marine Railway at Big Chute and the locks at Port Severn allow you unfettered access to the waters of the Severn River or Georgian Bay respectively, should you wish to bring or rent a larger craft.
Out and about, you have a variety of options. Road cyclists will enjoy the quiet, treed offerings of Big Chute Road. Golfers will find Bonaire reasonably priced and a decent but fair challenge. Winter visitors will love the proximity to Mount St. Louis/Moonstone. All year round there is historic Midland/Penetanguishene.
We think we've found a jewel in White's Falls Retreat. And at just about 90 minutes from the GTA, it's waiting for you anytime!
Unavailable

Selected

Available

Checkin only

Checkout only
Rate and Rental Information
Please note that bookings less than 7 days in advance are subject to confirmation of availability with owner
This property rents Friday to Friday in High Season
Week of Aug 28-Sept 4 will have a $225 mandatory cleaning fee on top of the $4950 rental rate
---

Rate Table
Please note that a $84.75 (including tax) booking fee applies to all bookings
Please note that a $7.91 per day (including tax) Accidental Damage Waiver applies to all bookings
High Season: June 26 - September 7, December 18 - January 3
Weekly (Friday to Friday)
$4,950.00
Mid Season: May 1 - June 25, September 8 - October 31
Weekly
$2,750.00
Weekends/Short Stays (Minimum 2 Nights)
$1,650.00
Extra Nights (after 2) - $220.00
Note - after 7th night, pro-rated weekly price applies
Low Season: November 1 - December 17, January 6 - April 30
Weekly
$2,750.00
Weekends/Short Stays (Minimum 2 Nights)
$1,400.00
Extra Nights (after 2) - $270.00
Note - after 7th night, pro-rated weekly price applies
Holiday Weekends (3 Nights)
New Years, Christmas
$2,200.00
Extra Nights (after 3) - $675.00
Note - after 7th night, pro-rated weekly price applies
Thanksgiving, Labour Day, Victoria Day
$2,200.00
Extra Nights (after 3) - $220.00
Note - after 7th night, pro-rated weekly price applies
Easter, Family Day
$2,200.00
Extra Nights (after 3) - $270.00
Note - after 7th night, pro-rated weekly price applies
Inside the Cottage
Sleeps 11, 4000 square feet of living space
5 bedrooms (1 with Queen, 2 with doubles, 1 with Queen and a twin, 1 with 2 twins)
4 bathrooms - (4 piece master en suite with jetted tub, 3 piece with shower, 2 piece powder room on main floor, 3-piece bath on lower level)
Fully-equipped kitchen
Air Conditioning
Backup generator in event of power outages
Satellite Internet (Download limits apply)
Satellite TV
Wii with games
Open concept Kitchen/living/dining area with ping pong and games tables next to living room
Washer and dryer
Lower level with games area - Ping Pong, Air Hockey, Foosball, board games
Outside the Cottage
2 Acres of property with western exposure for all day sun
Large 50 x 10 foot waterfront dock
Large deck overlooking waterfront with patio furniture and BBQ
2 Kayaks, Canoe
Stand-up paddleboard
Swim platform
Extensive yard with multi-faceted children's play set
Outdoor games including bocce and croquet
Hot Tub
Marina with boat launch just down the road
Things you need to know:
Linens and towels are provided - please bring your own beach towels
A post rental cleaning service is included with the rental, but we ask that you leave the cottage in a tidy condition
The cottage faces West-Southwest
We're sorry, pets are not permitted at this property
We regret that weddings are not permitted at this property.
Waterfront
There is a gentle slope from the cottage to the waterfront. The entry is sand/soft-bottomed and somewhat weedy at the shore. Swimming shoes are essential in this area as there may be zebra mussels. Depth at the end of the dock is about 5 feet, where swimming is much better. The water is clean here and is usually warm. Just across the bay is a small waterfall, where swimming and fishing are also good.
Trivia
Gloucester Pool, while part of the Trent-Severn Waterway System, is a large lake in its own right, with depths reaching in excess of 100 feet in some places. In addition to the possibilities offered by traversing locks, channels allow access to 3 other lakes for boaters without having to pass through locks.
Reviews
February 2019
This luxury home on the water is beautifully maintained. The owners make it so easy for renters having every possible item available: towels, bathroom amenities, kitchen supplies, linens. There is a lot of space, games, books and things to do. We visited in the winter and enjoyed the hot tub. We made good use of the indoor activities (table tennis, board games, air hockey). We went tobogganing and played in the snow. It's about 25 min drive to St Louis Moonstone. The beds were very comfortable with high end linens, blankets and pillows. The kitchen had everything you could possible need and more (spices, condiments, appliances...). It was easy to use the TV, DVD player, sound system. We couldn't connect to the wifi but I didn't mind for the break from the busy world of technology. I would highly recommend this place for a big family. It caters to all ages. We will be back!
Dana
December 2018
Perfect cottage for families with kids! Very clean and bright. We enjoyed time spent there. Kids loved games that were provided by owners. Hot tub is amazing!
Khrystyna
October 2018
The maintenance crew would answer our phone calls whenever we had a question and the place looked amazing with had all the essentials.
Parvin
June 2018
The house is large, well appointed and very comfortable. The setting is beautiful with lots to do on the lake - fishing, canoeing and kayaking. The House has a veritable library of movies for all ages, cupboards packed with games, ping-pong and a hot-tub. Would thoroughly recommend to families and will hopefully be booking again in the future.
Neil
October 2017
This was a great pick for a fall weekend getaway for 5 couples. The place was easy to find and living area very spacious and open for all to sit together and catch up. Our host Michelle was quick to respond with our questions. We spent a lot of time outdoors enjoying the amazing scenic views of the quiet lake. Campfires at night were lovely. The well stocked kindling and wood provided made things easy to get started. Thanks for a wonderful time.
Colleen
June 2017
We had a great one week vacation with friends and family. The cottage is conveniently located and a very short drive to the city. It was a perfect place for our large group to stay...we had lots of room for entertaining and privacy in the many separate rooms. The cottage is well stocked with anything you need and nice quality furnishings and beddings. All the comforts of home! The lake system was beautiful to explore with our boat and paddle by canoe/kayak. The owners were great hosts and were very responsive to any request we had. We will be returning next year!
Sue
May 2017
This place has everything you'll need. The neighbours are wonderful! The view is sensational.
July 2016
Our large family enjoyed being here. We had great weather and awesome fishing. Wellequipped and we loved that you had lots of kid/baby toys.Kids loved the playroom downstairs.These days internet should be unlimited. Entertainment systemand TV would be great!Wish there was a bit of a beach but other than that, fabulous.Rob, Paula and Family
May 2016
Thank you very much for the use of your beautiful, awesome cottage! From 6 months –73 years old we all enjoyed it! We will definitely back!Loved all the activities especially all the kids stuff! Our family from Ireland really lovedit!Thanks again!The Routley's, Wilinson's, Knight's
May 2016
Thank you for sharing your beautiful cottage with us! Our children and closest friendshad a great time.Maybe a new annual tradition?We would love to stay again in the future.Thanks for a time we won't soon forget.The Simcoes and Rana
February 2016
Wonderful weekend for a bachelorette party, we had a fantastic time.P.S. Your children are beautifulThanks for sharing your cottage with us.Cass Christina + The Girls!
December 2015
Thank you very much for sharing your beautiful cottage with us.We've had amazing time.We look forward to coming back.
November 2015
Thank you for having us!!We enjoyed the beautiful views, the abundance of games and activities and found thecottage extremely clean and spacious.We look forward to returning in the summer.Cheers!
October 2015
We have had a wonderful Thanksgiving celebration at White's Falls Retreat. Crisp,clear fall weather, changing colours and your warm, welcoming cottage made our Gilroygathering yet another memorable one of a kind, bonding experience. Good timesshared. Great accommodation and facilities for every ones needs. Thanks again forsharing your piece of heaven with us.
September 2015
The Braiden Den (12)Had amazing weather! Thanks so much for arranging that.Amazing time playing all the games (inside & out). Always enjoy our retreat at theWhite's Falls Retreat.Will be back again next year.The Braiden's
September 2015
We are a group of nurses from a NICU in Windsor, ON who go on an annual GirlsWeekend in the fall each year. We have been to some beautiful cottages through theyears but none have ever topped this one! It is so well stocked with every amenity wecould possibly need. We spent the entire weekend out on the dock/lake and hadprobably the best weekend to date. We will come back year after year if you will haveus! 🙂Thank you so much for sharing your cottage with us!
September 2015
Thanks so much for everything.Very enjoyable stay.
September 2015
Thank you so much for allowing us to have our girls weekend at your beautiful cottage!We had an amazing time fishing off the dock, kayaking to the falls, and going in the hottub (since the water was a bit too cold for us) Our weekend was everything we hoped for and more! We hope to come back again.Thanks again ?The Girls
August 2015
From ages 1 to 90, we all had a fabulous time at the White's Falls Retreat! Our family'ssecond holiday here, we enjoyed the many fun things to do all over again!Swimming, fishing, kayaking, board games and hot tub. Our week here was great!
July 2015
We had an amazing time at this cottage! The owners left a nice surprise gift which wasso welcoming! Thank you so much & we are surely going to be back!The Yang Famil & Chahal
July 2015
Thank you so much, John and Michelle, for such a lovely week at White's Falls Retreat.We enjoyed the beautifully landscape property, the ample supply of board games,firewood and linens, the delicious s'mores care package, the kayaks, the playgroundand the friendly neighbors. We will definitely make it back!Thanks,The Spatafora and Maio Family
July 2015
Thank you so much for your generous hospitality. The cottage is wonderful. We had agreat time and look forward to booking again for next year!Susan Conforti & Family
June 2015
Although the weekend was rainy and overcast, we had a great time at White's FallsRetreat!So much to do indoors and out. We all enjoyed the selection of board games.We had a great weekend with lots of laugh.Thank you,The Frias Family
May 2015
We love this great place. The commitment and love was felt in the preparation. We had anabsolutely wonderful time.See you next year.From all of us."One Love"
October 2014
Thank you so much for sharing your beautiful cottage with our family. Kayaking, hottubbing, hiking and many board games made for an awesome family weekend!Happy Thanksgiving from our family to yours!
September 2014
White's Falls Retreat was the perfect family vacation with everything you need andmore!!Thank you for a beautiful end to the summer.The Harvey Family
September 2014
Beautiful, spacious house, to die for and we were lucky to have gorgeous weathertoo!Thank you for our wonderful time here – we'll be back.
August 2014
Our family had a wonderful time here. Thank you for sharing your beautifulcottage.
August 2014
Thank you for everything!!We loved the cottage – everything from the hot tub to the numerous board games.Loved the beautiful views in the morning overlooking the water!The Braidens
View Favorites
Amenities
BBQ Grill
Satellite TV
Dishwasher
Hot Tub
Dock
Kayak
Canoe
Generator
WiFi Overage $5/GB
WiFi Weekly Max 30GB
WiFi Wknd Max 10GB
Waterfront
3D Walkthrough
Summer: Fri-Fri only
Stand-up Paddleboard
Floating Swim Raft
Childrens Playground
WiFi
Air Conditioning
Winter Rentals
Spa/Hot Tub, Private
Things to do
---
Distances
Distances shown are "as the crow flies".
Driving distances will be longer.
NOTE
that directions are approximate. Exact directions are provided upon booking