Home
Cottage Rentals
Squirrel's Leap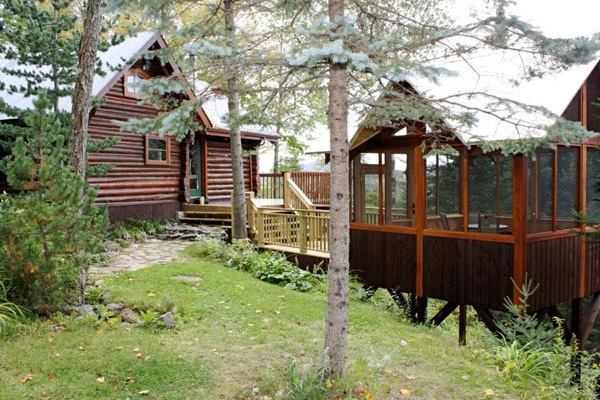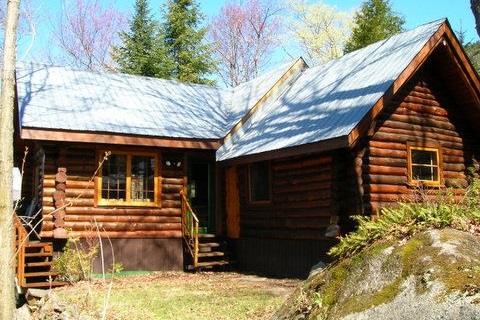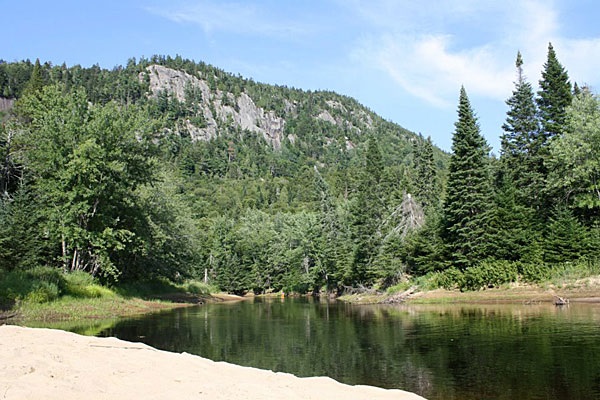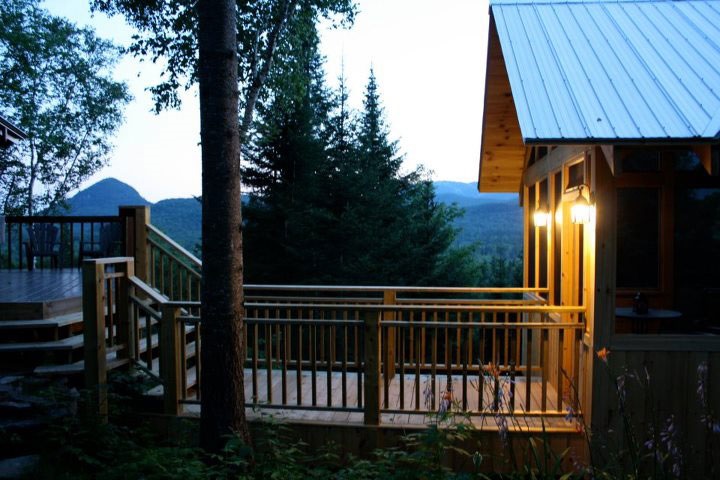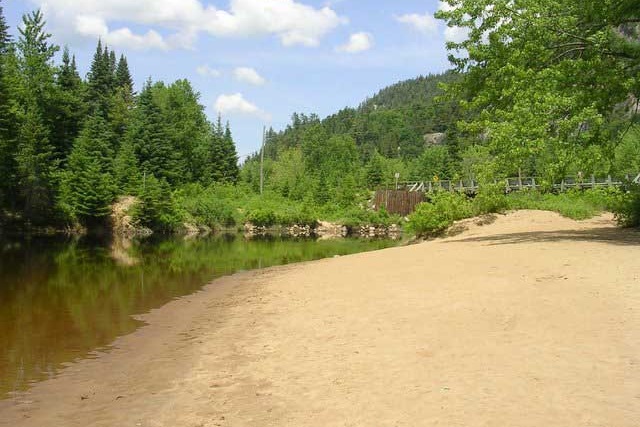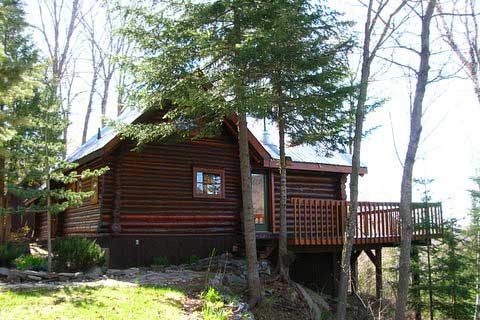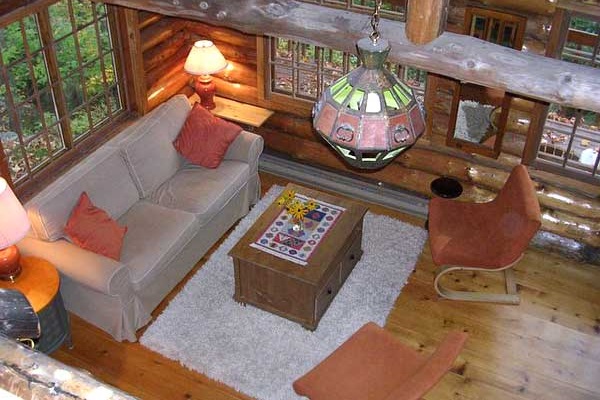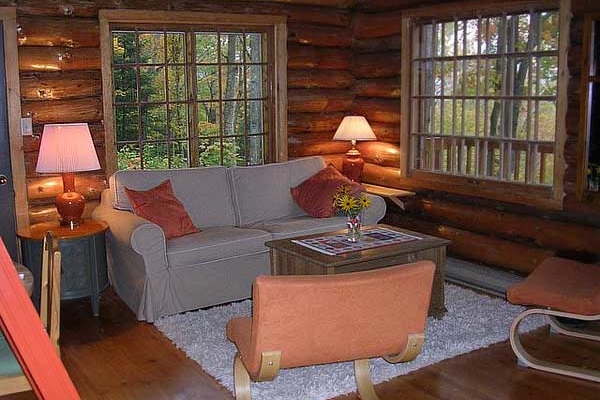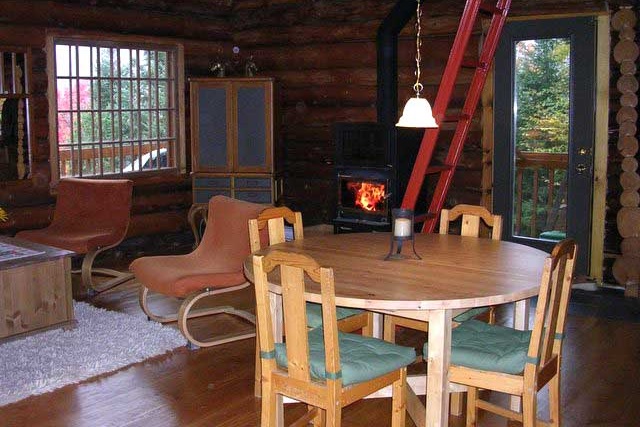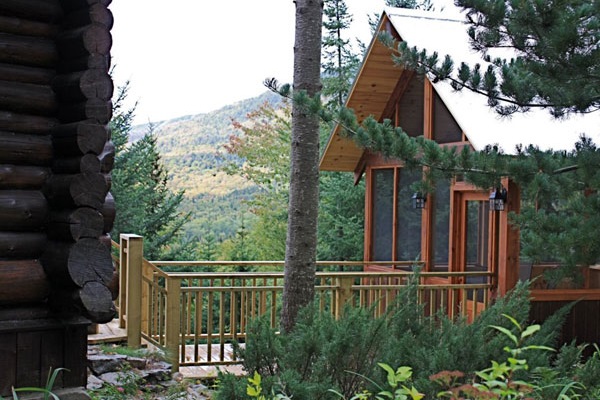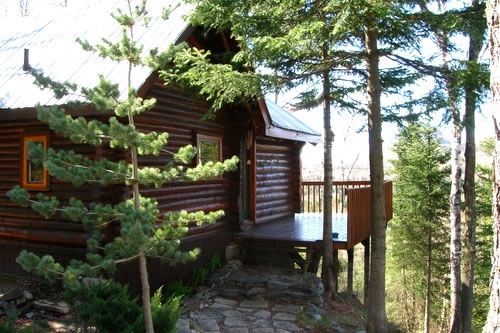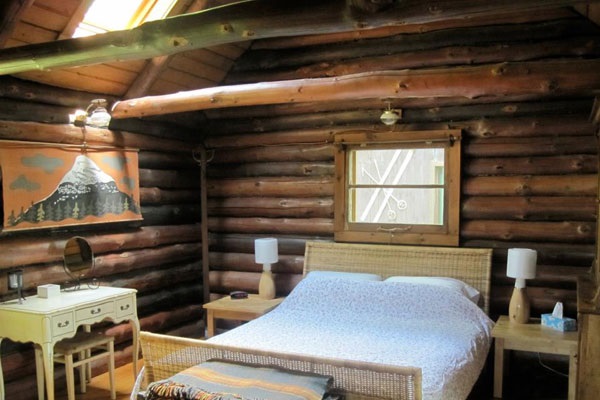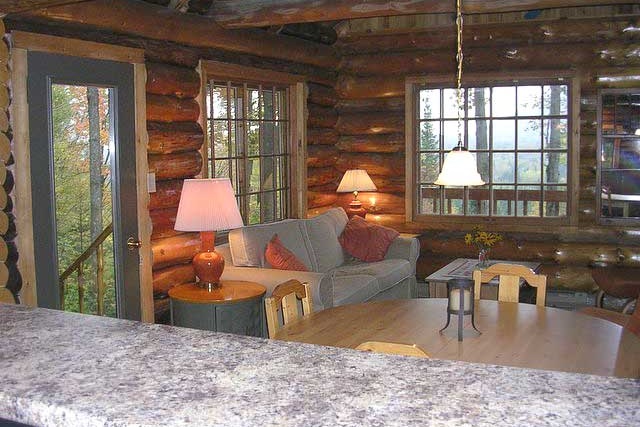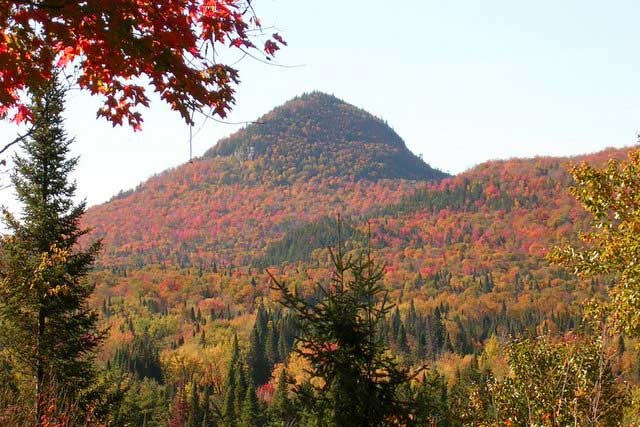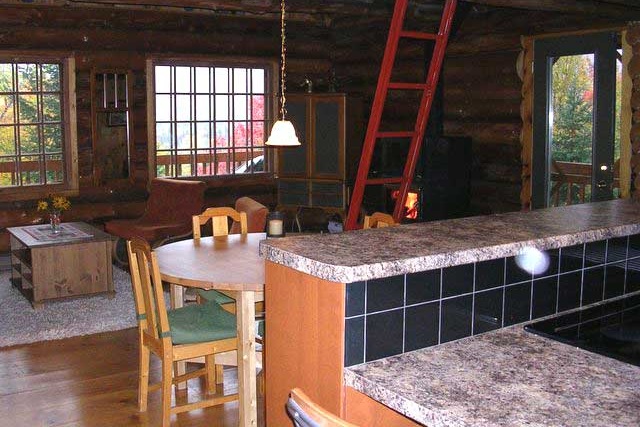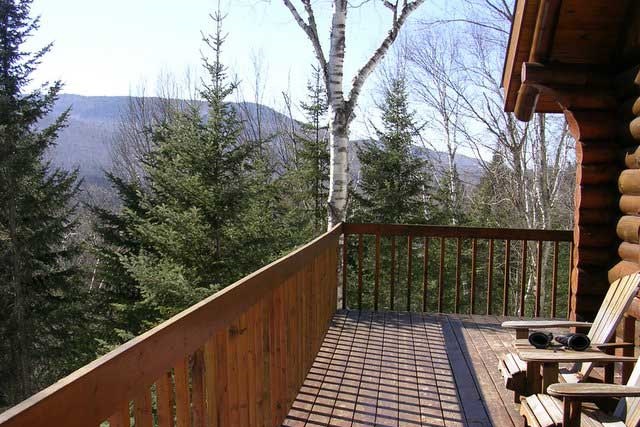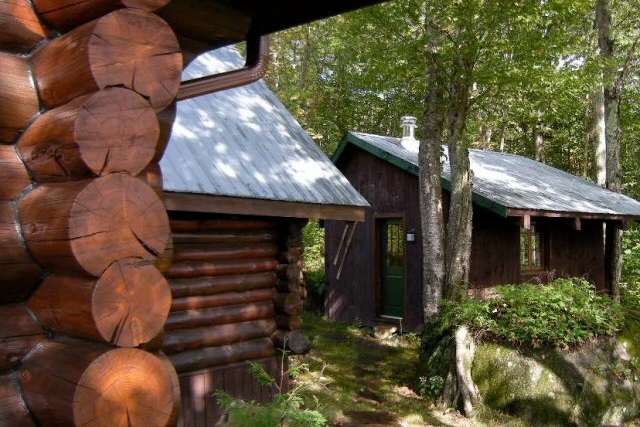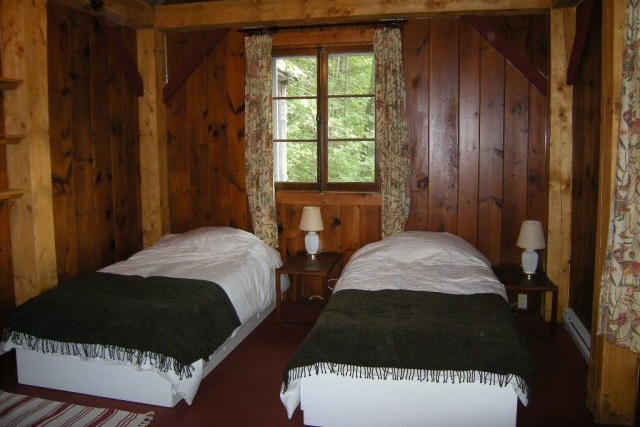 Bedrooms: 2
Bathrooms: 1
Area: Québec
Town: Lac Superieur
Sleeps: 4
Type: 4 Season
Water: Tremblant Park (non-waterfont)
About This Cottage
Squirrel's Leap/L'Écureuil Volant. Breathtaking vistas on the outside and the rich wood and warmth of a traditional log cabin inside greet you at this idyllic location. For a romantic and relaxing break to an activity filled vacation, this cottage has it all.
The log cabin is just that – all log. It is hard to describe the ambiance - suffice to say this is a traditional Quebec cabin with all the comforts of home, from the wonderfully equipped kitchen to the warmth of the woodstove and delightful master bedroom. The loft has mattress sleeping for older children and there is a guest cabin with additional beds. There are books, games and videos for those evenings in, and deck furniture for all that time you will spend outside drinking in the view.
With the 400 lakes of Parc du Tremblant within a few minutes drive, you just know you have arrived at paradise. Canoeing, swimming, cycling, climbing…….the list of activities is endless – and that is just when the snow is not here. In winter, with the busy slopes of Tremblant within 7 minutes; the family ski resort of Mont Blanc the same drive in another direction, and snowshoeing and cross country within the park you will be totally spoiled for choice on an active break. And if you simply want to sit and read and take in the view, the deck is just the place. The photo above on the right shows the beach on the Diable River, just 2 minutes from the cottage; on the left is the river a few minutes into the park, and the centre photo is of Lac Chat, 10 minutes from the cabin.
For a romantic getaway for two or a private family retreat, this beautiful cabin is a magical place. We know our guests will just love this little piece of paradise in the mountains.
Unavailable

Selected

Available

Checkin only

Checkout only
Rate and Rental Information
Please note that bookings less than 7 days in advance are subject to confirmation of availability with owner
This property rents weekly only and Friday to Friday in High Season (Summer & Winter)
All check in times are 4:00pm and all check out times are 11:00am
A 3.5% Quebec Lodging Tax is charged on all Quebec Cottages
---

Rate Table
Please note that a $84.75 (including tax) booking fee applies to all bookings
Please note that a $7.91 per day (including tax) Accidental Damage Waiver applies to all bookings
High Season: May 19 - October 31, December 1 - April 15
Weekly (Friday to Friday)
$1,000.00
Low Season: April 16 - May 14, November 1 - November 30
Weekly
$850.00
Weekends/Short Stays (Minimum 2 Nights)
$470.00
Extra Nights (after 2) - $76.00
Note - after 7th night, pro-rated weekly price applies
Holiday Weekends (3 Nights)
Thanksgiving
$650.00
Extra Nights (after 3) - $100.00
Note - after 7th night, pro-rated weekly price applies
Victoria Day
$650.00
Extra Nights (after 3) - $76.00
Note - after 7th night, pro-rated weekly price applies
Inside the Cottage
Sleeps 4 with option of additional 2 in the Guest House during the summer months
Master bedroom with queen; loft (ladder access only) with double bed and sleeping couch. 2 singles in the Guest House
3 piece bathroom with shower
Fully equipped kitchen including stove, fridge, dishwasher and microwave. Also crockpot, blender, small food processor and coffeemaker
Living area with fabulous views and glass door wood burning stove
TV screen, VCR, DVD player to watch movies and listen to music (no cable tv)
WiFi available - 20 GB per week max.
Selection of games, books and DVD and VHS movies
Washer and Dryer
Outside the Cottage
Guest House sleeping 2, for Summer time use
Large deck with outstanding views to Mont Tremblant north side slopes
Wonderful screened in gazebo with eating table/chairs and muskoka chairs
Additional muskoka chairs on deck
Barbeque
3 acres of woodland
Walking distance or 1 minute by car to river swimming and Mont Tremblant Park entrance and hiking trails
Things you need to know:
Pets are welcome at this property
Bed, bath and kitchen linens are provided. Please bring your own beach towels and any favourite bedding if desired
You will need to leave the cottage in the same clean and tidy condition that you arrived to. All cleaning supplies and equipment is provided.
Squirrels Leap is not a waterfront property, but is minutes away from the Diable River and Lac Chat and many other lakes in Park Mont-Tremblant
The popular Tremblant park offers the wonderful via ferrata activity. Starting point is at the park entrance building (must book in advance as fills up quickly)
7 minutes away from north side ski hills in winter
Waterfront
Not a waterfront property. The public beach on the Diable River is just 2 minutes from the cottage. Lac Chat in Park Mont Tremblant is 10 minutes away.
Reviews
June 29-July 2, 2018 - Canada Day long weekend
One word - wonderful! Scott and Shawn arrived around 7:30 a couple hours ahead of Mark and Rick for 3 days of relaxation.First impressions of this fabulous cabin were like a home away from home. There was nothing that the owner's didn't think of to make this place the ultimate in comfort living. I don't think we could have stayed at a more beautiful, clean, comfortable place.It is refreshing to see owners take pride in their property and share that by allowing others to stay.Thanks a million this will certainly be one of the highlights of our summers.Shawn, Scott, Marc, RickP.S. No excursions other than a quick afternoon trip into Tremblant - it was too relaxing at Squirrel's Leap to leave!
July 2016
Had an awesome time! Scenery here is wonderful and the cottage was very cozy atnight. The Wi-Fi and the wine were a great bonus! This place is an excellent mix ofold-fashioned and modern living!Mira, Jacek, Alex, Caroline and Molly
September 2016
We were here for a short period of time (3 nights) but we absolutely loved it! This placeis a total gem…My parents were visiting from Mexico and it was a great opportunity to see, live andexperience nature and country living for them (and us too!).The scenery, weather and all amenities couldn't have been better (thanks a lot for thewine, it was the perfect complement).We didn't really do much except walking around, sitting outside while enjoying the view,eating at the gazebo (my little 2 year old daughter kept repeating "happy birthday" soshe can blow out the beautiful candles over and over 🙂 ), and above all, we got to relax!Thank you for sharing this beautiful place with us, we had a great time and hope tocome back in the near future…Alfonso, Katya, Maria-Jose and Katya's parents
October 2015
Had a wonderful time! Cabin is a perfect mix of rustic charm and modern amenities.Lots of privacy and an amazing view. We would definitely recommend to others.P.S. Thanks for the wine!The Dann Clan
August 2014
Marianna and Michael,You have a beautiful cabin with wonderful views of the park. We'd love to come backfor our second visiting during the fall or winter months. Thank you for equipping yourcabin so well. We enjoyed many great meals, and even a movie or two. As a family,we recommend golfing at Le Geant, taking a trip on the gondola, and relaxing at theScandinavian spa.Thank you for the thoughtful gesture of the wine!Great vacation for our dog as well!Lacroix FamilyOttawa, ON
August 2014
We really enjoyed this place. The cabin is beautiful and comfortable. It has a goodview and is close to the National Park. We enjoyed roasting marshmallows in the woodstone.Dominque and Stephane
August 2013
Dear Marianna and Michael,Thank you for your note of welcome and wine!We loved our time together at your cabin! Our days were filled with hiking, biking,exploring the village, zip lining. Evenings spent playing endless games of cards,reading or snuggling in to watch movies we brought from home. With the upcomingMont Tremblant Iron Man on Sunday August 18, it was thrilling to see the many athletesof all ages, roads filled with bikers/runners.Our family enjoyed the beautiful mountain views, fresh air and time spent simply beingtogether.Thank you for sharing your beautiful cabin with visitors! We appreciated the beauty andrespite and leave feeling refreshed and recharged!!Best,Holly, Joe, Sam and BenLinden, ON
July 2013
Bonjour/Hello!Thank you M & M!We had a wonderful stay here at your beautiful cabin! Thank you for the vino and dogtoys – much appreciated!A piece of heaven can be found at Squirrel's Leap!All the best,Vanessa and Scott Noble
View Favorites
Amenities
BBQ Grill
Dishwasher
Wood Stove
Not Waterfront
Summer: Fri-Fri only
Labour Day
MaxAdults
WiFi Limit 20 GB/Wk
Pets Allowed
WiFi
Winter Rentals
Things to do
---
Distances
Distances shown are "as the crow flies".
Driving distances will be longer.
NOTE
that directions are approximate. Exact directions are provided upon booking