Home
Cottage Rentals
Serenity By The Lake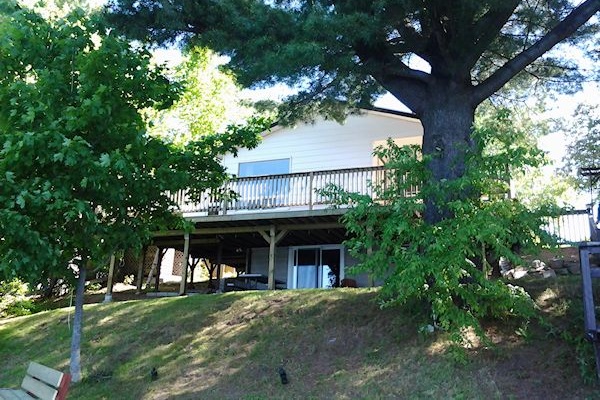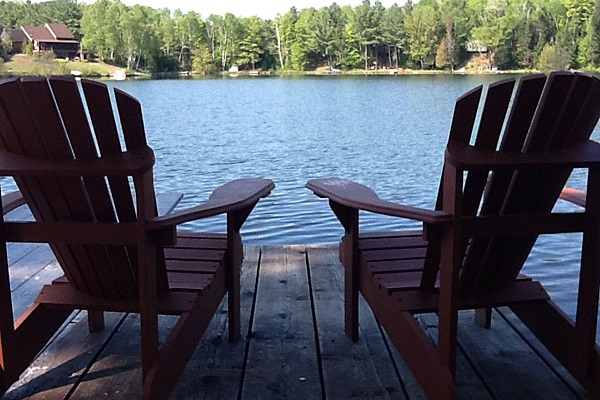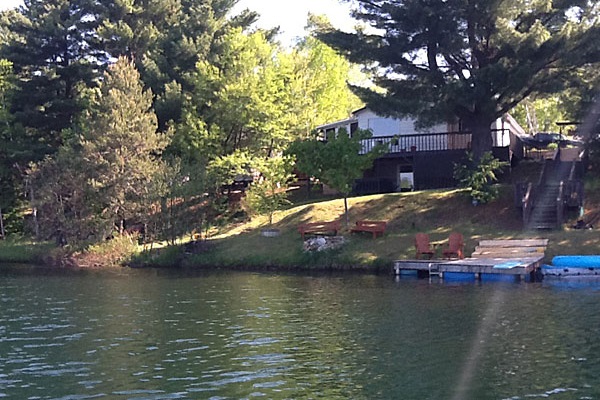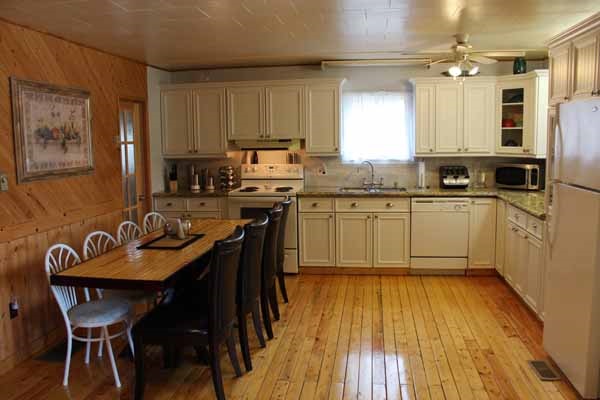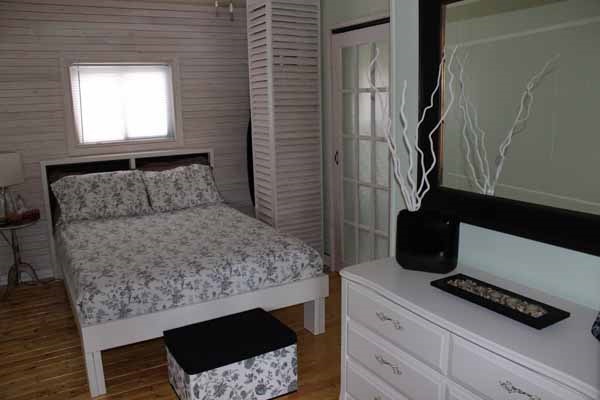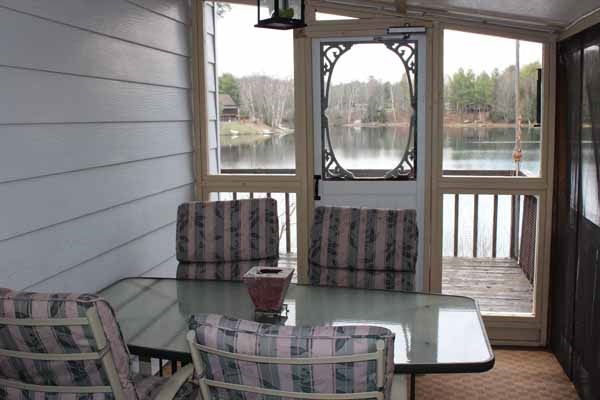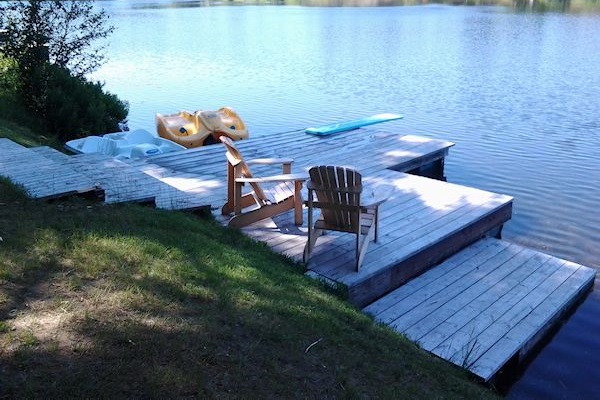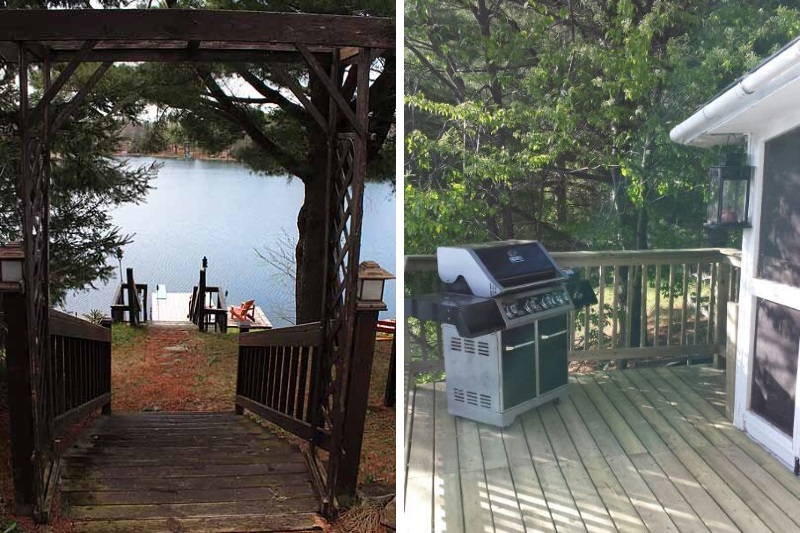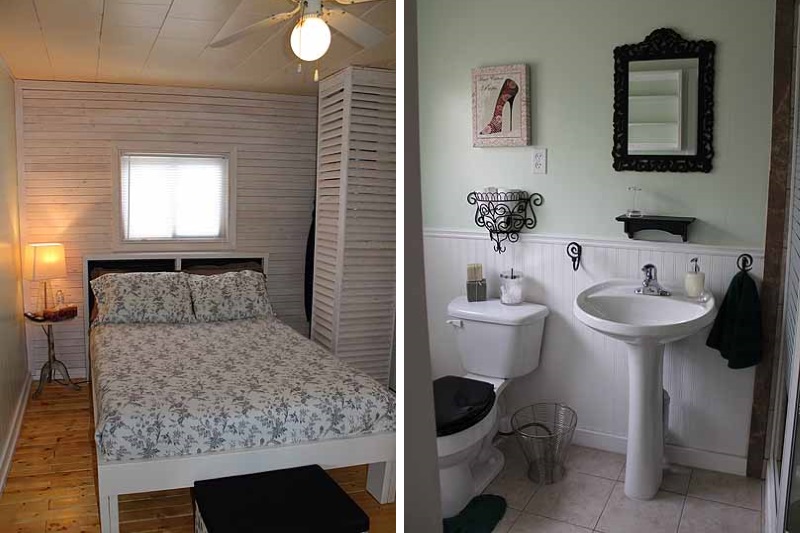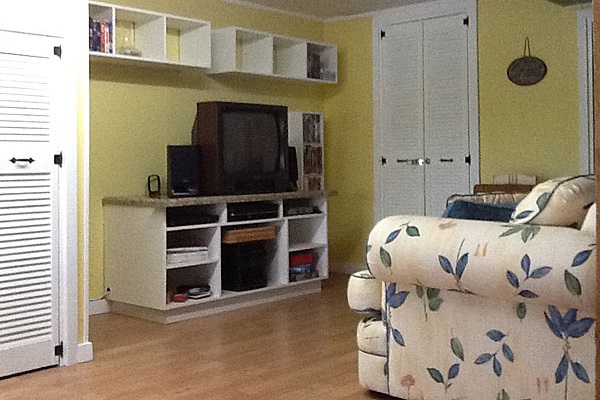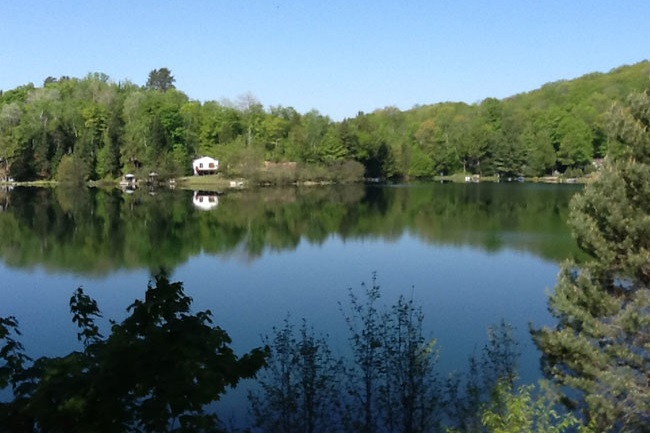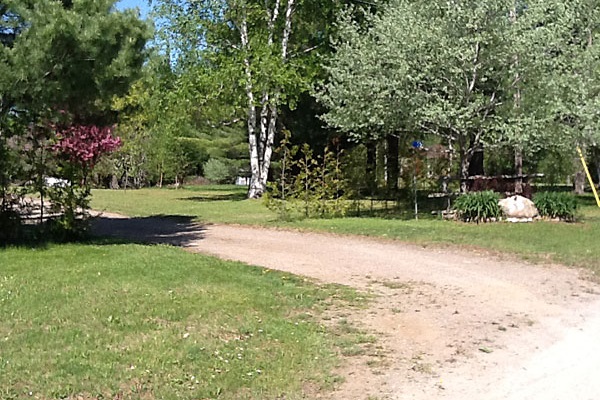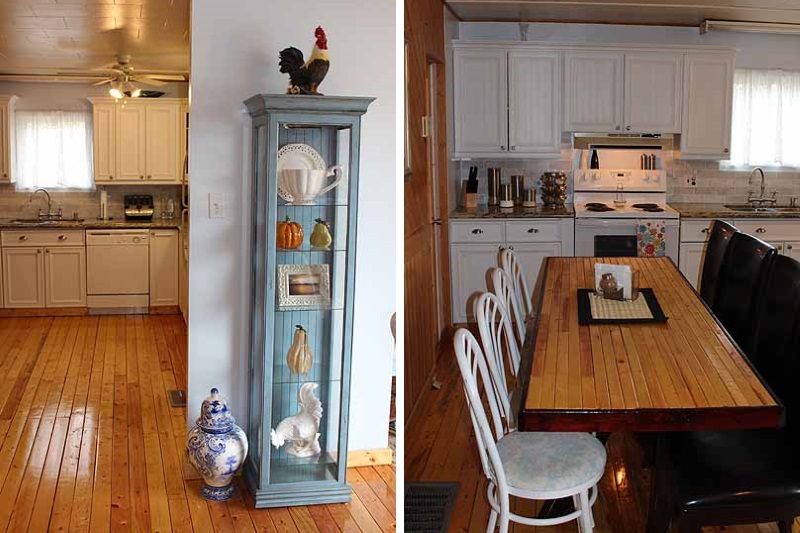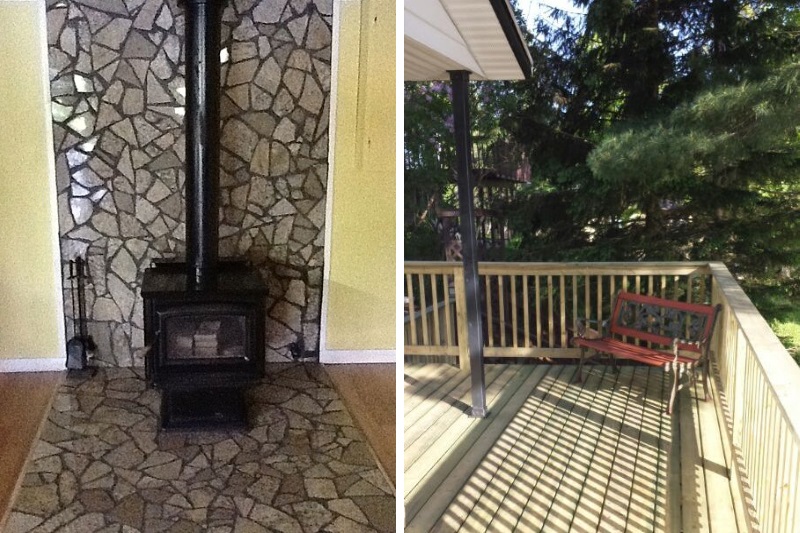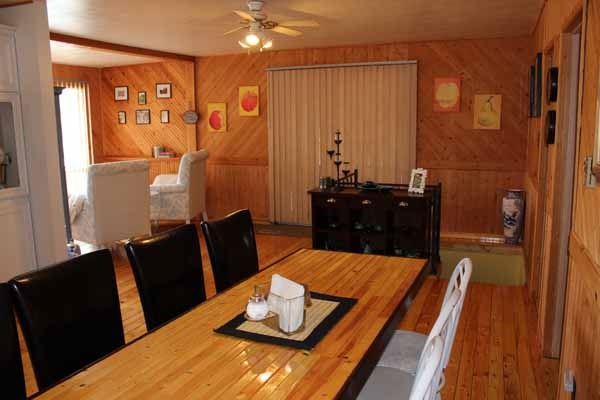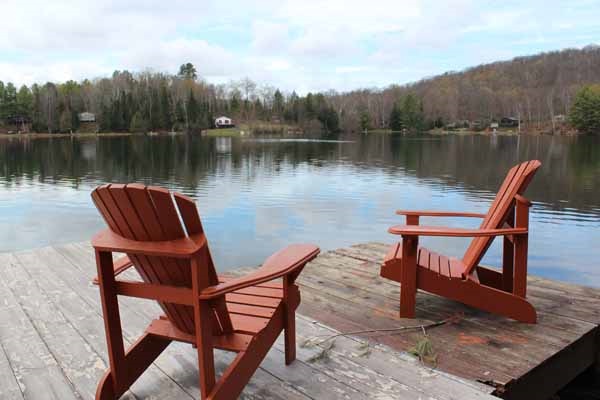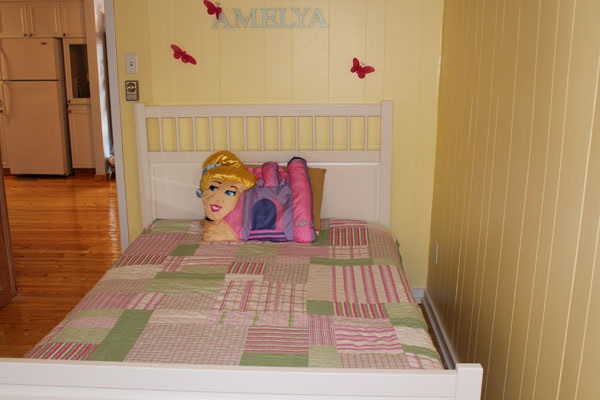 Bedrooms: 2
Bathrooms: 2
Area: Haliburton Highlands
Town: Bancroft
Sleeps: 7
Type: 3 Season
Water: Siddon Lake
About This Cottage
The owners of "Serenity by the Lake" have beautifully renovated their cottage so it retains a traditional cottage atmosphere with a beach house look & feel and it is located just off of Hwy 28, a few kilometers South of Bancroft. It is a tranquil and safe spot for swimming and fishing as the cottage owners have voluntarily agreed not to use motorboats as it is a clean and quiet lake. The cottage sits on the East shore so it enjoys sun for most of the day on the dock along with views to the West for sitting out and enjoying the sunsets.
The kitchen and dining area is open concept; light and airy with a large dining table and a fully updated and well-equipped kitchen. A smaller area to one side of the kitchen/dining room has seating overlooking the lake for making the most of the views across the water. A real bonus is the screened-in sunroom with table and chairs for outdoor dining and beautiful lighting for those evenings of relaxation, leading onto the deck.
There are two comfortable bedrooms on the main level; the master has an ensuite bathroom, and there is another bedroom off the kitchen with 2 full sized beds. Stairs lead to the lower level family room that has a walkout to the waterside, which includes a couch, woodstove, a TV, VCR/DVD player & stereo system offering a cozy getaway for those not wanting to spend time outside, or to warm up on cooler evenings.  As well there is a Gitoni table for some fun competition.
Outside, there are steps down to the waterfront, where the owners have just put in a new dock and upper wrap around deck for 2014 and although there is a lawned area, there is a fairly short but steep slope so not really suitable for ball games at that side of the property; but the front has a large horseshoe driveway and a big open area for games. The dock has steps into the water which is about 2ft at the shoreline, deepening to over 4-5 ft at the end of the dock and includes four Muskoka chairs for relaxing by the lake.
This location is ideal for anyone wanting to be in a quiet cottage country location but still close enough to town for shopping and eating out. Silent Lake Provincial Park is 15 minutes to the South, and the town of Bancroft, just 5 minutes to the North so there's plenty to do in the area.
Unavailable

Selected

Available

Checkin only

Checkout only
Rate and Rental Information
Please note that bookings less than 7 days in advance are subject to confirmation of availability with owner
This property books Saturday to Saturday in High Season
---

Rate Table
Please note that a $84.75 (including tax) booking fee applies to all bookings
Please note that a $7.91 per day (including tax) Accidental Damage Waiver applies to all bookings
High Season: June 26 - September 7
Weekly (Saturday to Saturday)
$1,550.00
Low Season: September 8 - October 31, May 1 - June 25
Weekly
$900.00
Weekends/Short Stays (Minimum 2 Nights)
$450.00
Extra Nights (after 2) - $90.00
Note - after 7th night, pro-rated weekly price applies
Holiday Weekends (3 Nights)
Thanksgiving, Victoria Day
$700.00
Extra Nights (after 3) - $90.00
Note - after 7th night, pro-rated weekly price applies
Inside the Cottage
Sleeps 7
2 Bedrooms (1 queen, 2 doubles) + futon in basement
Master bedroom ensuite - 3-pce bathroom with shower
Main bathroom - 3-pce bathroom with shower
Large eat-in kitchen/dining area with dishwasher
Water cooler
Seating area overlooking lake
Dining table seating 8
Washer & Dryer
Family room with walkout and wood stove, Satellite TV, VCR/DVD, stereo & Gitoni table
Outside the Cottage
Screened sunroom
Propane BBQ
4 Muskoka chairs and bench seating by the firepit
2 Paddleboats (1 two seater and 1 four seater)
Fishing on lake
Life jackets
Swingset
Things you need to know:
Dogs only are permitted at this cottage.
Bed and kitchen linens are provided. Please bring your own towels.
You will need to leave the cottage in the same clean and tidy condition that you arrived to. All cleaning supplies and equipment is provided.
Waterfront is a western exposure
Lake is designated 5* star for clarity
Good fishing directly off dock
No beach – water shallow at shoreline deepens quickly – diving off the dock
The lake is motor-free
Waterfront
There are steps down to the waterfront, and the dock has steps into the water which is about 2ft at the shoreline, deepening to over 4-5 ft at the end of the dock. Lake is designated 5* star for water clarity. There is no beach; water is shallow at shoreline and deepens quickly for diving at the dock.
Trivia
"The Cheddar Cheese Connection" In the late 1800s cheese production was popular around the county of Haliburton which had 5 factories. An 1892 court case dealt with an issue the Deer Lake Cheese Factory in the town of Cheddar had with three of its milk suppliers. The judge ruled that the whole scam was the result of rumour and gossip and he ordered the parties to all get along for the betterment of the area's cheese consuming residents. The hamlet of Cheddar (off CR121) is now a ghost town that has been reclaimed by the surrounding forest.
Winter Notes
Reviews
August 2019
The cottage was quaint and comfortable. The lake is fabulous. Its not too big and the water is calm. There is a small beach entry on either side of the dock. Loons land on the lake and lots of fish. My kids had a great time.
Robbin
September 2018
We had a pleasant stay. Pros: Beautiful view of lake, tidy cottage, screened porch, plenty of room for guests. Pet friendly. Cons: Located close enough to highway that you can hear some traffic (but it's not too bad), no coffee maker (but had espresso maker, which is pretty cool). Overall: Nice cottage. No regrets. Had a great weekend with friends.
Leigh
View Favorites
Amenities
BBQ Grill
Screened sunroom
Satellite TV
Fireplace, Wood/Gas
Dishwasher
Firepit
Dock
Pedal Boat
Wood Stove
Waterfront
Summer: Sat-Sat only
MaxAdults
Pets Allowed
Things to do
---
Distances
Distances shown are "as the crow flies".
Driving distances will be longer.
NOTE
that directions are approximate. Exact directions are provided upon booking