Home
Cottage Rentals
Red Roof Cottage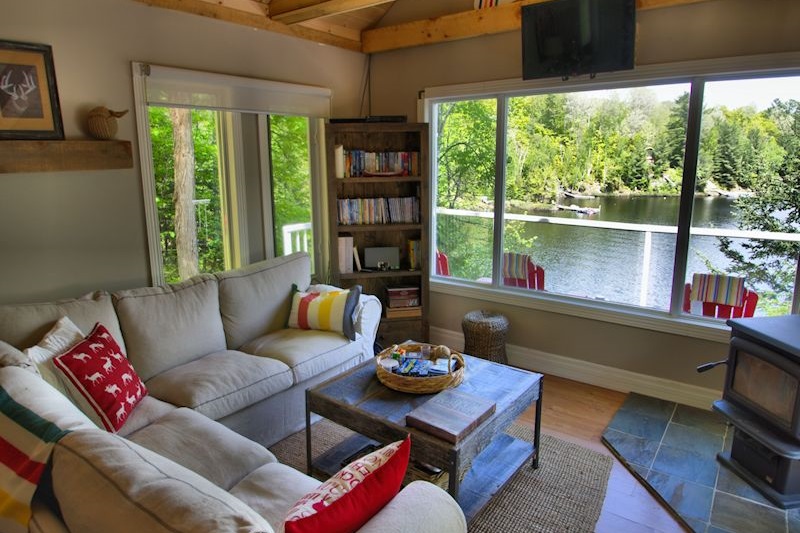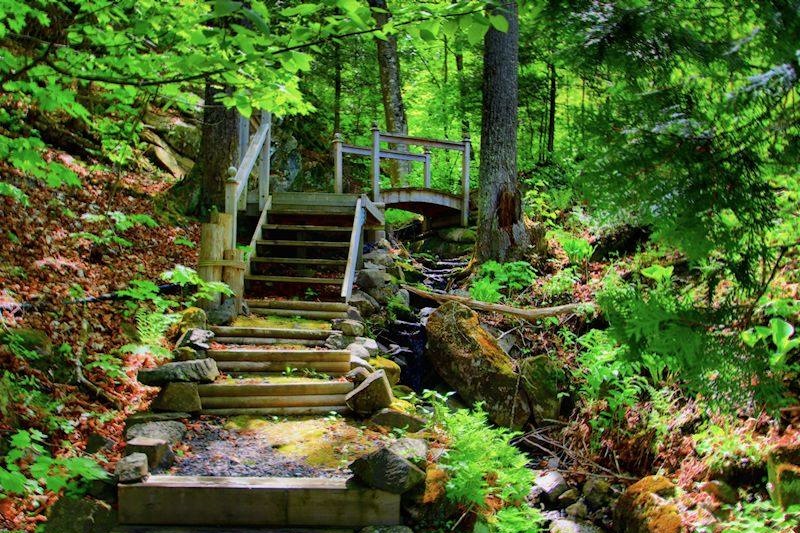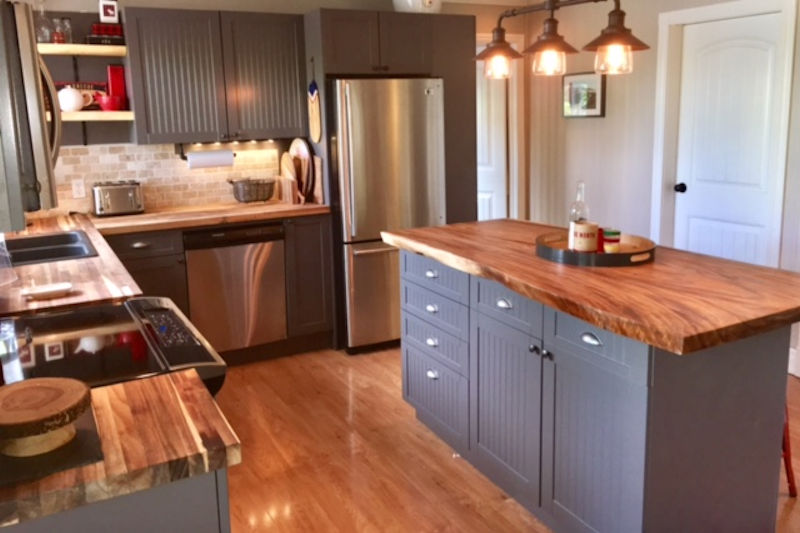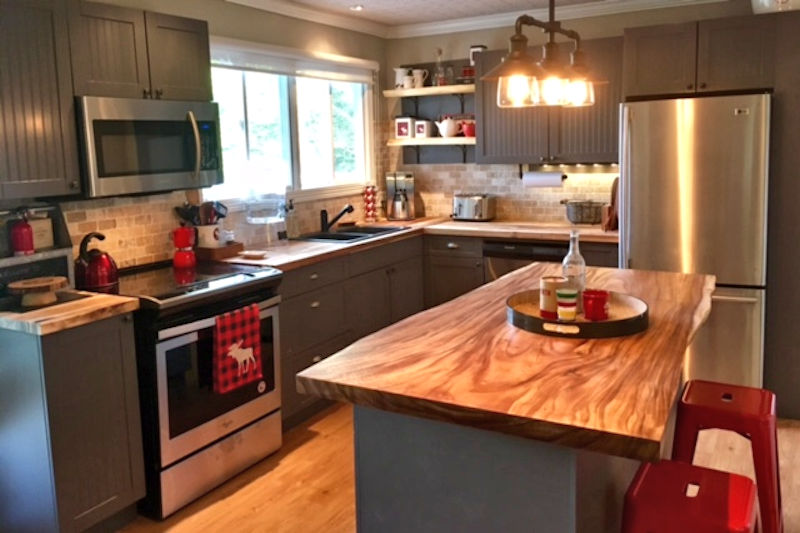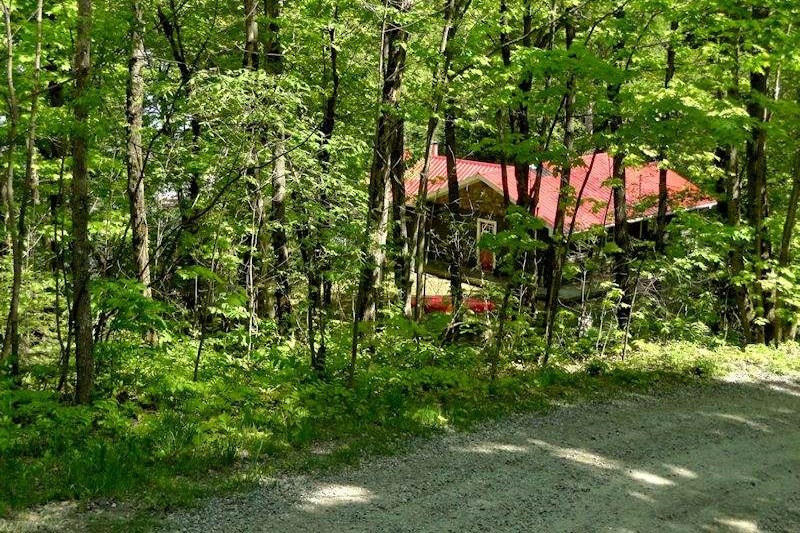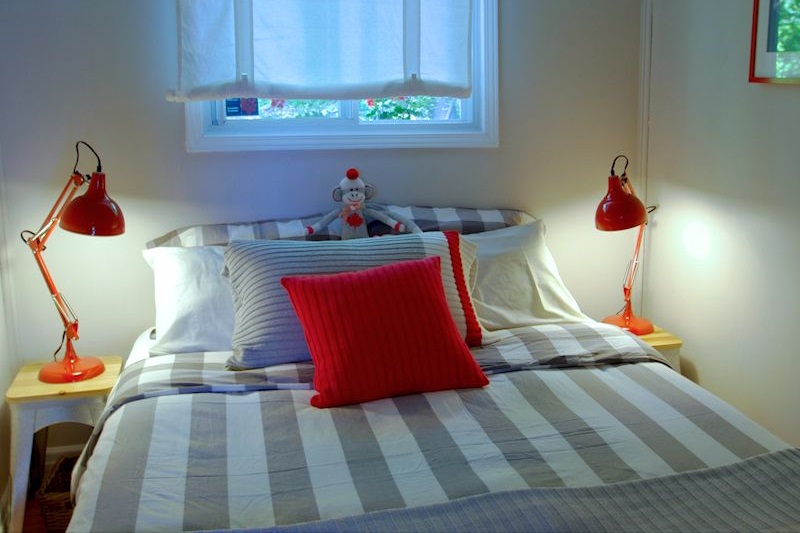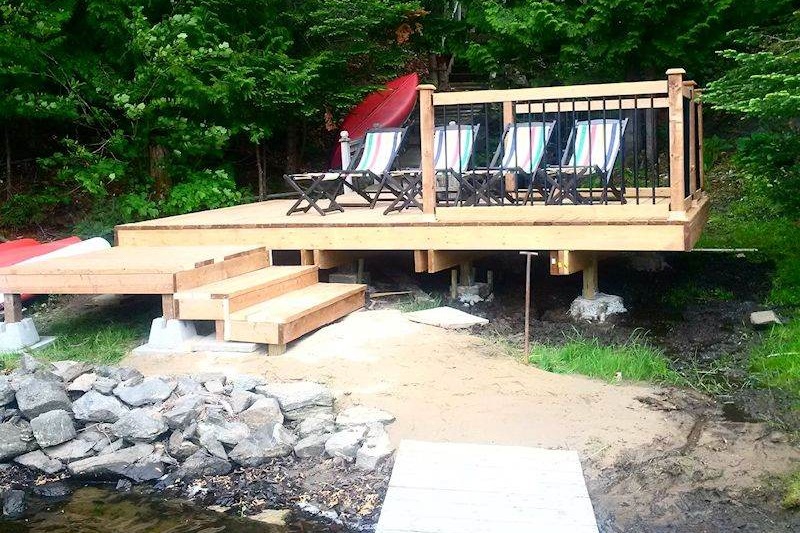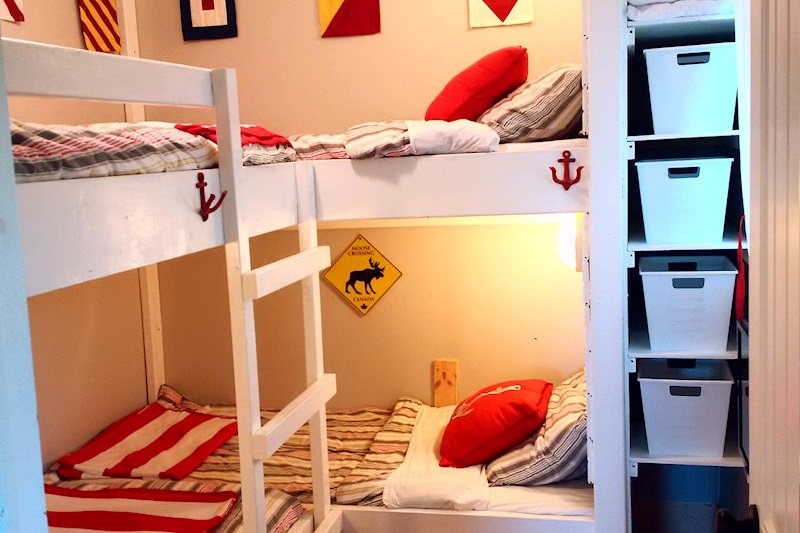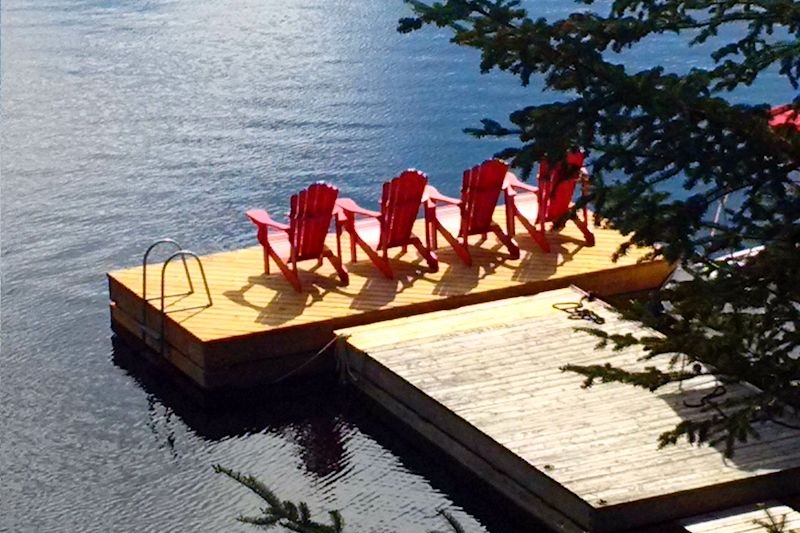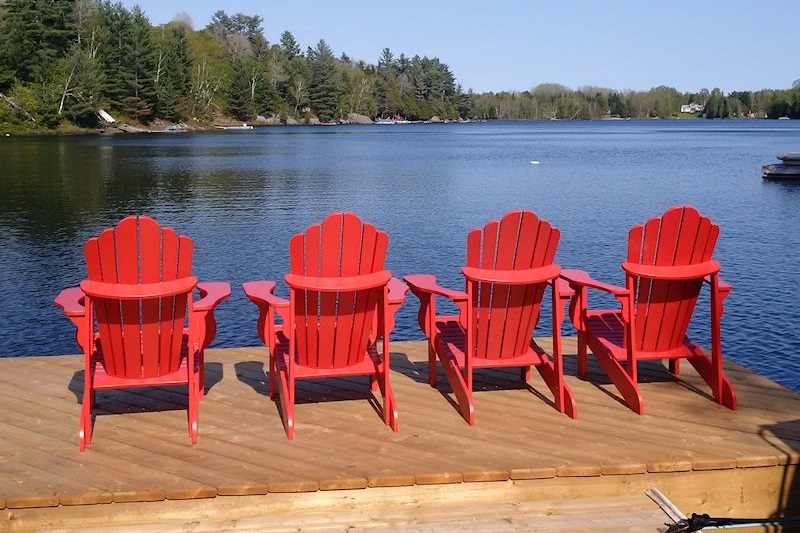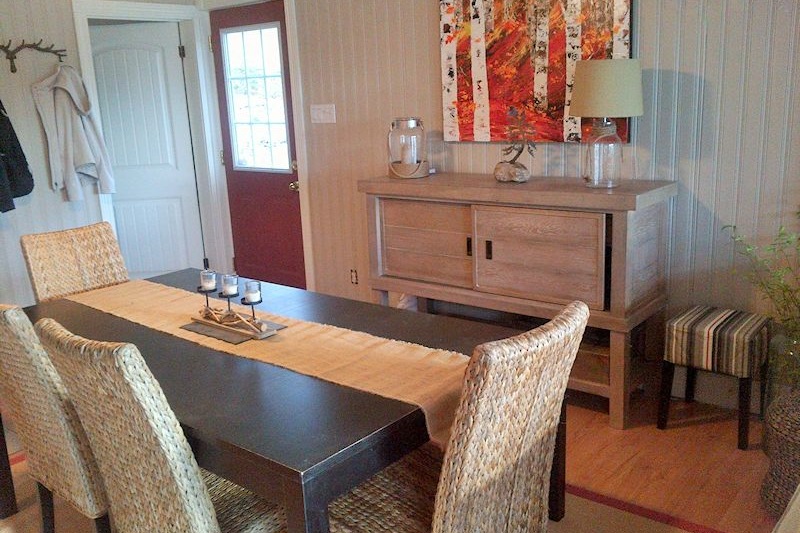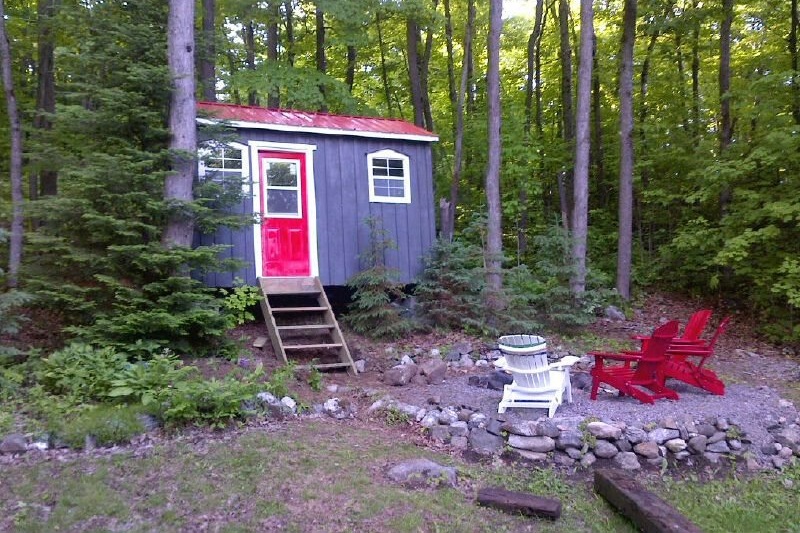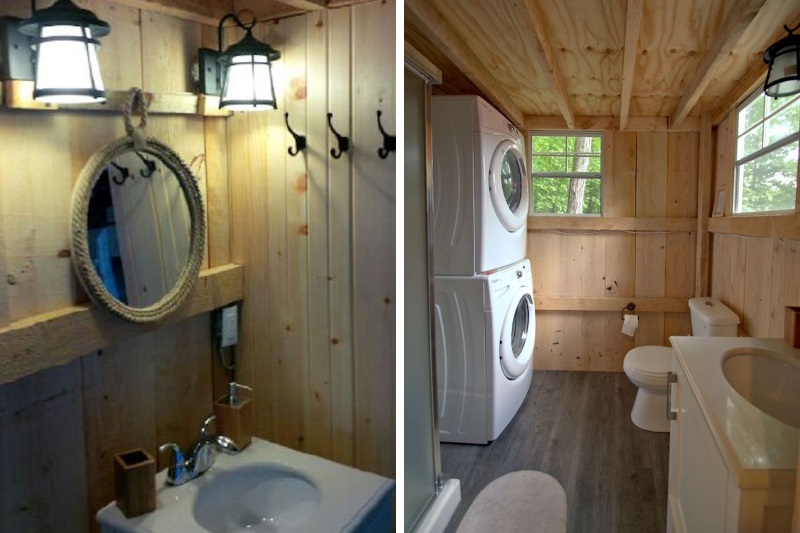 Bedrooms: 4
Bathrooms: 2.0
Area: Parry Sound
Town: Dunchurch
Sleeps: 9
Type: 3 Season
Water: Whitestone Lake
About This Cottage
We were excited about this cottage as soon as we saw it from the road. The distinctive red roof was visible through the treetops from the top of the hill, like a big welcome sign.
The name "Red Roof Cottage" was a natural choice, but there is much more to this than its cover. The first thing you notice when you come in the door is the very nice use of open concept space to create a bright and airy atmosphere and...hey, look at that view! Perched nicely above the lake, you are looking right down Hudsons Bay...no not THAT Hudsons Bay...the one that sits at the west end of Whitestone Lake and is great for swimming and exploring by canoe or kayak.
The living room is the spot that offers the nicest view, and you will gather here often during your stay, whether it is to enjoy that view, play a game, read a book, or enjoy the game or a movie on TV. On cooler nights you may enjoy a toasty fire in the wood stove. Adjacent to the living room, the dining room sits your group in simple elegance, convenient as well to the fully equipped kitchen. Depending on your family, you may wish to sleep everyone in the cottage, or you may wish to make use of the bunkie to sleep two of your group.
A unique feature of this cottage is the staircase that descends to the waterfront. Following the path of a trickling brook and incorporating a scenic bridge, the staircase makes every trip to and from the water a pleasant experience - you may even choose to dally along the way!
The lake is clean and pleasant. The water is deep off the dock and offers good deep water swimming. There is also a shallow entry to the left of dock, a spot where children and non swimmers may wish to play. Whitestone Lake is great to explore in a canoe - the adventurous may want to canoe into Dunchurch for a meal or ice cream. Anglers should be happy with the catches available in the lake, very good for fishing.
If you can tear yourself away for a while or simply want a day out, you will find the town of Parry Sound appealing, with most big city amenities as well as a vibrant marine culture. The smaller towns of Dunchurch and McKellar offer the basics as well as an LCBO.
Whitestone is becoming a very popular area with our visitors. With offerings like Red Roof Cottage, it's not hard to understand why.
Unavailable

Selected

Available

Checkin only

Checkout only
Rate and Rental Information
Please note that bookings less than 7 days in advance are subject to confirmation of availability with owner
This property rents Friday to Friday in High Season
Sorry weekly rentals only (Friday - Friday) at all times
---

Rate Table
Please note that a $73.45 (including tax) booking fee applies to all bookings
Please note that a $7.91 per day (including tax) Accidental Damage Waiver applies to all bookings
High Season: June 22 - September 3
Weekly (Friday to Friday)
$2,550.00
Low Season: September 5 - October 9, May 18 - June 21
Weekly
$1,400.00
Inside the Cottage
Sleeps 9 (maximum 6 adults)
3 bedrooms (1 King, 1 Queen, 1 with 2 twin bunkbeds)
Bunkie with additional bedroom (bunk beds) with TV/DVD combo
4-piece main bathroom in cottage, 3-piece bath in bunkie
Satellite TV with DVD player in living room. TV/DVD in bunk bedroom and bunkie.
Wood stove and sectional seating in living room
Fully equipped kitchen with fridge, stove, microwave, dishwasher
Washer and dryer in bunkie
High Speed internet
Open concept living/dining/kitchen area, all with water view
Outside the Cottage
Deck with Propane BBQ, outdoor dining and muskoka chairs overlooking bay
Scenic stairway from cottage to waterfront
Dock with waterfront chairs
Fire pit with seating
Canoe and 3 kayaks, floating mat (capacity 150 lbs)
Horseshoe Pit
Things you need to know:
Maximum 2 non-shedding small/medium dogs are permitted at this property
Linens and towels are provided
Cottage faces east
A post rental cleaning service is included with the rental. Please leave the cottage in a tidy state, all your dishes done etc.
Waterfront
The waterfront is accessed via a very scenic set of stairs that runs adjacent to the cottage and includes a bridge over a scenic brook. The entry to the water is shallow and soft underfoot. The water at the end of the dock is deep and excellent for swimming. With any cottage, you should always check for the presence of logs or other items which may be moved around the lake by currents and winds.
Reviews
Dear Fraser Family,
Thank-you so much for sharing your beautiful cottage with us!
It was our first time on Whitestone Lake and we had a wonderful, relaxing week.
I think I speak for all of us when I say that one of the things we've enjoyed most is the amazing view!
Waking up every morning to magnificent sunshine reflecting off the water is simply priceless. We are "recharged" and ready to get back to the real world!
Thanks again,
Family Jauni
Dear Fraser Family,
Thank-you so much for this beautiful cozy cottage. You could definitely call this home. Me and my sister really enjoyed catching frogs, kayaking and swimming. We hope that we can come back next year.
Thank-you so much,
Lindsay and Ellen Bouwman
Dear Fraser Family,
Just want to say how much we enjoyed your beautiful cottage. Truly a home away from home in God's country.
Thank-you so much.
Charles and Grace Bouwman
August 7-14, 2015
Dear Fraser Family,
Thank-you for the wonderful week at your cottage. We had a lot of fun. You have a beautiful place.
The Santo Family
"Brenda Cooperman – Grandma"
July 24-31, 2015
Dear Fraser Family,
We had a fabulous week in your beautiful cottage. We enjoyed kayaking around the islands and the bay. The kids, and admittedly the parents, loved the floating mat. The challenge was to wait for it to float near the deck with the breeze of the water was devine. Many a nap was had on the dock. We even built a blanket fort on the deck to protect us from the sun!
We found many frogs in the nearby tall grass and 2 baby raccoons paid us a visit near the bridge! Dragonflies were abundant as well as many little fishies. We ventured out to Dunchurch for some of the best ice cream ever! On your advice, we had 2 lunches at Jimmy's Chip Stand in McKellar. He makes THE BEST chicken burgers EVER and the poutines are HUGE! We also went to Killbear Provincial Park. We did a few trails and spent the afternoon at a beautiful beach.
We watched a movie together almost every night with your great selection of DVDs. We had 2 marshmallow roasts by the firepit.
July 17-24, 2015
Thank-you for a wonderful week! The cottage was beautiful and we all had a wonderful time and made wonderful memories!
Thank-you! The Braida's
Nancy, Jason, Sam, Isabel and Allison
From the kids:
Thank-you so much for the lovely stay at your beautiful cottage! I really liked the area and how it's near Kawartha Lakes Ice Cream! The water mat was super fun! And I loved the bunk room (two bunks together – that's awesome)! Thank-you!
The youngest girl, Ella
July 17
Thanks so much for a wonderful week! Your cottage is beautiful! Loved sitting out in the mornings and looking down at the lake. Stunning!!
The Imanuel and Harris Family
June 2015
We have really enjoyed our time here! You have a beautiful cottage! We had a great time drinking coffee in the morning hours, over on the deck with the beautiful view 🙂 We also love how you've decorated your cottage, one of the things that made us choose it!
Matt & Silje & Audrey
September 22, 2014
Dear Christelle and Jon,
Your cottage is such a wonderful and lovely place. We enjoy very much. And, it's the best cottage we've ever experienced! Three couples here, each one of us loves the place, we hope that we will come back again next year.
Thank-you very much!
Feng and Sen
Xiu and Yi
Esther and John
September 2-7
We had an amazing time at your beautiful cottage! We were able to relax and enjoy some tranquility. The view is great, loved having coffee overlooking the lake!!!
Looking forward to coming back next year!
The LaPortes
August 16-22
Pennings/Daikens
Grey Highlands, ON
We have had tents and trailers for the past 15 years and now we are hooked on the cottage life. What a wonderful spot you have here! Thanks for allowing us to use your cottage and have a relaxing time. The lake is very peaceful and calm. It was the nice, quiet break that we were looking for.
Thanks again,
Pete and Kelly
Randy and Gileen
P.S. Since we had a few days of rain, we got lots of scrapbooking and card making done!!!
August 8-15, 2014
Thank-you so much for sharing your beautiful cottage with us. We loved spending long, sunny afternoons on the dock and in the water. Even the rainy days were enjoyable with the warm fire and library of movies. We came looking for a quiet break from the city and have left feeling completely relaxed and rejuvenated!
Thanks, Mike and Sarah
July 25-August 1, 2014
Christelle and John:
The cottage is lovely. The red "accent" and "Hudson Bay" themes are beautiful. The view is gorgeous. The patio was so "photo perfect." Sleeping was very comfortable and once again oh so nice to look at.
Pacheco Family: Toronto
July 18-25
The Sweet Family
Richmond Hill, ON
What a beautiful spot – first time renting in Parry Sound. You did a great reno – let us know if you ever intend to sell!
We saw bears at the dump, groundhog lives left of the waterfront. Skunk, raccoons and a mouse. The chippies call at cocktail hour for a snack. Fishing good!
Everything was very enjoyable. The tree in front of the property is spectular! As is the walkway!
Thank-you!
The Sweet Family
July 1, 2014
Dear Jon and Christelle,
Your cottage is such a lovely place! It truly is a little piece of paradise.
My kids and I had the most memorable time and felt like home! Thank-you for sharing it with us! We would certainly love to come back!
Helene & Adam & Joel
July 18, 2014
Christelle and Jon,
We had a lovely peaceful week. Thank-you for providing all of the amenities, including champagne flutes!!! The walk to the lake is particularly enjoyable. We'd love to return!
Rob and Sandra
July 15, 2014
Christelle and Jon,
Thank-you for sharing your beautiful cottage with us. It was absolutely magical. I loved waking up and going for kayak tours around the lake. This weekend was exactly what I needed to relax and celebrate the summer with my family. It will be sad to return to the hustle and bustle of Toronto this week.
Best, Sian
May 13-15, 2016
Jon and Christelle,
Our stay at The Red Roof Cottage was delightful! You have it decorated so lovely. It has such a warm cozy feel. The view is gorgeous (even though we saw a few snowflakes)! It is a perfect getaway spot. Totally relaxing!
Thanks again,
Dave, Kim and Murphy
July 15, 2016
Cottage with Red Roof,
We had lots of fun all week: swim, eat, read, play, joy!
Greg, Dympra, Dedan and Niarnh
July 29, 2017
Amazing time as always! This is our second time here…looking forward to 2017.
Thanks!!
The Hendersons
August 5-12, 2017
So nice we came back for round 2!! Still just as amazing as the first time. Another glorious week, so happy that we returned to this very special cottage!
Thank-you very much.
Rob and Sandra, Claire and Mike, Sian and Ason
July 8, 2016
Dear Jon, Christelle and Kids,
We couldn't have asked for a more relaxing, fun, beautiful stay at your gorgeous cottage! The wee ones had a blast on the water mat, trying out the kayaks with their Dads and going looking for beavers (we saw one swimming!), collecting minnows, building sand forts and having many, many, many goes at the water mat (yes, it deserves mention X2). We tried out horseshoes and had some relaxing cuddles with kids in the hammock and some yummy (daily – ahem cottage rules) ice creams at the general store and checked out Magnetawan too.
We enjoyed many a great BBQ, quiet canoes/kayaks around the lake and great, memorable times with dear friends, full of memories!
You have truly made an amazing place and waterfront getaway. Every detail was perfect. THANK-YOU!!!
We look forward to coming again next summer if possible,
Anna, Oliver, Kalyan Miller-Martin
August 26-September 3, 2016
Fantastic week for the Australian/Canadians!!
Thank-you!
Gorgeous place – misty lake on 2 mornings was absolutely gorgeous! Wow!
*Bear was next door to the North on the dock (John's) but didn't bother us.
<3 Katheryn
Es war traumhaft hier!
Douke!
A wonderful cottage and a super Canadian experience! Canoe, boat, frog, Canada Geese, bear, …
<3 Yulia, Anna, Pauli
Hey Christelle!
What a fantastic place you guys have. Thanks a lot for having us here, we really enjoyed ourselves!
Jebewi
September 25, 2016
Christelle and Jon,
My friends and I from Toronto, Ontario really enjoyed the cottage and had a nice weekend here. My friends think you have done a good job organizing, decorating and outfitting the place.
Regards,
Andrew S., Jason H., Gary S., Dino H.
View Favorites
Amenities
BBQ Grill
Satellite TV
Fireplace, Wood/Gas
Dishwasher
Dock
Kayak
Canoe
WiFi Max 5-10 GB/wk
WiFi Overage $10/GB
Waterfront
Summer: Fri-Fri only
MaxAdults
Pets Allowed
WiFi
Things to do
---
Distances
Distances shown are "as the crow flies".
Driving distances will be longer.
NOTE
that directions are approximate. Exact directions are provided upon booking