Home
Cottage Rentals
Gallery On The Lake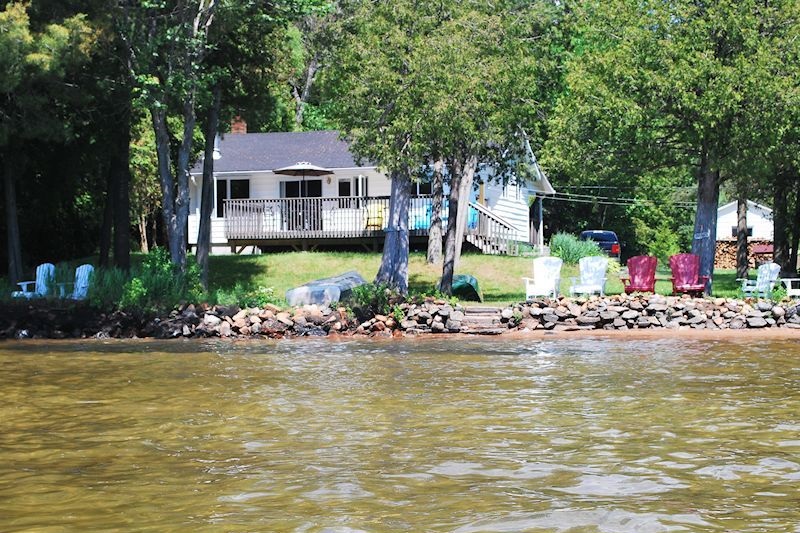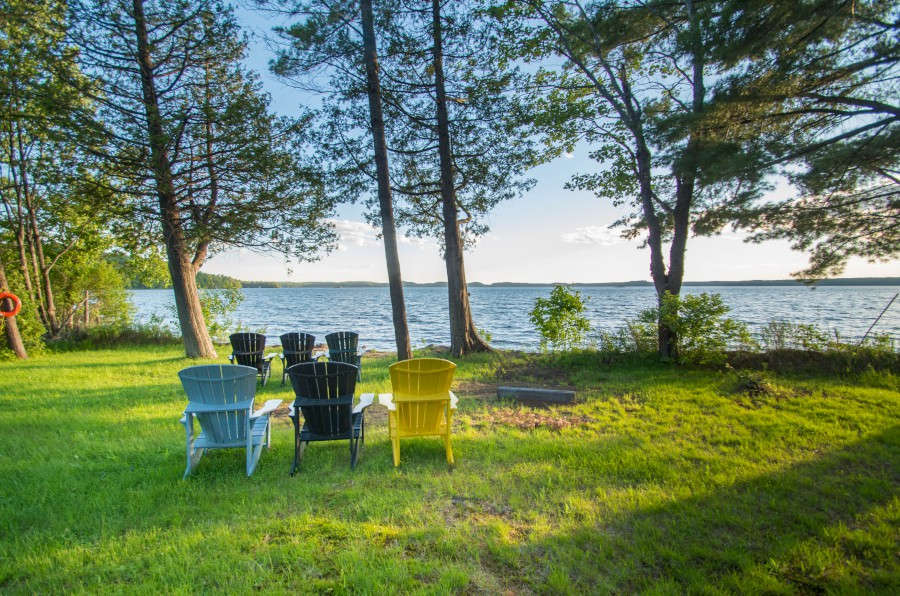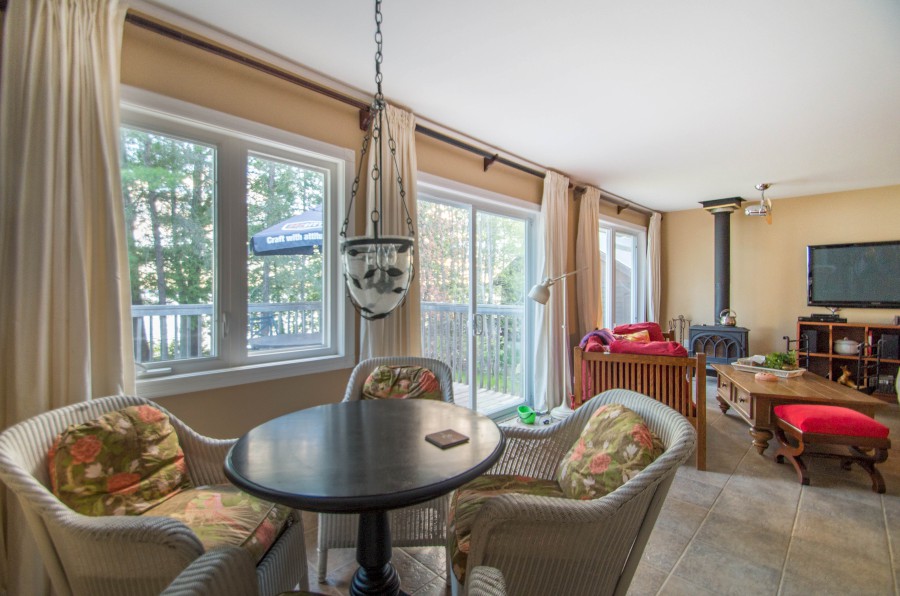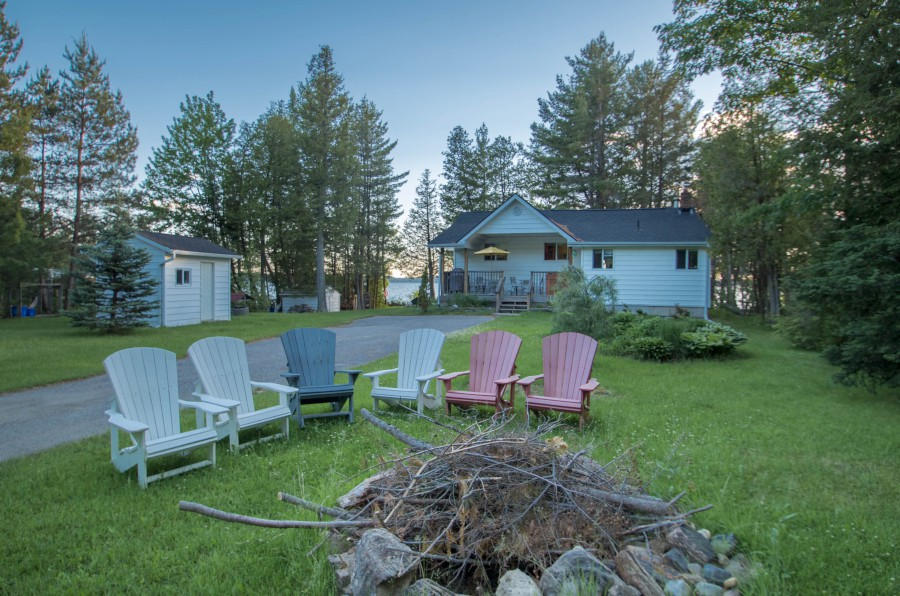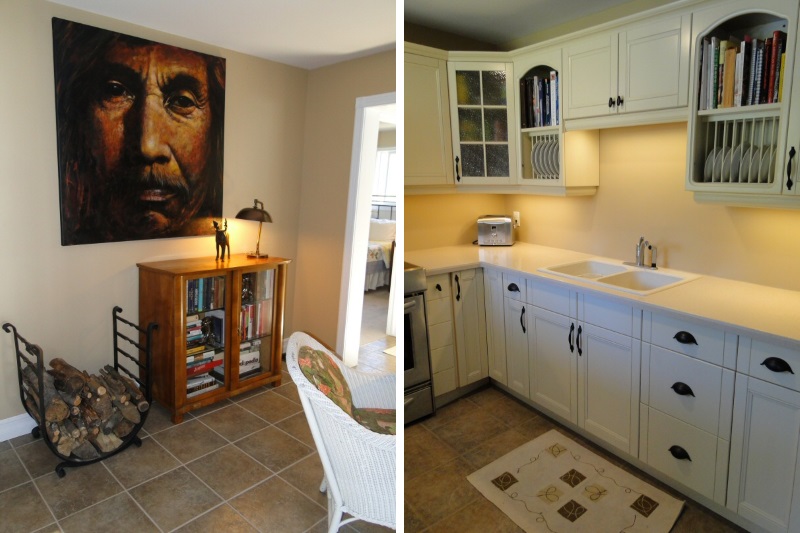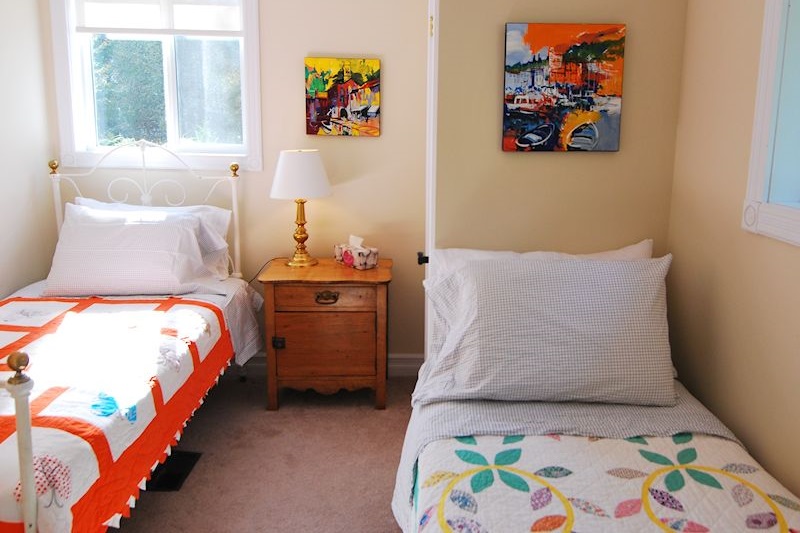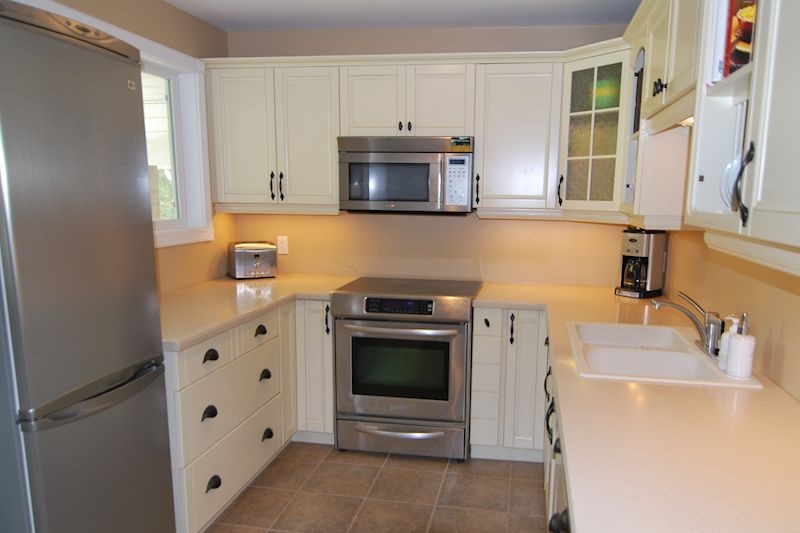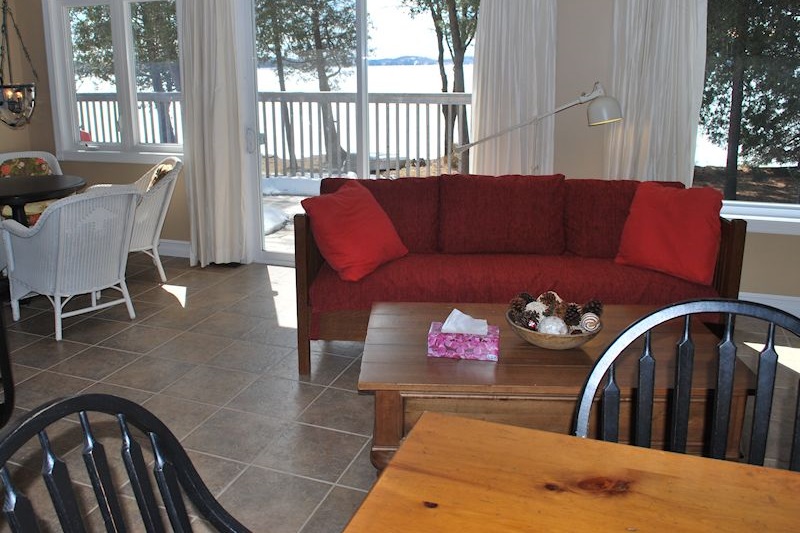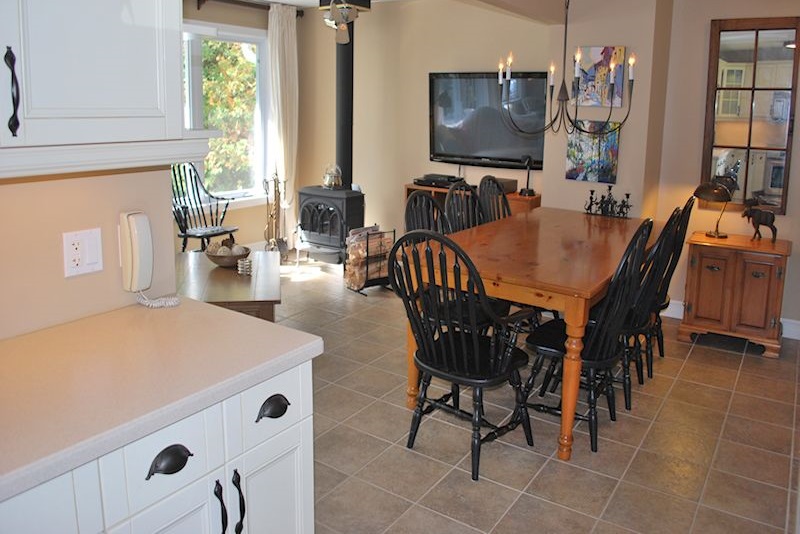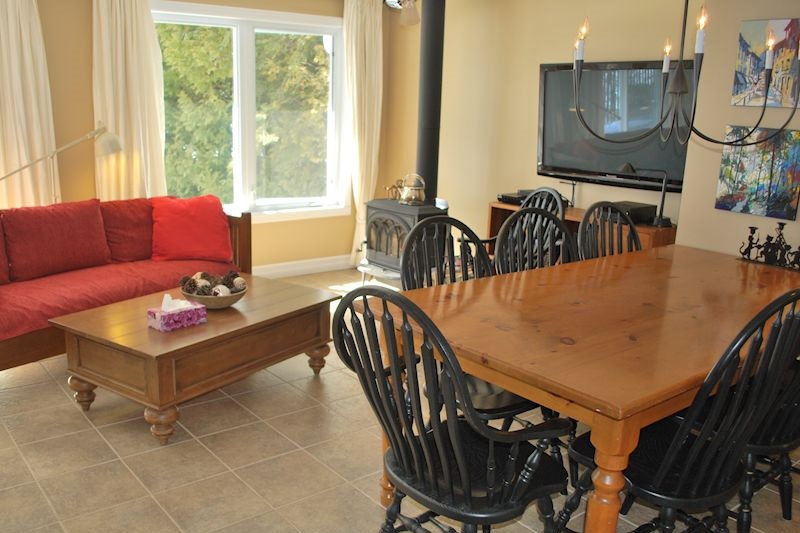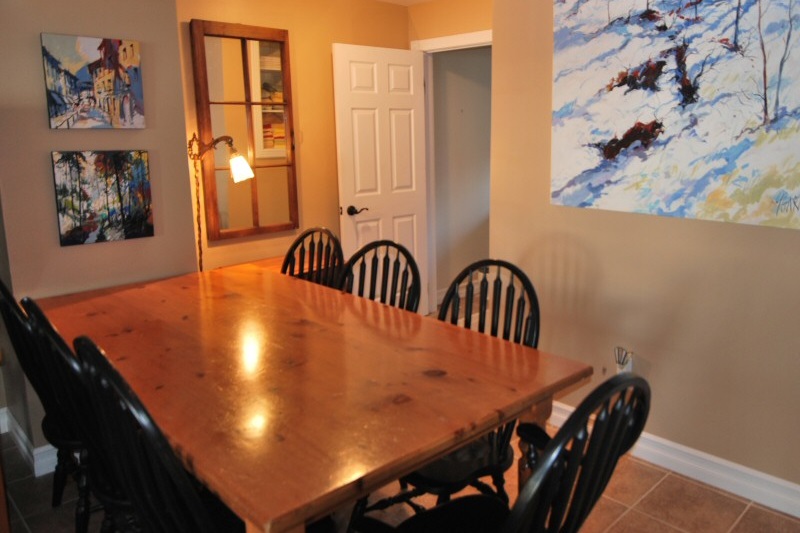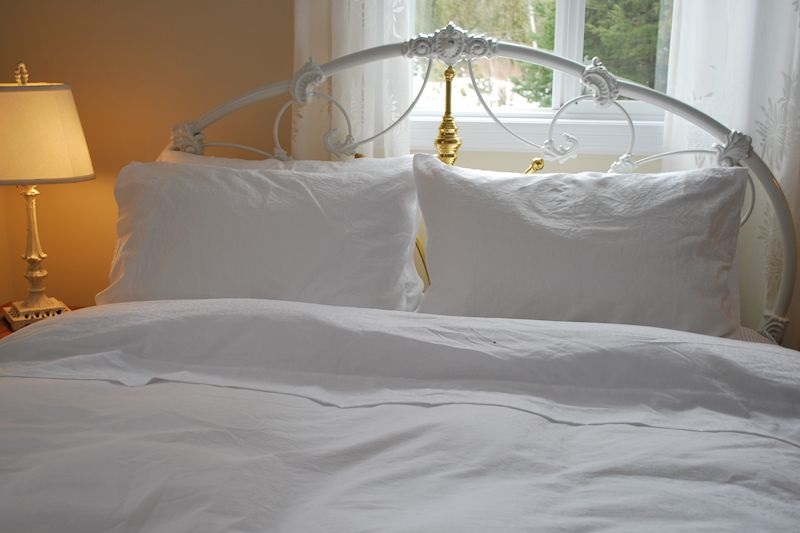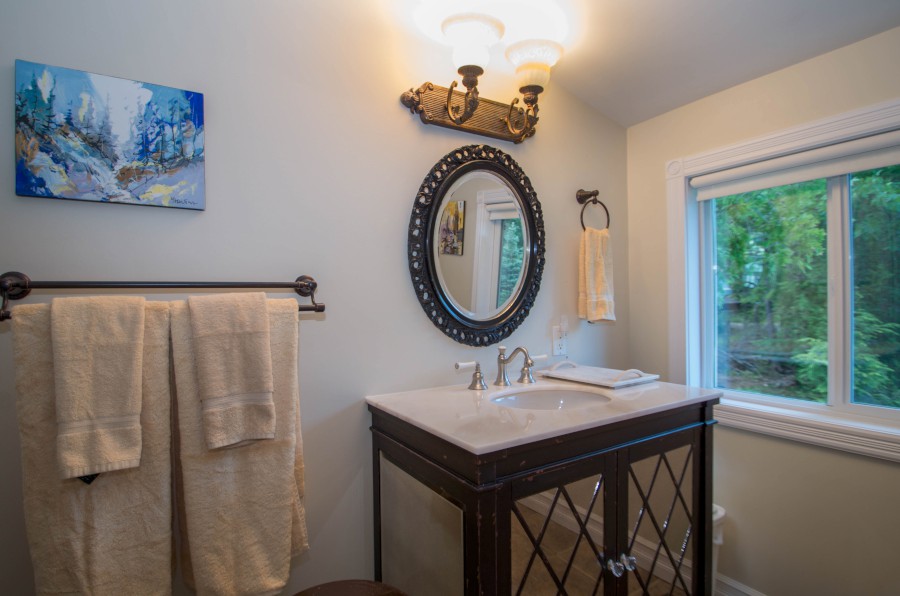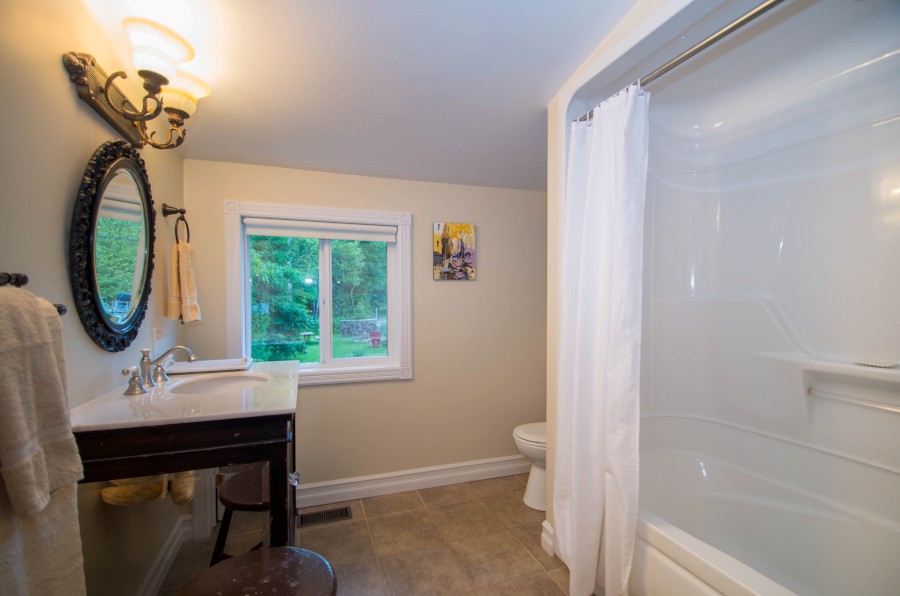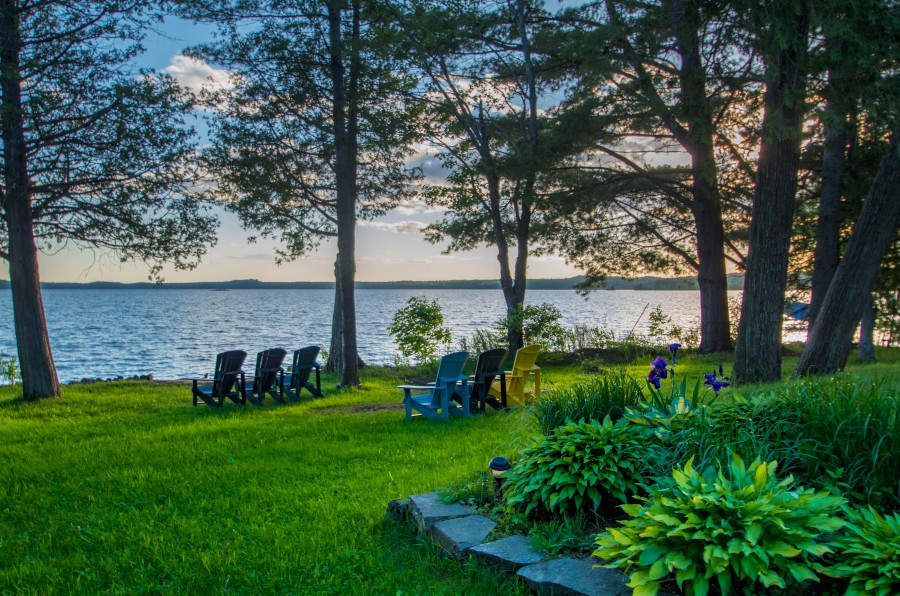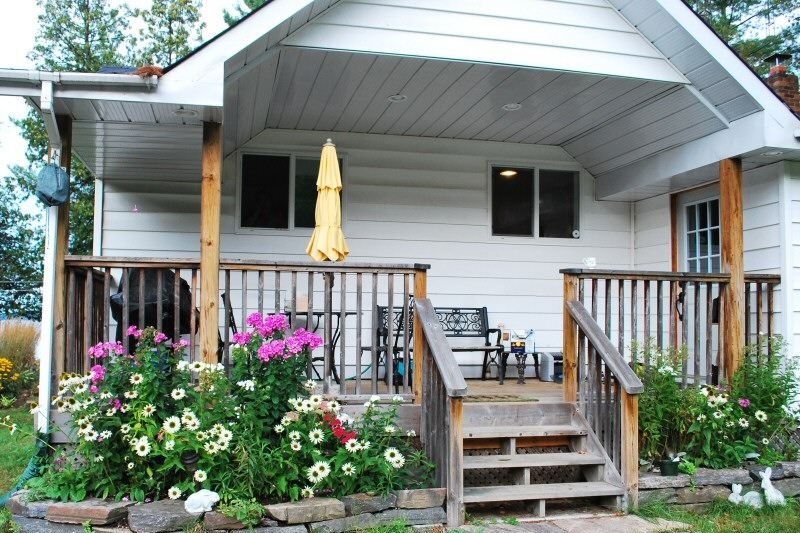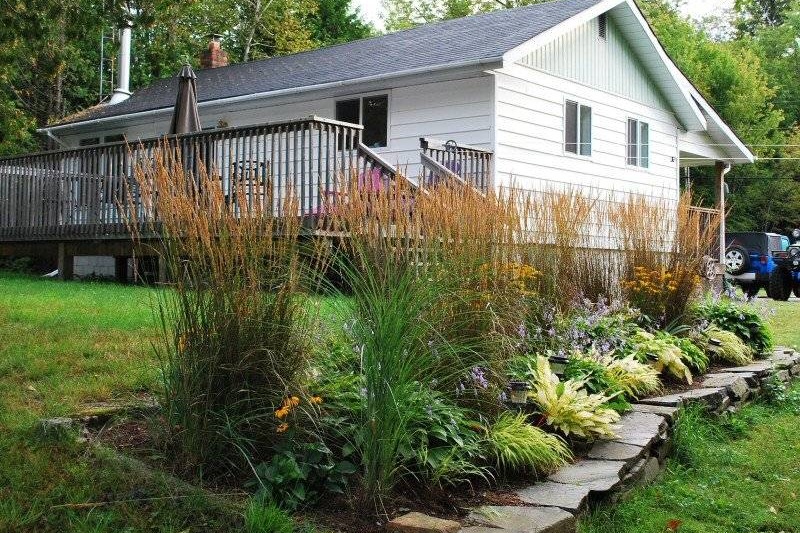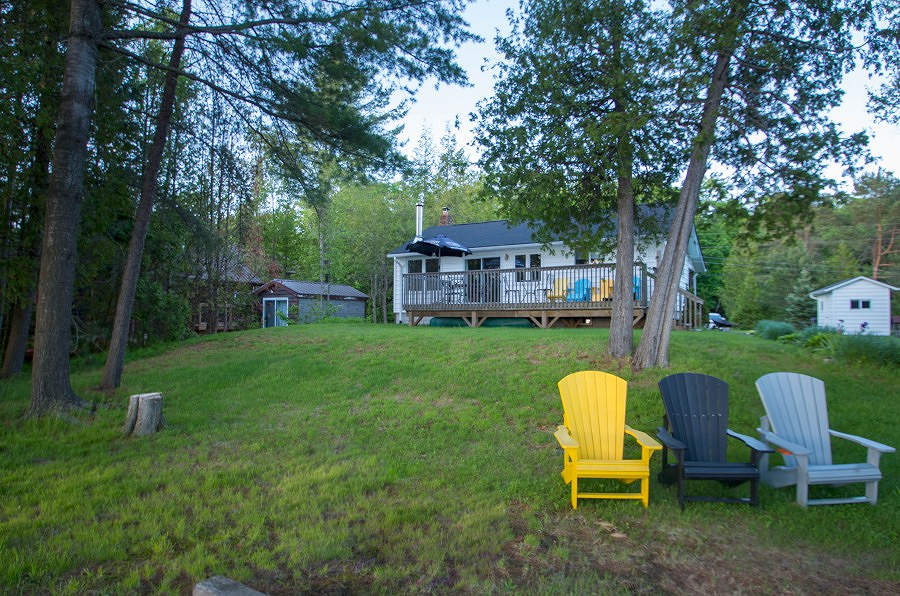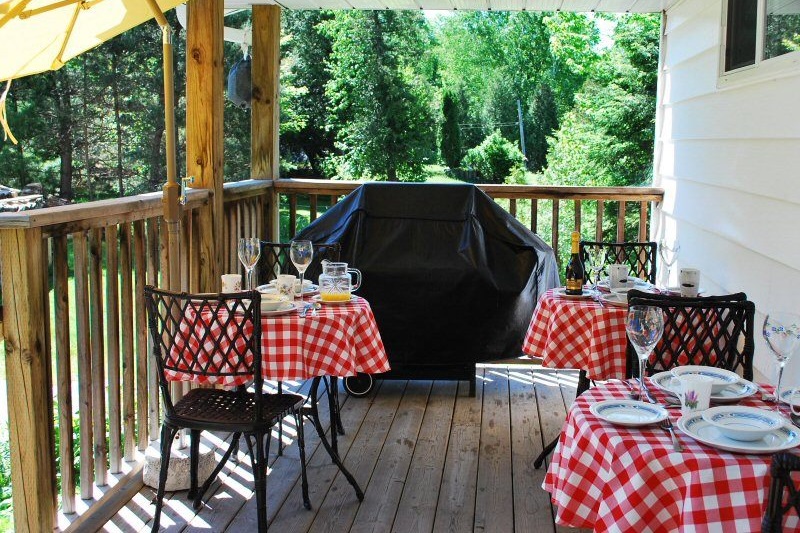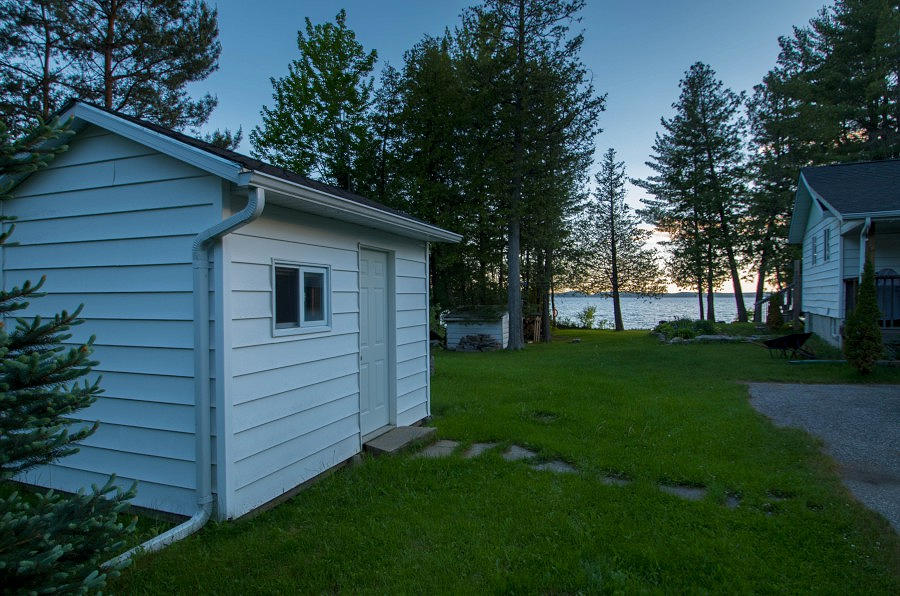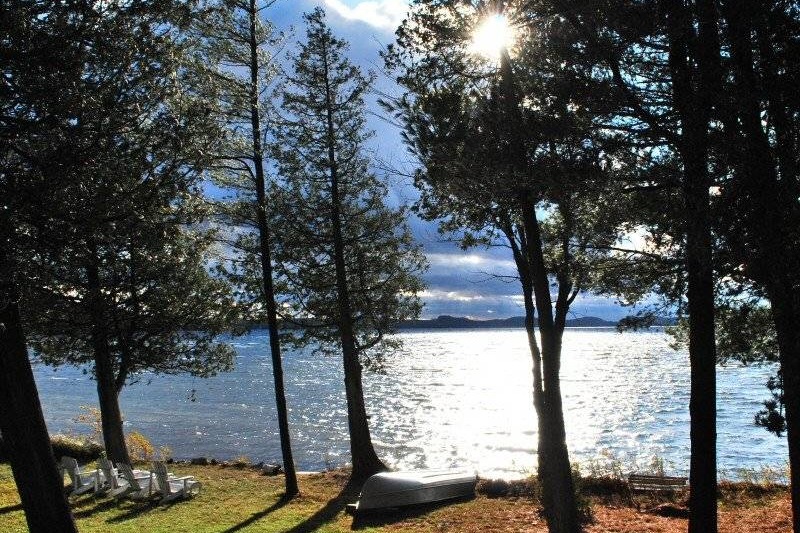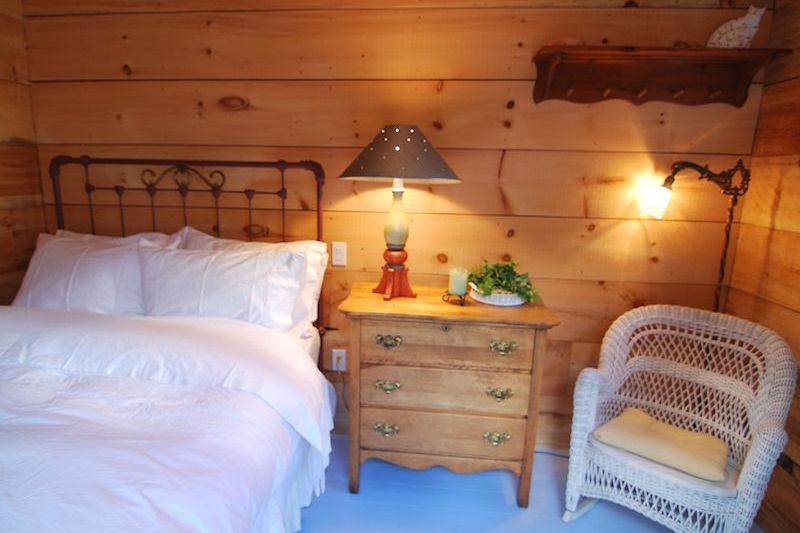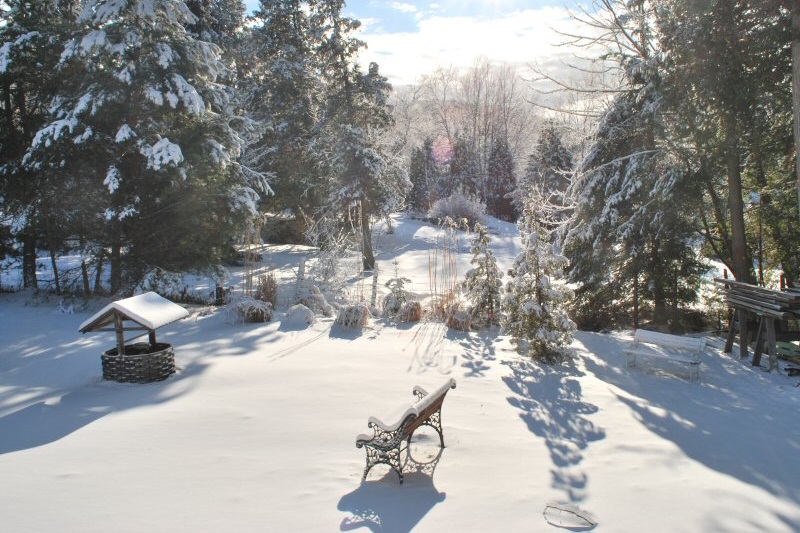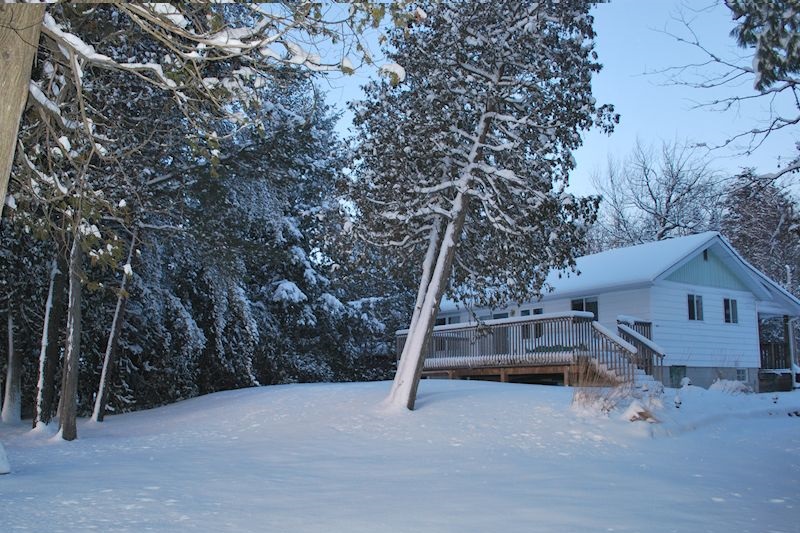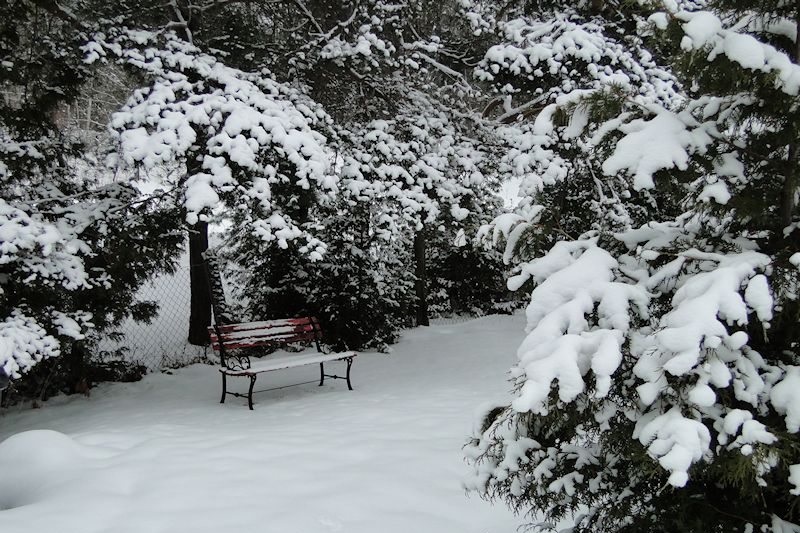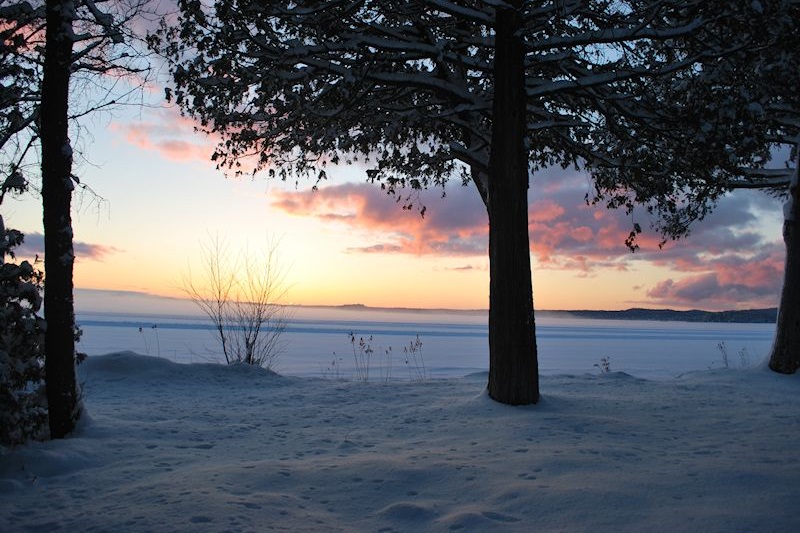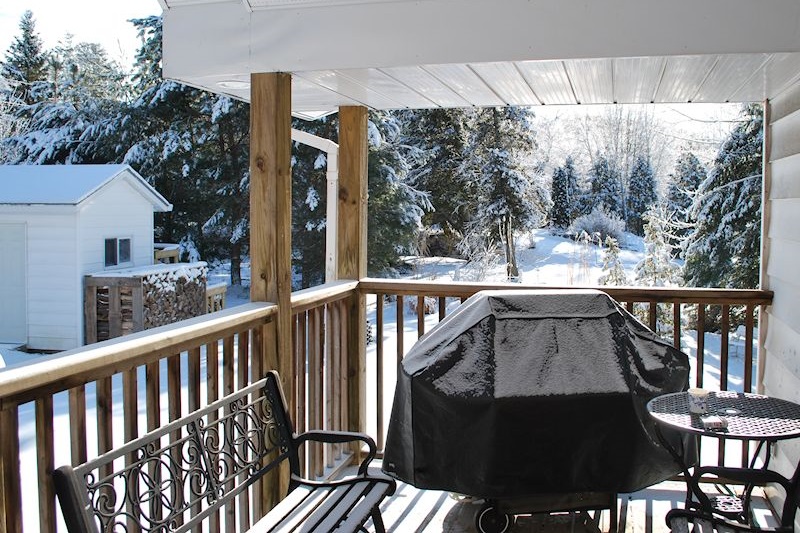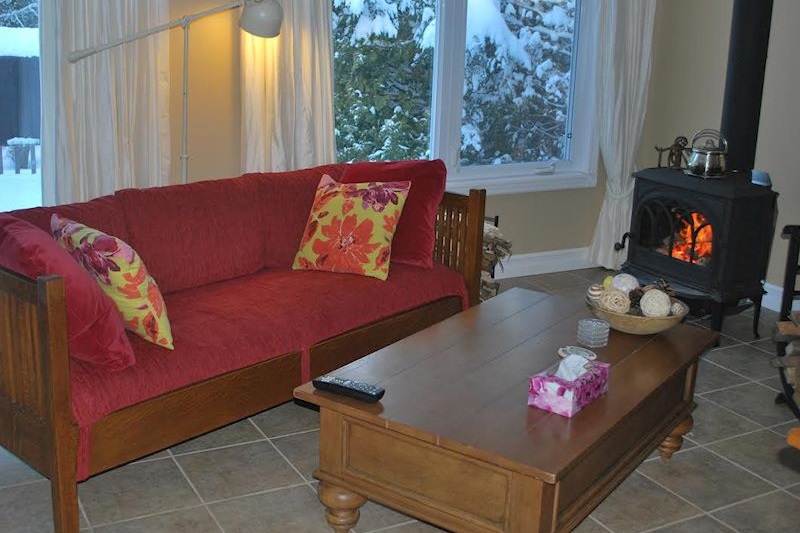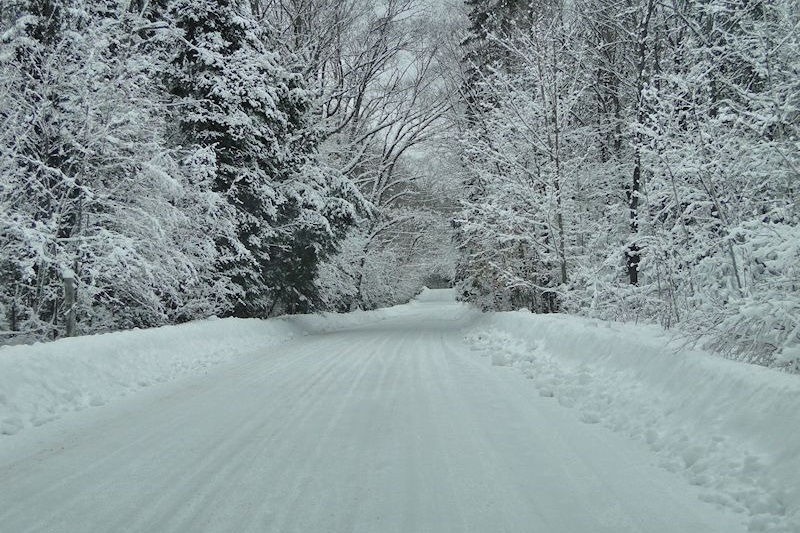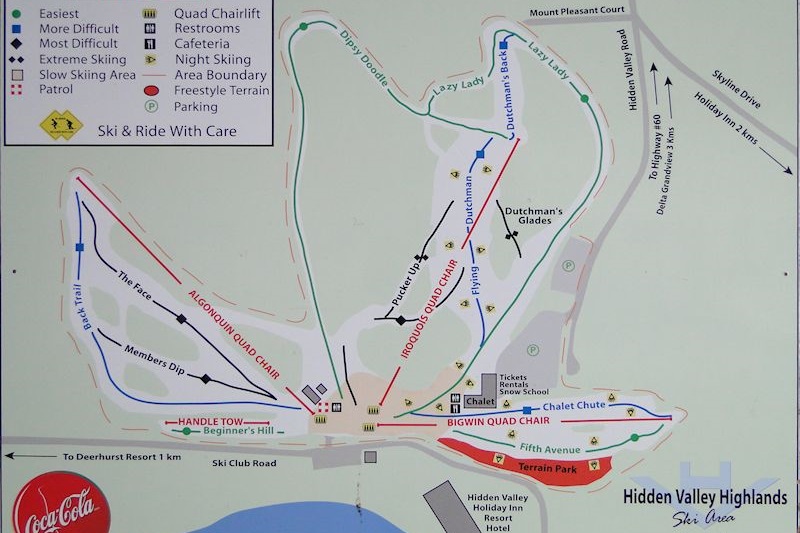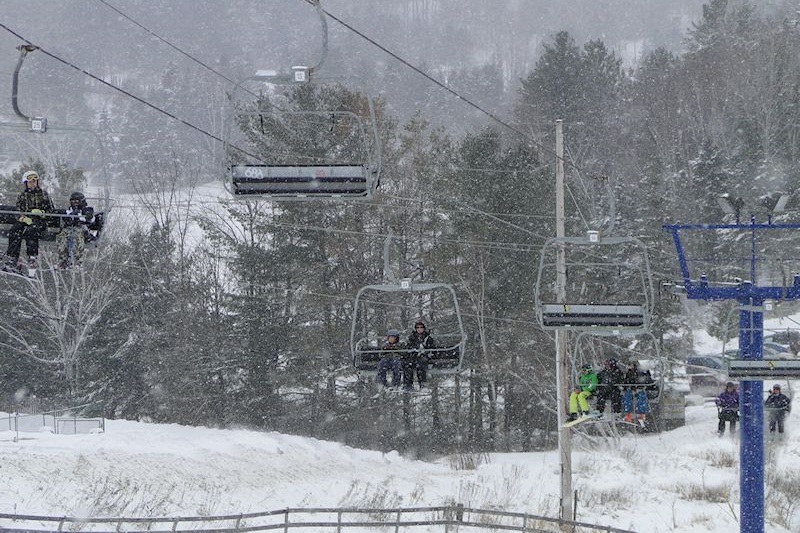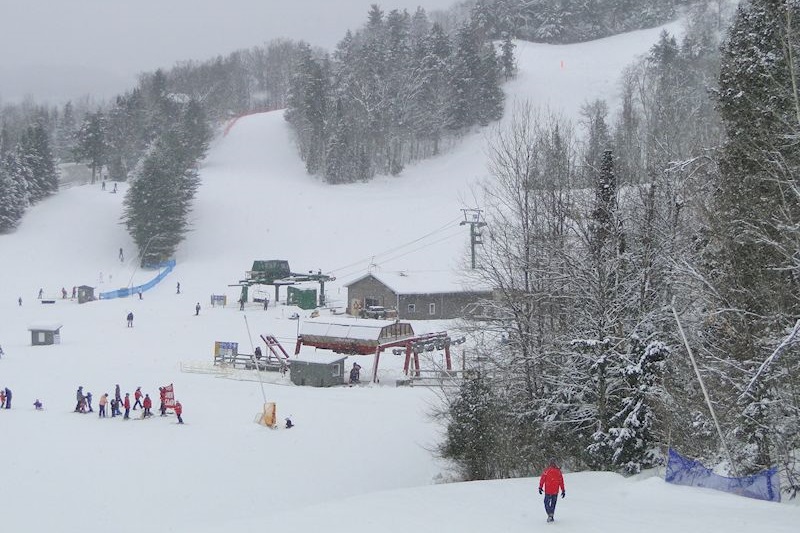 Bedrooms: 3
Bathrooms: 1
Area: Muskoka and Almaguin
Town: Huntsville
Sleeps: 5
Type: 4 Season
Water: Skeleton Lake
About This Cottage
We were excited as soon as we drove on to the property of this lovely cottage on Skeleton Lake, just 20 km from Huntsville. A delightful, neat-as-a-pin cottage with expansive lake vistas and spacious yard, Gallery on the Lake also features a wonderful interior accented with art works selected by the owner.
There are three bedrooms - two bedrooms are in the main cottage, a master with a queen bed as well another bedroom with two twin beds. A third bedroom with a double bed is found in the adjacent sleeping cabin, a delightful retreat for those seeking an added level of privacy. The main living area features comfortable seating and a wide-screen television for family movie nights. A dining room table will seat everyone in your group. A separate seating area beside the main living room is the perfect spot to curl up with a book or enjoy a board game with family members. The kitchen is clean as a whistle and is complete with brushed steel appliances that will no doubt please the family chef.
The waterfront here is the envy of many a cottage. Trees sway in the breeze, watching over the lake. Entry to the water is hard packed sand which extends hundreds of feet into the lake, making this a fabulous spot for families with toddlers and non-swimmers who want to play in the water. Because the lake is so large, the wave activity can range from glass-like calm to large swells breaking against the shore, bringing a unique set of fun each day. A canoe and kayak are available for a small flotilla to take to the lake and explore. It will be the better part of a day's excursion if you want to explore all the islands however, so pack a lunch!
Of the thousands of lakes in Ontario, Skeleton Lake is one of the largest. Unlike most of the area lakes, which are souvenirs of the glacial age, Skeleton is believed to have formed as a result of a meteorite impact. Being a spring-fed lake, it is very, very clear and on calm days one can easily see down to depths of 20 or more metres.
According to First Nation legend, the lake acquired its unusual name during a time of scarcity. You'll be happy to know that in modern times, there is no scarcity at all. Nearby Huntsville has everything you will need in terms of groceries, supplies and things to do.
Out and about, Arrowhead and Algonquin Parks offer more nature to those who can't get enough. The town of Huntsville is itself a huge art gallery, with Group of Seven murals hung on more than 20 buildings in the area. Golfers will want to spend a day at Diamond in the Ruff, Deerhurst Highlands or Deerhurst Lakeside. Anglers might be interested in spending a day at Lake Vernon with a Hooked Young fishing tour. Check out the programme at the Algonquin Theatre during your stay, although if it's something you want to see, it's best to buy your tickets well in advance. In Winter, snowmobiling and cross country skiing are at your doorstep, and Hidden Valley Ski Club is just 30 km away.
Of course, no day at the cottage is complete without a majestic sunset followed by a campfire, some marshmallows and tales of the day - but it's up to you to provide the stories!
Unavailable

Selected

Available

Checkin only

Checkout only
Rate and Rental Information
Please note that bookings less than 7 days in advance are subject to confirmation of availability with owner
This property rents Saturday to Saturday in High Season
Maximum 4 persons in Winter when Bunkie is closed
---

Rate Table
Please note that a $84.75 (including tax) booking fee applies to all bookings
Please note that a $7.91 per day (including tax) Accidental Damage Waiver applies to all bookings
High Season: June 27 - September 7, December 18 - January 3
Weekly (Saturday to Saturday)
$2,300.00
Mid Season: May 1 - June 26, September 8 - October 12
Weekly
$1,475.00
Weekends/Short Stays (Minimum 2 Nights)
$850.00
Extra Nights (after 2) - $125.00
Note - after 7th night, pro-rated weekly price applies
Low Season: October 13 - December 17, January 6 - April 30
Weekly
$1,145.00
Weekends/Short Stays (Minimum 2 Nights)
$850.00
Extra Nights (after 2) - $59.00
Note - after 7th night, pro-rated weekly price applies
Holiday Weekends (3 Nights)
New Years, Christmas
$1,125.00
Extra Nights (after 3) - $331.25
Note - after 7th night, pro-rated weekly price applies
Thanksgiving, Victoria Day
$1,125.00
Extra Nights (after 3) - $125.00
Note - after 7th night, pro-rated weekly price applies
Easter, Family Day
$1,125.00
Extra Nights (after 3) - $59.00
Note - after 7th night, pro-rated weekly price applies
Inside the Cottage
Sleeps up to 6 (max. 4 adults) and 4 in winter when bunkie isn't available
3 bedrooms - 1 with queen, 1 with 2 single in main cottage plus bunkie with double bed. *Note - bunkie is not available in winter
Kitchen with fridge, stove, microwave
Living room with large screen Satellite TV, DVD player
High Speed Internet
4-piece bathroom
Dining area with seating for 7
Separate den area with seating for 4
Unique art work throughout
Outside the Cottage
Large grass yard with level waterfront
Shallow, sandy entry to lake
Canoe, Kayak and adult life jackets
Lots of deck and yard furniture
Gas BBQ
Beautiful gardens in summer
Fire Pit
Things you need to know:
Waterfront is an southwest exposure
Linens and towels provided - please bring your own beach towels
1 small-medium dog permitted at this property
Bunkie is closed in winter and not available for use
Please note that the wood stove is not available for use in July or August
Internet usage limit is 3GB per week. Charges will apply to overage.
A post-rental cleaning service is included at the end of your stay. Some tidy-up duties are required.
Waterfront
Entry to the water is hard packed sand which extends hundreds of feet into the lake.
Trivia
Huntsville is a magnet for and home to many acclaimed visual artists. Famed Canadian artists Tom Thomson and his successors, the Group of Seven painted here frequently. Source: Wikipedia
Reviews
July 2019
We had a fabulous time at the "Gallery on the Lake" cottage. The cottage is very well equipped with modern appliances, a huge spice rack, and lots of pots, pans, bowls, plates, cutlery for every type of meal. The BBQ was top notch and very clean. The cottage has some of the most comfortable beds I've ever slept in a rental. However, we spent most of our time on the back deck overlooking the lake. The art in the house and bunk house is wonderful and make the place feel very homey. The property is very well maintained with beautiful flower beds, a large fit pit and well kept grass. The canoe and kayak were great to take out and explore the lake. The lake is exactly as it is in the description. Warm, shallow and sandy out about 200 ft before it drops off. Great for young kids and playing frisbee in the water. We will definitely return and highly recommend the place.
Chris
April 2019
The sunsets over the lake were so lovely.
December 2018
My extended family and I loved this home, it really had all the touches of home. It was convenient to arrowhead where we did Nordic skiing, hidden valley downhill, hunstsville for shopping and Algonquin. It is a beautiful location overlooking the lake and in the snowfall, it was so silent and tranquil. My mum and the dog loved the walk along the quiet road. The owners were so lovely accommodating us it really had everything, I usually bring my own sharp knife when in a sc cottage but it's the first time I didn't need to! Thank you for everything, so clean, tidy, gorgeous fire. I wouldn't hesitate to recommend it.,
Pauline
September 2017
The Perfect Vacation
Hot sunny days, excellent beach with beautiful sunsets. Swimming everyday!!
Best of all, we enjoyed this lovely clean, cozy, well-equipped cottage to relax and rejuvinate in with our dog Hannah.
Our thanks Linda for the best week of the year!
Catherine and Susan (Toronto)
September 2017
Another stellar year at Skeleton Lake. Enjoyed kayaking, hiking at Arrowhead. Many days relaxing on the beach. Thank you for sharing your beautiful place.
Shelly and Don
August 2017
We had a wonderful week on Skeleton Lake! We enjoyed many canoe rides. Morning walks up the road and relaxing on the Muskoka chairs during nap time
J
.
Thank you for a lovely holiday!
Harvey, Laura and Theo (21 months)
August 2017
Finally the rain of June and July stopped. We had be beautiful weather all week! Took out the kayak several times. Enjoyed our stay very much. Studied all week in beautiful chairs by lake. Ready for exam now.
Jean and Vicky Keen
Kingston, On. & Toronto, On.
P.S. Great vacation for mom and daughter
July 2017
Dear Linda,
Thank you so much for allowing us to stay at your cottage. We had a wonderful time.
I wanted to let you know that one of the dinner dishes broke while I was washing the dishes. I'm so sorry.
Hope to see you next year.
Cheers,
Michelle and Joe DeFazio and Jaimey
July 2017
Dear Linda,
Thanks for letting us rent your beautiful cottage!
We loved every minute of our stay. We look forward to our next visit.
Cheers,
Melissa, Rodger, Olivia, James and Scout
I love your cottage.
Love,
Olivia and James
July 2017
Another wonderful week at our favourite lake, Skeleton Lake.
Thank you for sharing this beautiful place with us!
Michael, Patricia, Emily, Nahuel, Nicole and Fonzie
June 2017
Thank you for sharing your little piece of heaven with us! We had a lovely two weeks here at the cottage.
Matt, Lisa and Cali
October 2016
Linda,Thank you for being such a wonderful host for us! The champagne and orange juicewere an amazing touch for mimosas on our first day. The artwork in your cottage isstunning and it's clear that Gallery on the Lake is your home-away from home.Thank you for allowing us to share your space. Star-gazing with clear night skies was afantastic treat and we were happy to get our sea legs on for some boating. We had alovely weekend here.Thank you very much,Chris McIntosh and Chris Picheca
September 2016
Thank you so much – what a beautiful place. Our second year spending the last daysof summer here and it is always perfect. Hope to do the same next!Sophie, Denis, Desa, Cala, Celia and Didi
September 2016
Linda,Thank you for your hospitality. Don and I (plus Starsky) had a wonderful time. Thisyear we saw a pair of moose, deer and wild turkeys. We enjoyed every minute of ourtime here. Health, happiness to you and your mom. We hope to be back for the sametime next year.Shelley and Don and Starsky
September 2016
We had a lovely week in this beautiful house. The leaves are just starting to turn andthe area looks even more amazing every day! The kids still went swimming and lovedwatching the fire, in and outside.Oma and Opa (the grandparents from Germany) enjoyed the stunning beauty from rightoutside the door. Great to have so many chairs everywhere.Thank you for the nice welcome, we hope to be back one day!Inga, Kris, Noah, Vira, Ingrid and Fridhelm
September 2016
Linda,Thank you for sharing your little piece of heaven. See you in 2017.Shelley and Don McPhail
August 2016
You have a beautiful spot. We enjoyed our stay!Thank you.Kevin, Wendy, Emily and Evan
August 2016
Thank you for allowing us to stay at your beautiful lakeside property! We had afabulous week and hope to return again next year.Thank you,DudleyMelissaMatthewGramma
August 2016
We had a blast in this super clean and spacious cottage! The water was warm and theweather was great. Fonzie had so much fun playing in the water. It was great to beback on Skeleton Lake. Thanks for housing us for an awesome vacation!!Glen, Diane, Michael, Patricia, Emily, Nicole and FonziePickering/Toronto
August 2016
Thanks Linda!We had a perfect week – lots of sunshine, playing in the water and sandcastleconstruction/destruction. Thanks for letting us come back this year and we hope to visitagain next summer!Susanne, Peter, Julia (8), Lily (16) and Chloe (2)TorontoP.S. We love the art and each have our favouriteP.P.S. The girls love the secret fairy bridge
August 2016
Dear Linda,Thank you! We enjoyed our week here and are looking forward to (hopefully) returningnext year. The champagne and OJ was a very nice surprise. Your artwork is stunningand the perfect touches to your beautiful cottage.Thank you again,The Harkers
July 2016
A truly wonderful place to stay and experience our first visit to Canada. Our tinydaughter adored the lake and it was a perfect place for her to play. Love the littlepersonal touches within the cottage. Very sad to leave!Kelly, Matthew and Safia (20 months)UK – but residing in the Middle East
June 2016
Exceeded our expectations! Katie & Stewart Doy
June 2016
We had a wonderful time making family memories and enjoying your cottage! Thanksfor a great stay and the welcome treat. Our girls enjoyed the beach and space to roam.What a great weekend away together!Thanks again,Katie, Stew, Chloe, Ava and O Max
March 2016
We had a great week here playing in the snow and going hiking.Thank you for sharing your space. We had an amazing week!Jen, Maia, Cat, and Gavin
October 2015
This is an amazing cottage. I especially liked the artwork.Danica Kelly, Donna Freeman, Sheima Benembarek
October 2015
Thank you for having such a cozy, beautiful and welcoming cottage! We had the mostwonderful time here. Thanksgiving at your cottage was even more memorable than wecould have every imagined. We will be back.Donna, Danica, Sheima, Lakshman, Mihir
September 2015
Linda,Thank you for letting us use your cottage. It was amazing!We especially loved the kayak as none of us had tried using one before 🙂The lake was beautiful as well!Cherie, Gage, Adele, Danny, Kimi
September 2015
Second year coming with our rescue lab Starsky. We all had a great time. Really greatplace to relax and enjoy the beach and surrounding area. Thank you and we will beback.Don, Shelley & StarskyBrooklin, Ontario
August 2015
To Linda and her beautiful awesome lovely great coot fantastic cottage.From JuliaThank you for letting us use your cottage. I love everything about it. Awesome,favourite cottage!Peter Schmidt, Susanne Williams, Julia Williams, Lily Williams, Chloe Williams
August 2015
What an amazing week!Lots of hot weather; perfect shallow, sandy beach for the kids; gorgeous gardens andlots of grass for the kids to play land for the baby the practice walking!); beautifulsunsets and everything else we needed for a fabulous vacation. Thank you so muchwe hope to come back!Peter, Susanne, Julia (7), Lily (5) and Chloe (13 months)Toronto
July 2015
Linda,Thank you for the use of your lovely cottage! Our family had a wonderful time!Warmest regards,Michelle, Joel, Jolie and Lexi
June 2015
Dear Linda,Thank you so much for allowing us to enjoy your lovely cottage this past week. Itbrought back so many wonderful memories – and allowed us to create new ones too.We leave this small gift of a guest book for you.All best wishes and thank you again.Sheldene Simola, Maria Hambira, Jari Munjanja
June 2015
We've had a lovely time splashing in the lake, visiting the Muskoka Heritage PlaceMuseum, Lions lookout, playgrounds and the Rosseau Market (playground there too!).It's a beautiful cottage.Cerys, Stuart & Isobelle (3 ¾)
June 2015
Lovely cottage, lovely time. Thank you!Sheldene S.
September 2014
Linda,Thank you for sharing your little piece of heaven with me, Don & Starsky. The cottagewas everything we had hoped for. We hope you final everything in good order. We didnot use the white coverlet therefore I left it on the bed. The used linens are in thelaundry basket. I left used towels etc. hanging up as they were still wet/damp.Thank you again. We hope to visit again next fall.Shelley, Don & Starsky
August 2014
Dear Linda,Thank you so very much for sharing your cottage with us. We've spent marvelous daysat Skeleton Lake.Now we have to say "Good bye" and some of us feel like they have to leave their home.We all would to return for our next holidays in Canada in 2016.Thanks, take care and Auf Wiedersehen.Matthias Schwarz, Susan Schwarz, Hugo & Theo
August 2014
Hi Linda,You have a fabulous cottage. Thanks for letting us enjoy it. Just to let you know, thestorm loosened the big rock (in staircase) at the beach.Also, you may want to replace your kettle -> there is black curd on the bottom.I look forward to coming back next year! Thanks.P.S. What is the brand of mattress in the Bunkie? It's awesome!Julie Hagan and Dylan Feddy
October 2013
Linda,Thank you!Brent Bittner and Liliana Rajkovi
August 2013
We really enjoyed the week!Thanks for making your cottage available.Kevin and Kristin Veltman
August 2013
You have thought of everything. Our family had a great time. Love the cottage andlandscaping!!ThanksThe Geiger-Gray Family
August 2013
Linda,Enjoyed your cottage very much!Thank you!Brian and Brenda Bourdeau
July 2013
Thank you Linda, had a great 2 weeks.Maybe next year again?Gary and Colleen
July 2013
Hi Linda,Thanks for the nice surprise you left for us. We had a nice week.There were no issues within the cottage other than the empty BBQ tank in the shed.(Nice BBQ, by the way!!)Thanks again,Darren, Catherine, Emma and Spencer
July 2013
Hi Linda,Thanks again for letting us stay at your cottage. You have a really nice place and wehad a wonderful time.One thing we want to note for you is that the propane tank ran out. The empty tank is inthe shed.If you are thinking of renting again next year, please let us know. We would definitelybe interested in coming again.Darren and Catherine Preete
June 2013
Thank you for everything. We had a fabulous time and everything was amazing. Thecottage, the lake and just all of it exceeded our expectations. Also, thank you for thechampagne and OJ and card. It was very much appreciated. We'll be back!Jocelyn, Kent, Kalysa and Nicole
June 2013
Enjoyed the cottage very much!Thank you.Kathy Jeffrey, Moe Gault, Judy Hockley, Joanne Melnyk
June 2013
Thank you Linda for sharing your cottage with us. We thoroughly enjoyed it!!Hope to be back next year!Carolyn, Darren, Steph, Adam, Caleb and Chloe
August 2012
Dear Linda,Thank you so much for allowing us to rent your cottage. It is a fantastic spot and youhave done a fabulous job with décor and it had everything we needed.We hope we left it in good shape. Please note there is quite a lot of garbage andrecycling. Given we were here for 6 days after pick up. It was unavoidable.We hope to rent it again next summer.Vicki MacCrimmon, Brradford Herd
July 2012
Excellent view! Special beach! We really enjoyed our vacation!Thanks!Melissa, Rodger, Olivia
July 2012
Thank you very much. Loved the cottage. Everyone had a lot of fun and manymemories.Deana and Robert
(No Date Provided)
Hello Linda!We had a wonderful and relaxing time here at your lovely cottage. I am sorry to begoing back to the grind.Everything was just perfect.My little dog scratched the patio door screen. When we let her out my daughter closedit over and forgot she was out there. I called home hardware in town. They said theycould fix for $40 or so. Sorry about this.We would enjoy the option to stay in the spring or fall again!Thanks so much.Caroliann and Peter and kids
View Favorites
Amenities
BBQ Grill
Satellite TV
Firepit
Kayak
Canoe
Wood Stove
WiFi Overage $25/GB
WiFi Max 2-3 GB/wk
Waterfront
3D Walkthrough
Summer: Sat-Sat only
MaxAdults
Pets Allowed
WiFi
Winter Rentals
Things to do
---
Distances
Distances shown are "as the crow flies".
Driving distances will be longer.
NOTE
that directions are approximate. Exact directions are provided upon booking