Home
Cottage Rentals
Dobson's Dam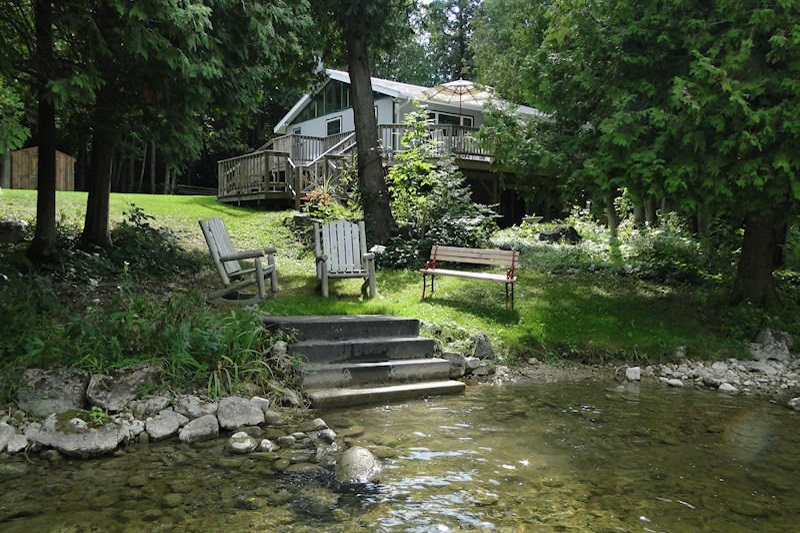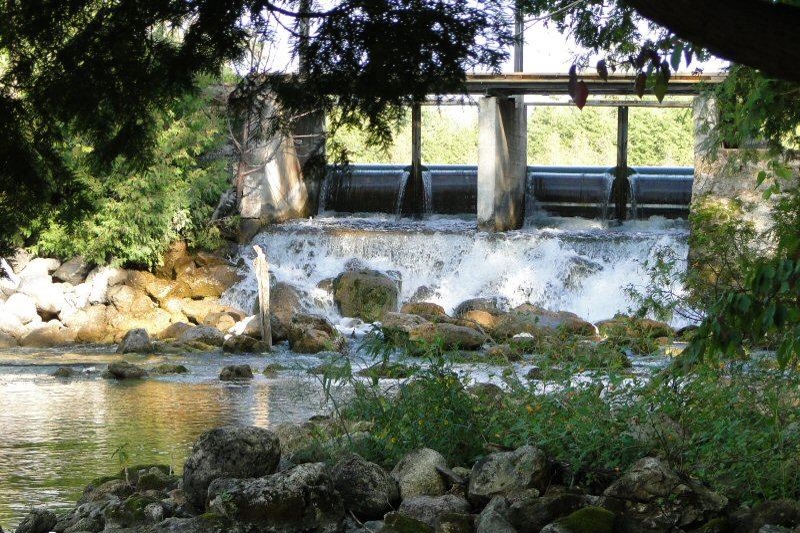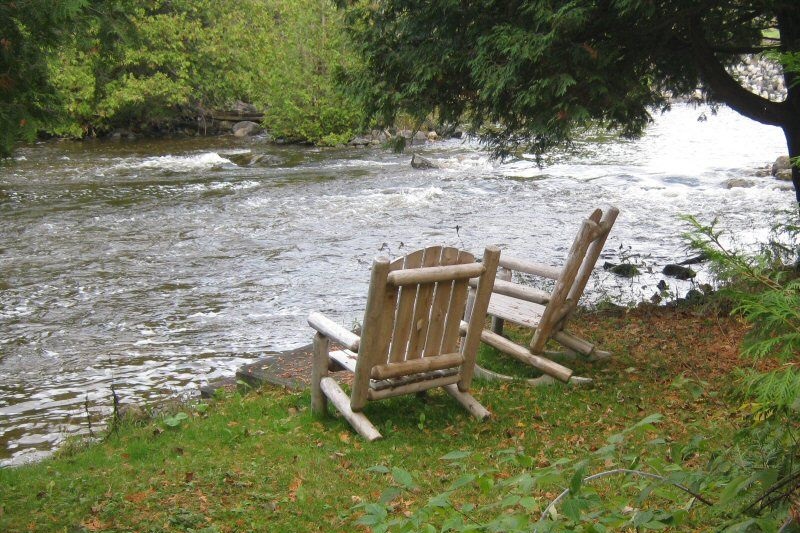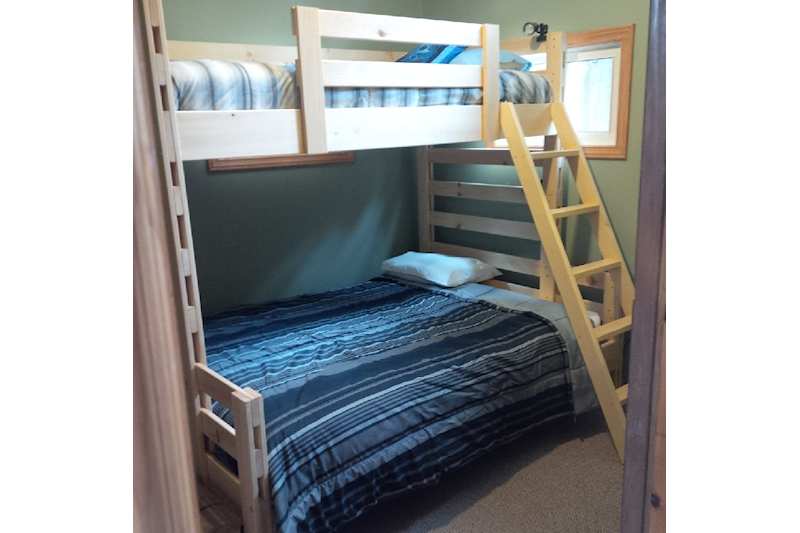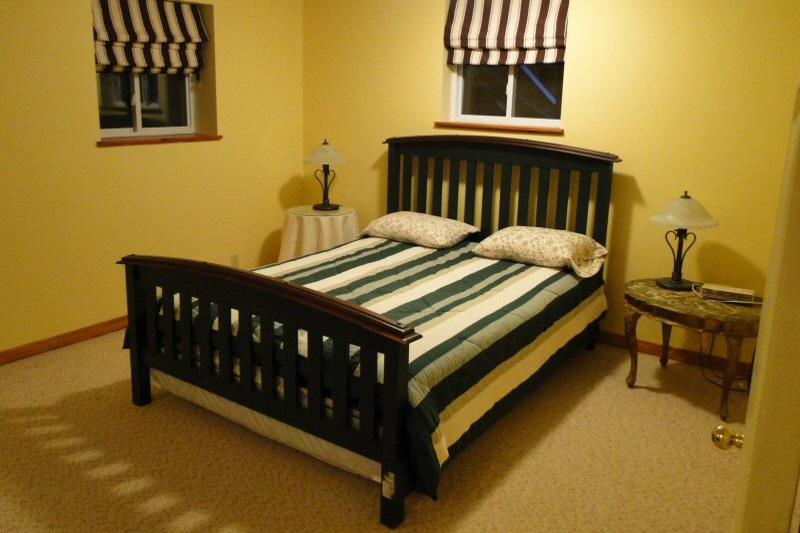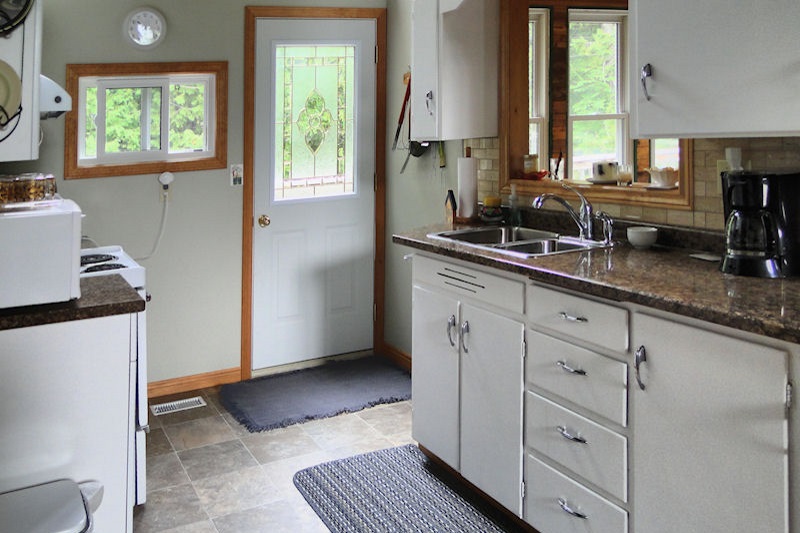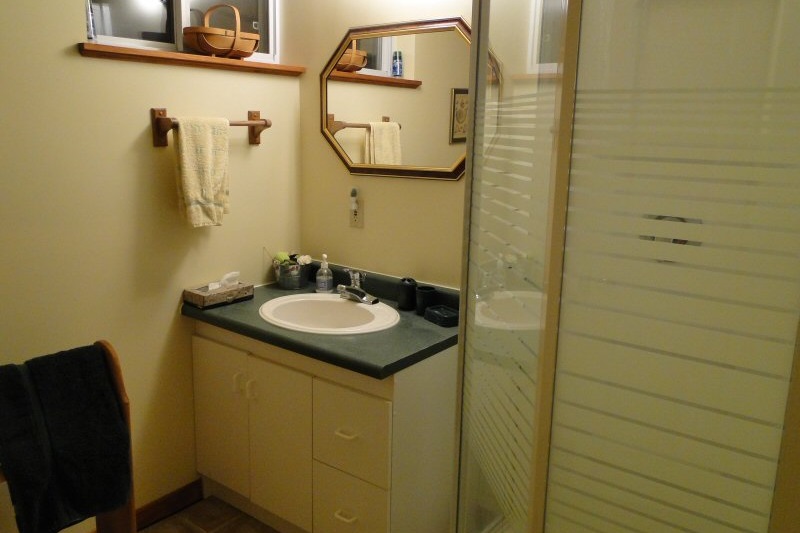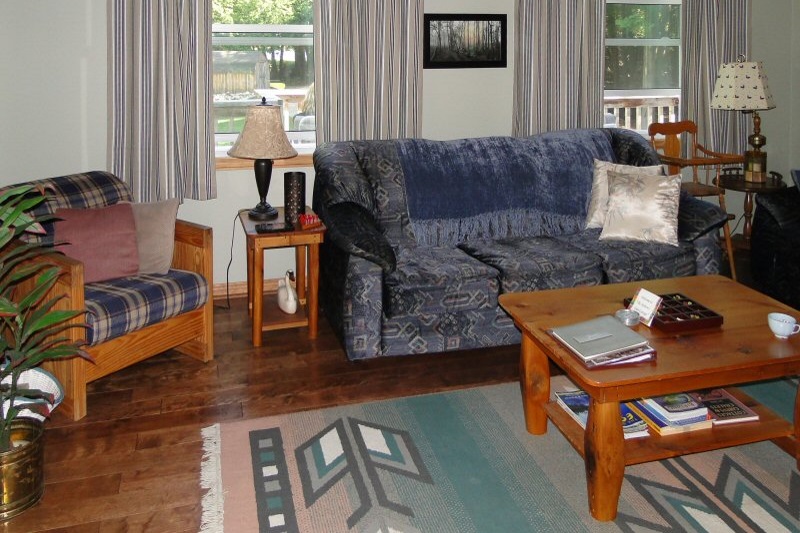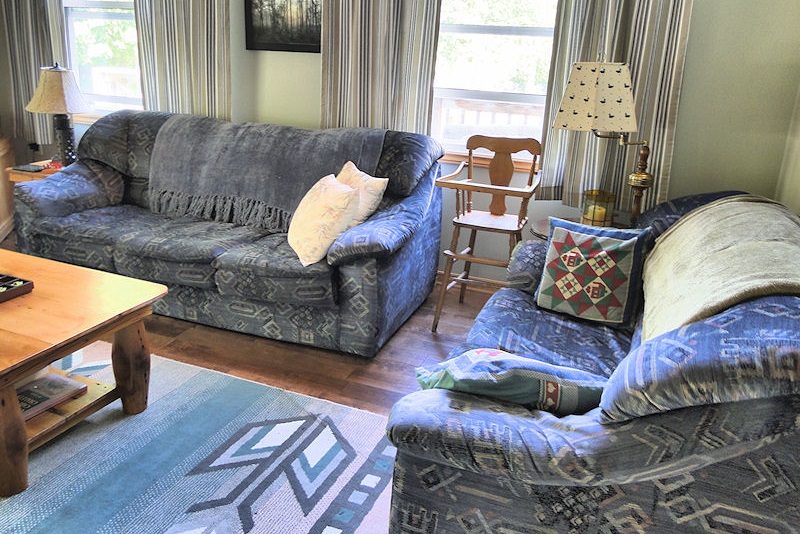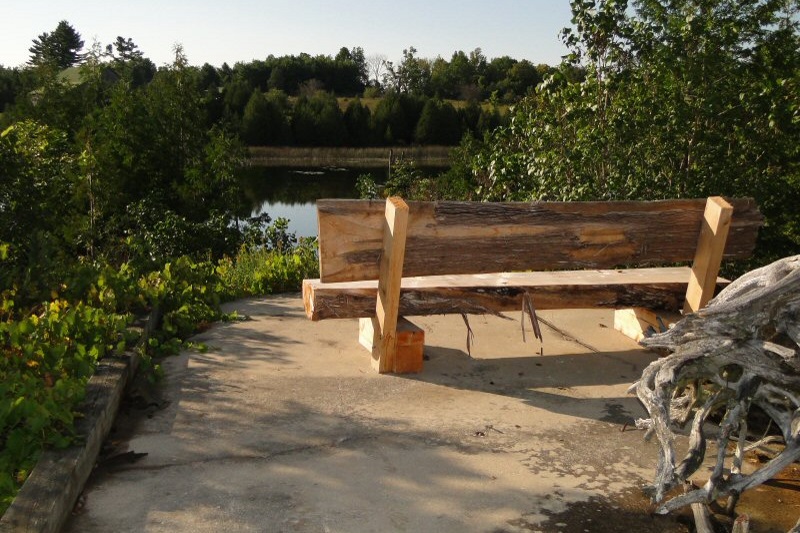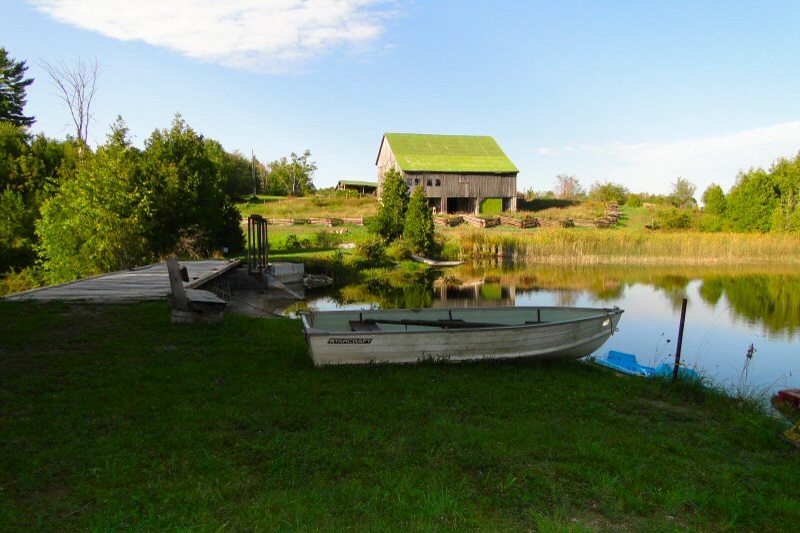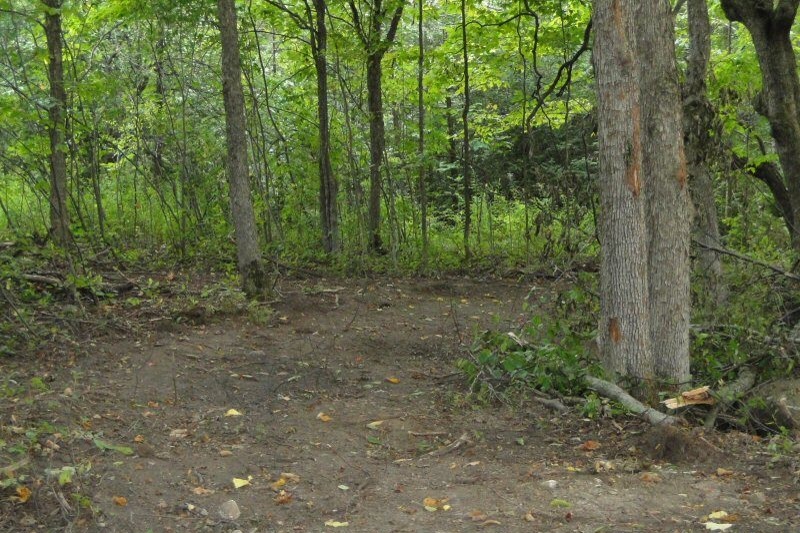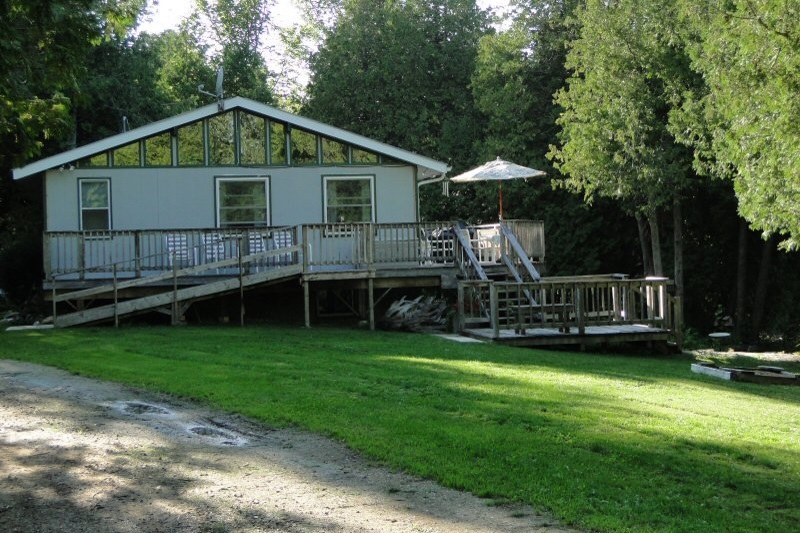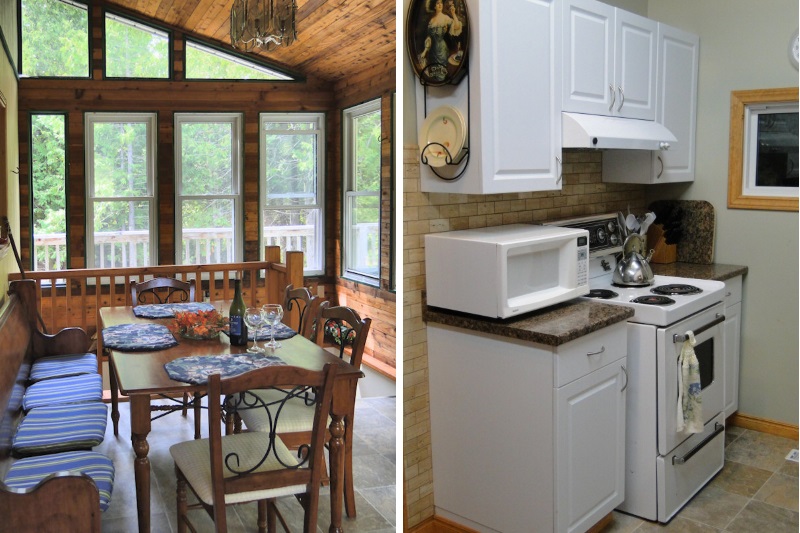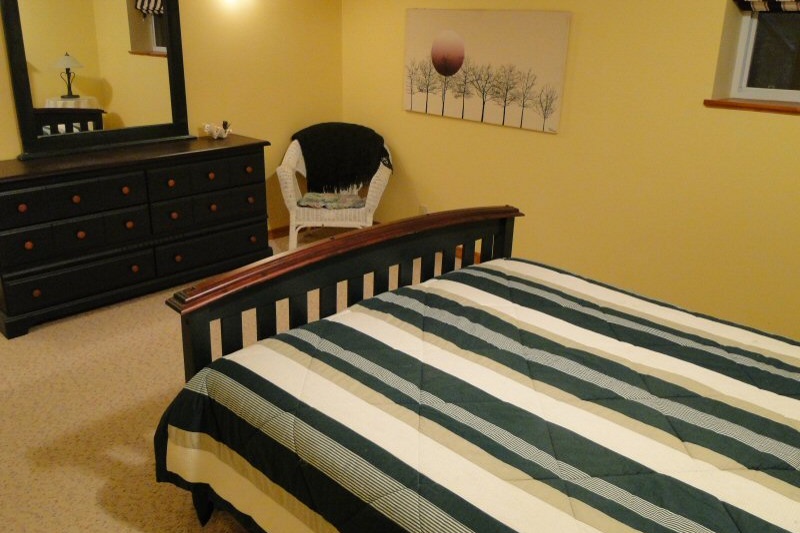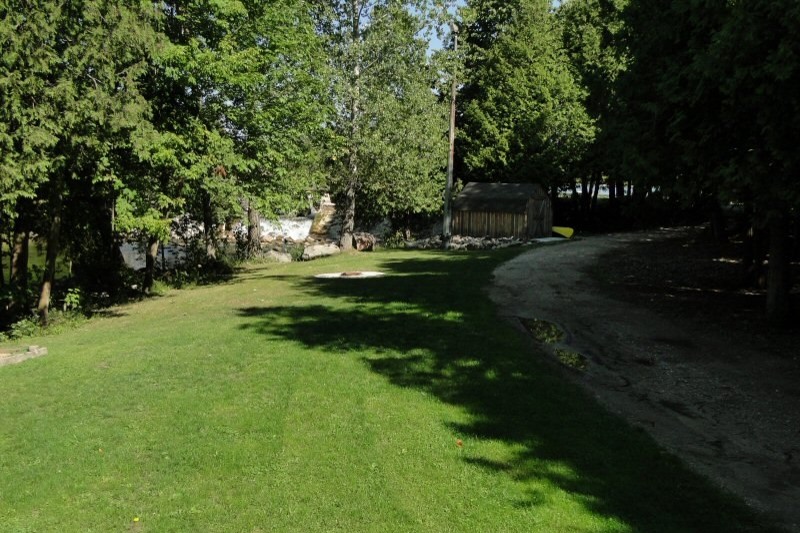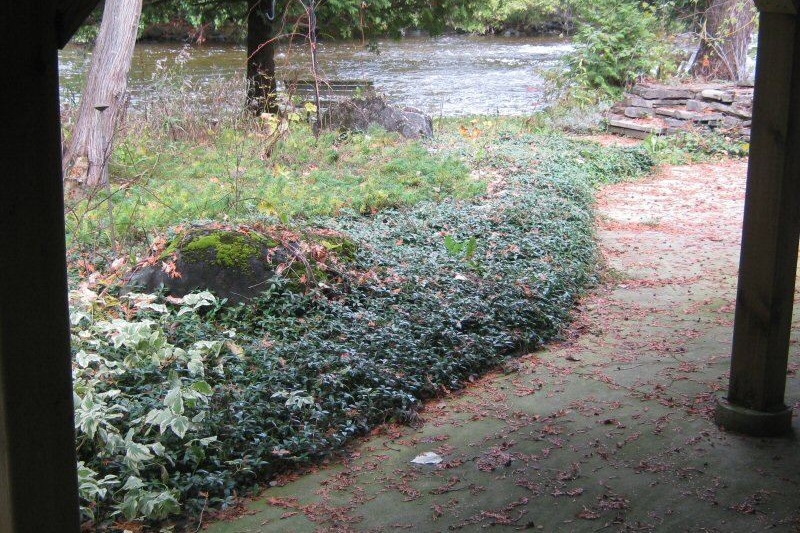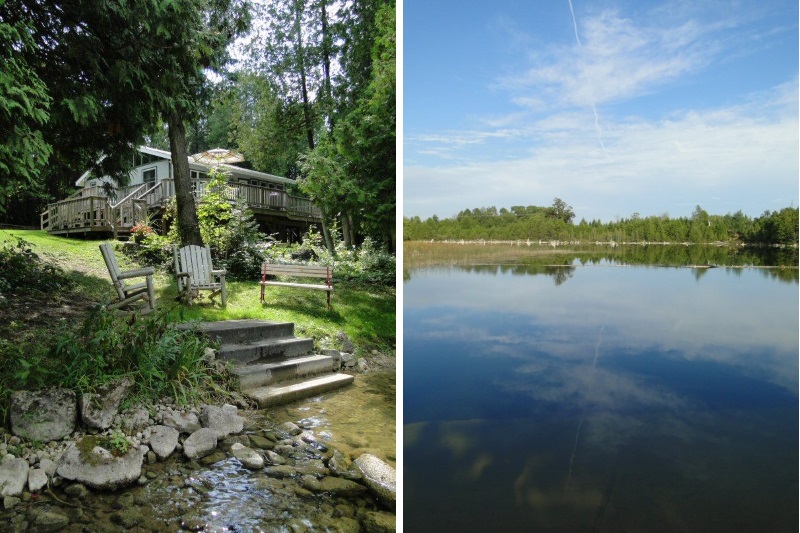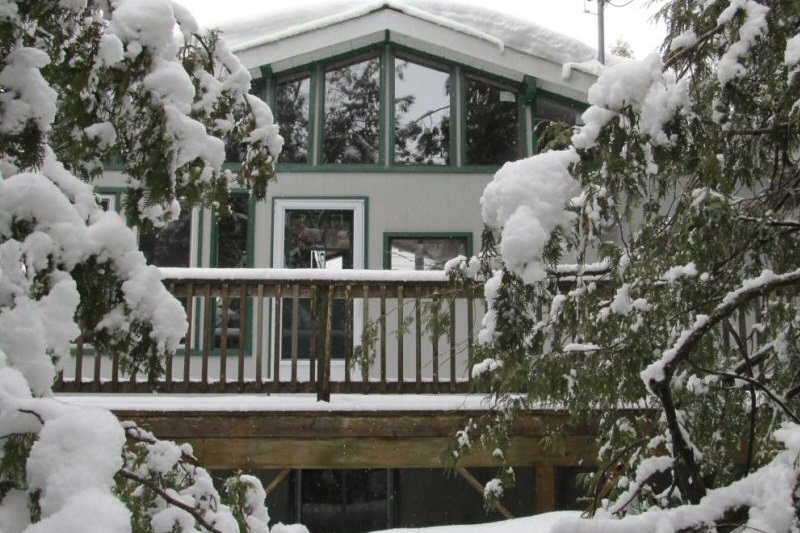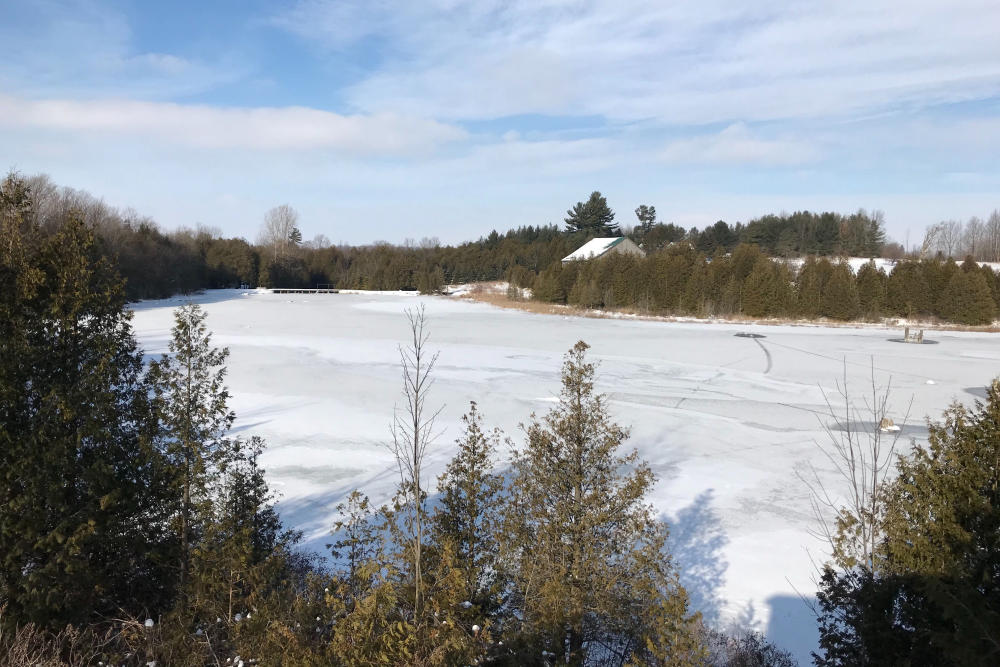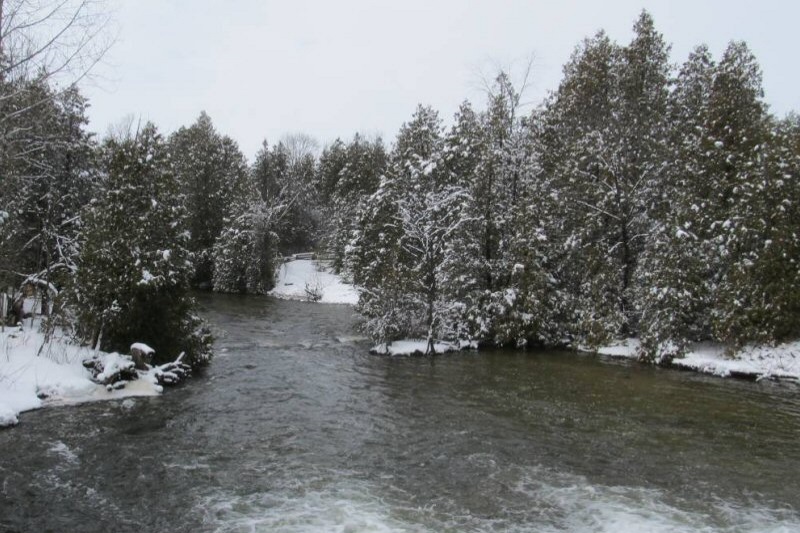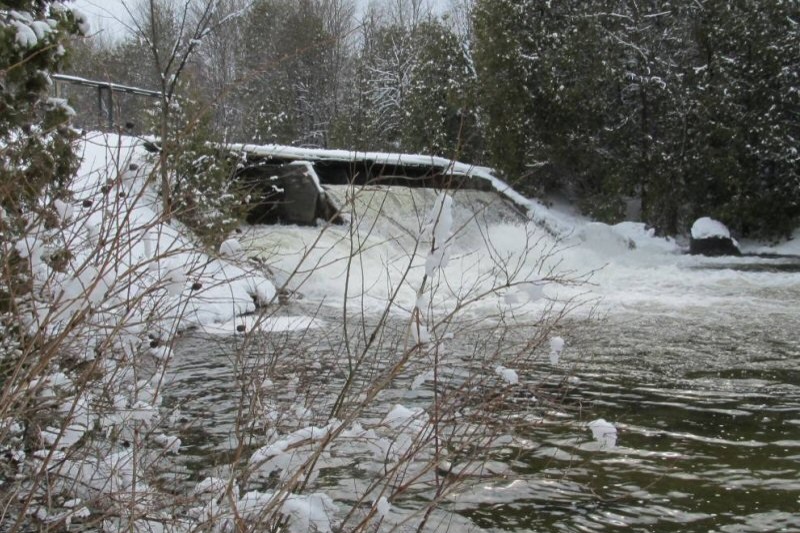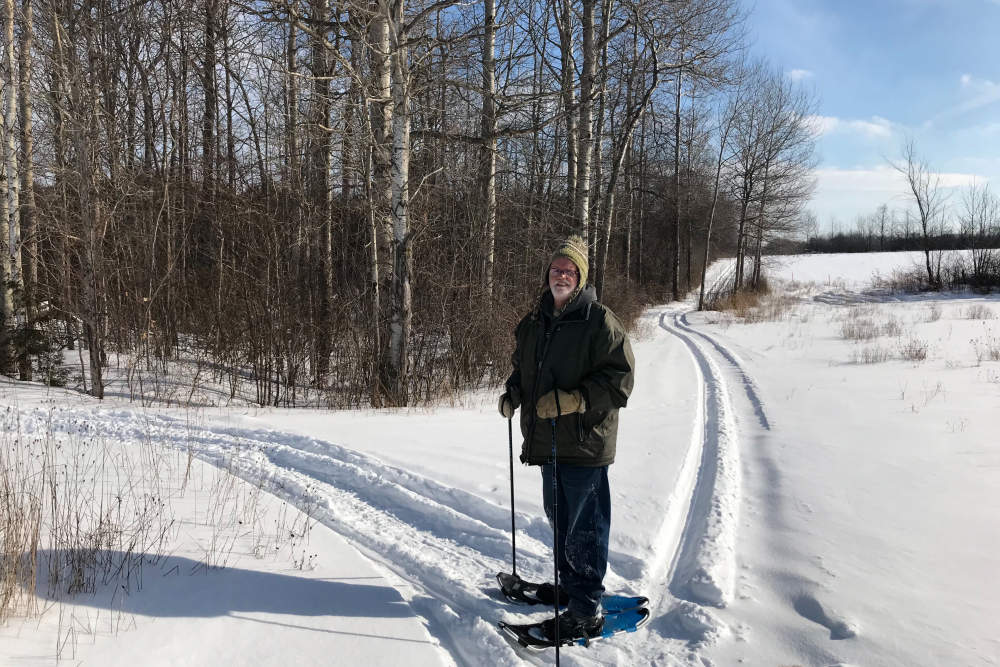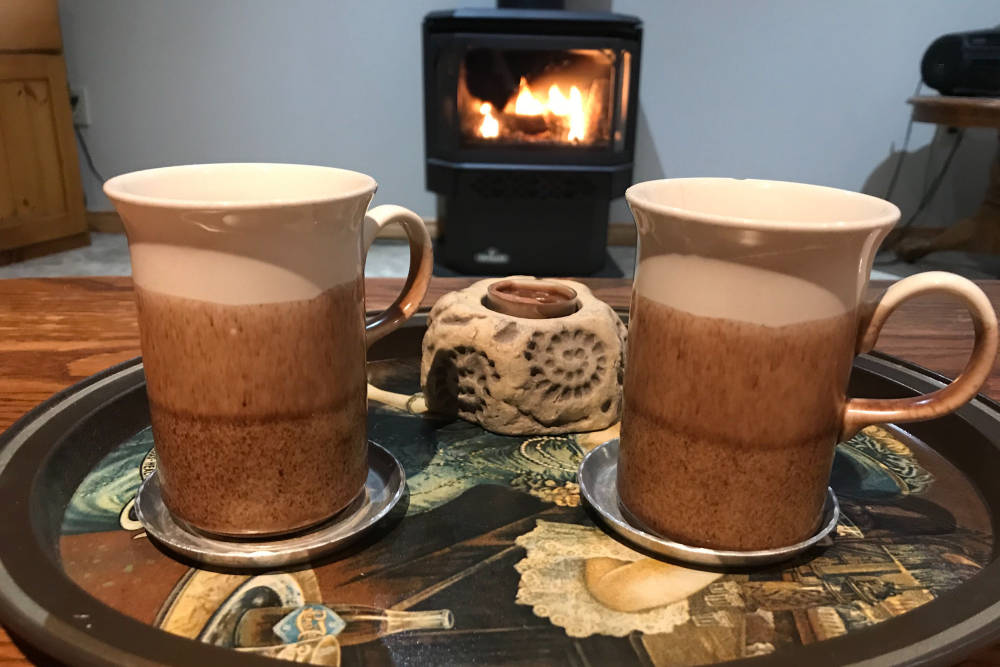 Bedrooms: 3
Bathrooms: 2
Area: Bruce Peninsula/Lake Huron
Town: Chesley
Sleeps: 6
Type: 4 Season
Water: North Saugeen River


About This Cottage
Dobson's Dam is a wonderful riverfront property that you will find just south of the Bruce Peninsula on the North Saugeen River. This location allows cottagers to take in a variety of area attractions as well as enjoying the peace and relaxation of the very large surrounding property.
True to its name, the cottage is situated next to a small dam, which provides a unique series of features. Above the dam, the river is slow and lazy, with water suitable for swimming and fishing. Avid canoeists can canoe the river above the dam - depending on water levels you may be able to canoe all the way to McCullough Lake - or other destinations for a more relaxed trip! Something possible with this cottage is the "lazy river" tubing experience...just port your inner tubes as far up river as you wish, then let the current gently guide you back to the cottage. If the water is high enough, you can also canoe below the dam. Naturalists will relish the opportunity to study turtles and waterfowl - we were delighted to see a loon swimming underwater alongside our canoe! As mentioned, the property is extensive, and you can walk for kilometres on you own private trails, seeing a variety of birds and wildlife. Make sure to take your camera with you. Of course, you will also want to spend some time relaxing at riverside enjoying the sounds of the waterfall.
The cottage itself is newly refurbished and very comfortable. The main floor houses 2 bedrooms as well as the kitchen, living and dining areas and a 4-piece bath. The living and dining areas both enjoy views of the river, with the dining room enjoying a corner window view across and downstream. The lower level houses a very nice bedroom with an adjacent 3-piece bath, as well as a seating/games/TV area. There is also a walkout to to a sheltered patio area under the upper deck.
Out and about, you will find that you are within convenient driving distance to a number of possibilities. Kimberley, with Talisman Resort, is about 60 km to the east, while the Lake Huron port towns of Southampton and Port Elgin are about 50 km to the west. For your basic shopping needs, the towns of Hanover and Paisley are both within a 20 km radius. Chesley is just 7 km away and has a gas station, grocery store, LCBO, hardware store and pharmacy.
Note - the owners of the cottage own another property down the laneway and will occasionally make use of the trails on the property to get to the river area above the dam. Access to the trails is away from the cottage however, and your privacy will always be respected. It is entirely possible to walk the kilometres of trails and canoe the river without seeing another human being for the entire week.
If you want something relaxing, fun, private and a short drive from the city, you will want to make Dobson's Dam your choice for a getwaway.
Unavailable

Selected

Available

Checkin only

Checkout only
Rate and Rental Information
Please note that bookings less than 7 days in advance are subject to confirmation of availability with owner
This property rents Sunday to Sunday in High Season
---

Rate Table
Please note that a $84.75 (including tax) booking fee applies to all bookings
Please note that a $7.91 per day (including tax) Accidental Damage Waiver applies to all bookings
High Season: June 26 - September 7, December 18 - January 3
Weekly (Sunday to Sunday)
$1,425.00
Low Season: September 8 - December 17, January 6 - June 25
Weekly
$850.00
Weekends/Short Stays (Minimum 2 Nights)
$500.00
Extra Nights (after 2) - $70.00
Note - after 7th night, pro-rated weekly price applies
Holiday Weekends (3 Nights)
New Years, Christmas
$750.00
Extra Nights (after 3) - $170.00
Note - after 7th night, pro-rated weekly price applies
Thanksgiving, Victoria Day, Easter, Family Day
$750.00
Extra Nights (after 3) - $70.00
Note - after 7th night, pro-rated weekly price applies
Inside the Cottage
Sleeps 6
3 bedrooms (1 queen, 1 double, 1 with double/twin bunk)
2 bathrooms - 3 piece and 4 piece
Fully equipped kitchen with stove, fridge, microwave
Satellite TV and DVD player; CD stereo
Outside the Cottage
Large deck off main floor, patio off lower level, patio furniture
Riverfront with dam/waterfall
BBQ (Propane)
Canoe, Paddleboat, Rowboat, 2 Inner Tubes
Fire Pit
4 km of scenic walking trails on the property
Things you need to know:
Dogs only are permitted, please no cats. Maximum of 2 dogs
Linens are provided. Please bring your own beach towels
A post-rental cleaning service is not available at this cottage; therefore it is to be left in an 'as found' condition
Waterfront is a northern exposure
Waterfront
The cottage is situated next to a small dam, Above the dam, the river is slow and lazy, with water suitable for swimming and fishing. Canoeists can canoe the river above the dam - depending on water levels you may be able to canoe all the way to McCullough Lake ! Something possible with this cottage is also the "lazy river" tubing experience
Trivia
The town of Chesley is known for the statue of a giant bull on the north end of town, which is affectionately known as "Big Bruce".
Reviews
February 2019
We rented this property form family day, 2019. Kitchen was well equipped for everything we needed. The surrounding river hike was fabulous. We would definitely go again.
Brian
October 2018
Our family loved staying at this cottage. It's great for people who love to go out on a pond in little boats or walk in peaceful woods. The cabin is great, very comfortable and well appointed (including the kitchen) and the heat works quite well also. Really the whole experience was perfect. We all slept very well because of the sound of the water rushing over the dam. I did go to the Chesley Grocery Store, it has everything you might need and there is also a hardware store and other necessities in town. I'd like to recommend also the Williamsford Mill nearby. The food and coffee are very good and there are many thousands of used books to browse.
September 2018
Great place to stay. Pictures do not do it justice. Perfect for family getaway's, or even a quiet weekend away from it all. The hosts are fantastic and make you feel right at home.
Eric
June 2018
Remote absolutely. Quite yes. Peaceful ooh yeah. Want to come again. Yesss!!! My family of 6 had an absolute perfect summer vacation. Canoes, kayaks, tubes are great for back yard adventurers. No doubt this is a great way to experience Canada in the purest of form.
October 2017
The cottage is right at the end of the lane, and sits on a huge piece of property. The North Saugeen river runs alongside the property, with a small dam about 50 metres from the cottage. The driveway extends up to the dam, so launching kayaks, canoes, etc on the "lake" side of the dam is easy, with easily accessible dock. There are quad trails all around the lake and farmland, making for easy walking trails. The cottage itself has spacious living areas up and down, and a well-equipped kitchen (well-equipped meaning lots of cutlery, cooking pots/pans/griddle, and even some helpful spices) There are two bedrooms up, one with a double, and the other with a double-bunk on the bottom, twin on the top. One 4-piece bathroom available upstairs. Downstairs is a spacious master bedroom with a nearby 3-piece bathroom as well. There is a family room downstairs too - so plenty of space for 4 to 6 guests. We had 4, and it worked really well. The mattresses are a bit firmer, so some of us were fine, some had hoped for softer ones - that's a matter of preference. There is a large deck on 3 sides of the cottage with a bbq available. The ever-present moisture means the deck can be slippery, as my wife found out, slipping and falling on the stairs to the driveway, so one has to be very careful with their footing. The stairs could use some TLC, as well as some of the decking. I may not be the lightest guy out there, but the stairs seemed to bend quite a bit with my weight This was a great getaway, with lots of privacy (no neighbours within sight, well-treed lot) plenty of amenities, and great access to the river for water activities. This was a thanksgiving getaway, so no wading in the river for us, but there is a nice staircase down to the water, to a small sheltered pool, which I bet would be great for cooling off on hot summer days. There is also a nice firepit that we enjoyed with some firewood provided. You don't need to bring any chairs for the deck or the firepit, there's plenty there for 6 guests. Thanks for the getaway - some good memories made.
George
View Favorites
Amenities
BBQ Grill
Satellite TV
Firepit
Pedal Boat
Canoe
Waterfront
3D Walkthrough
Summer: Sun-Sun only
MaxAdults
We've Stayed Here
Pets Allowed
Winter Rentals
Things to do
---
Distances
Distances shown are "as the crow flies".
Driving distances will be longer.
NOTE
that directions are approximate. Exact directions are provided upon booking