Home
Cottage Rentals
Osprey Cottage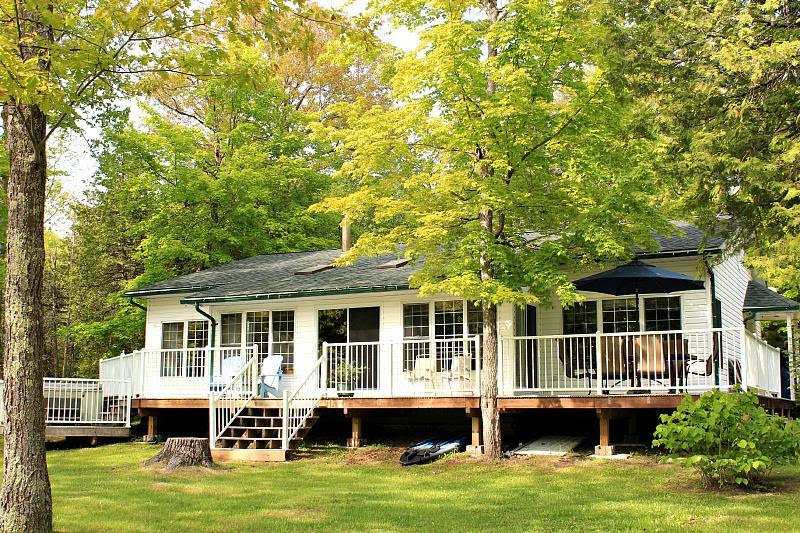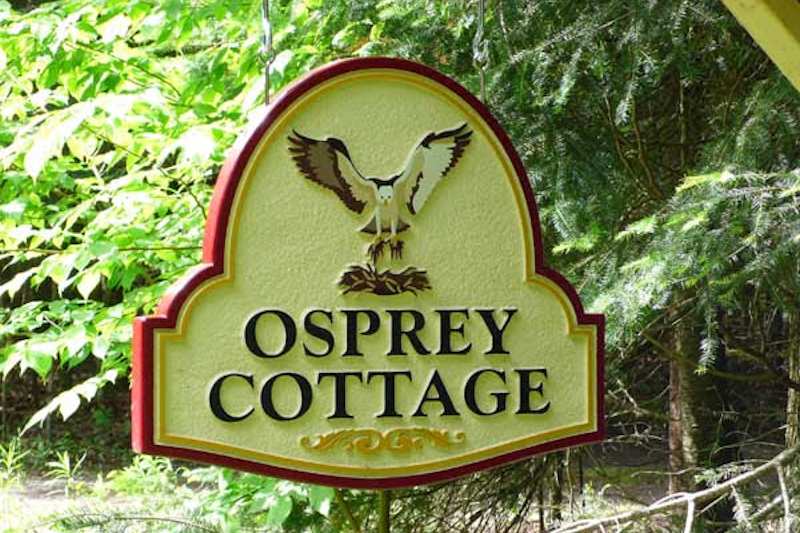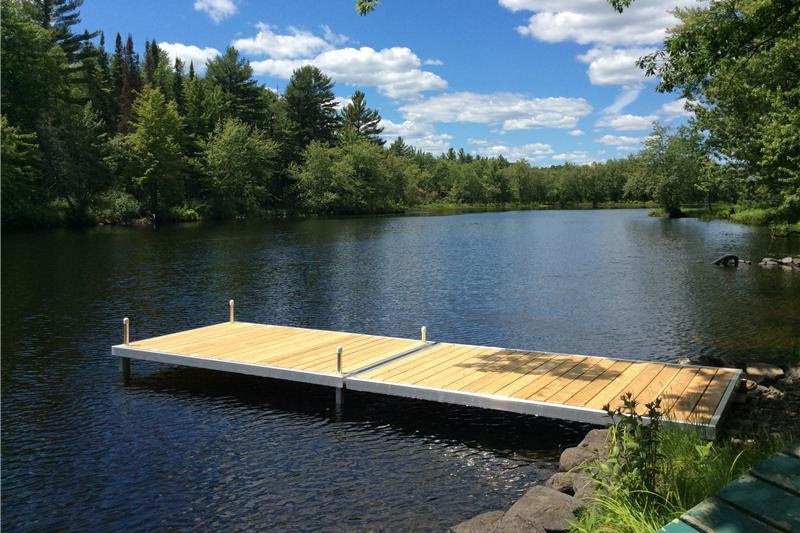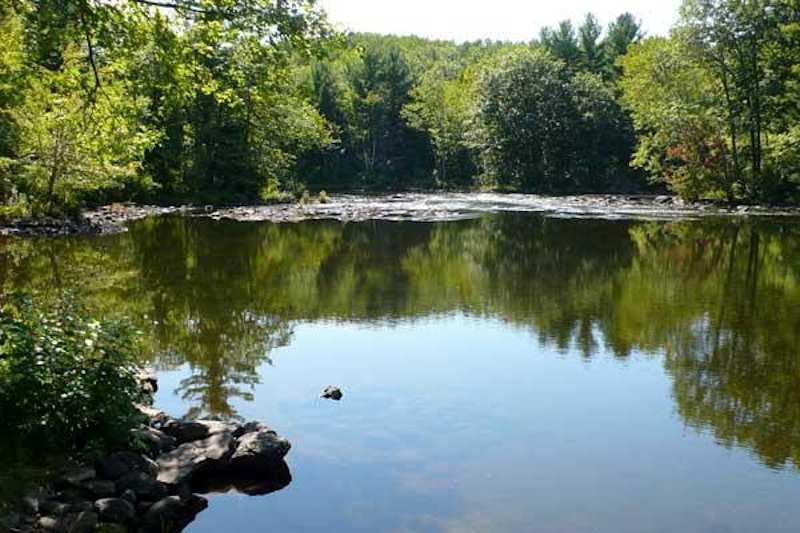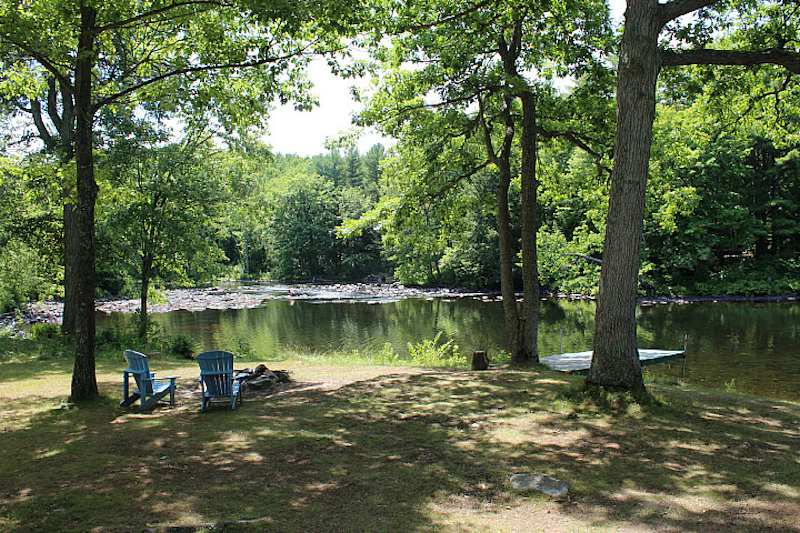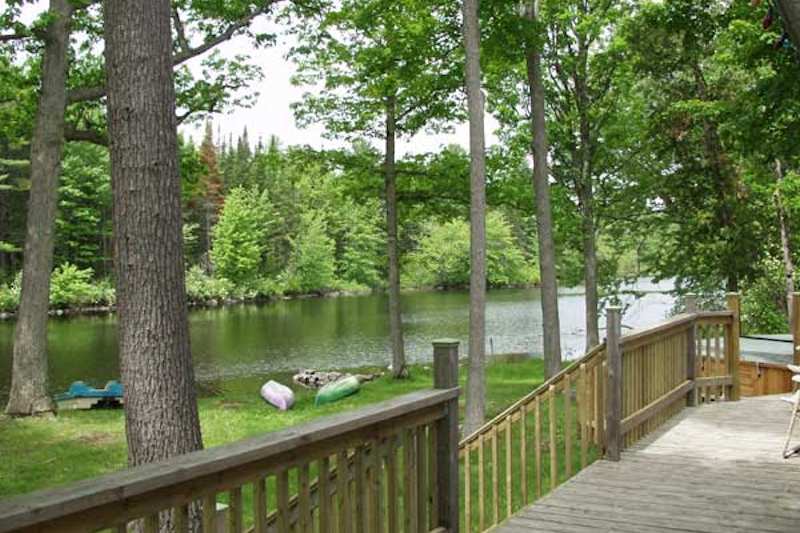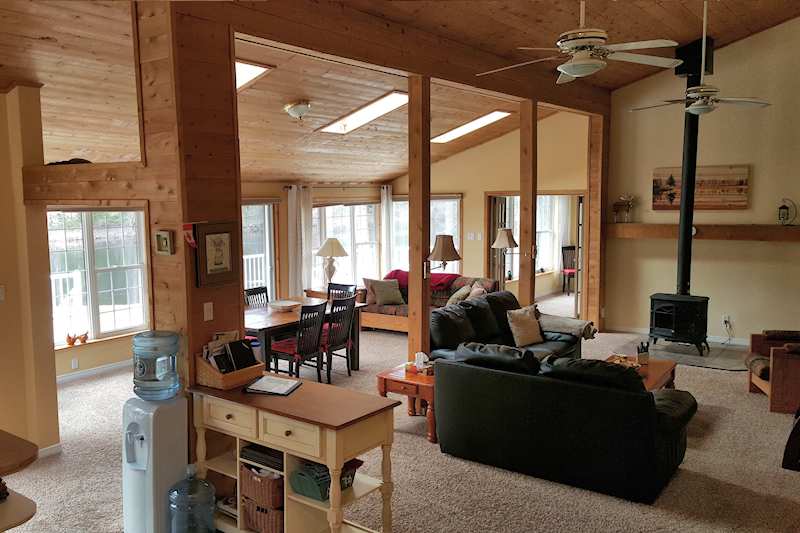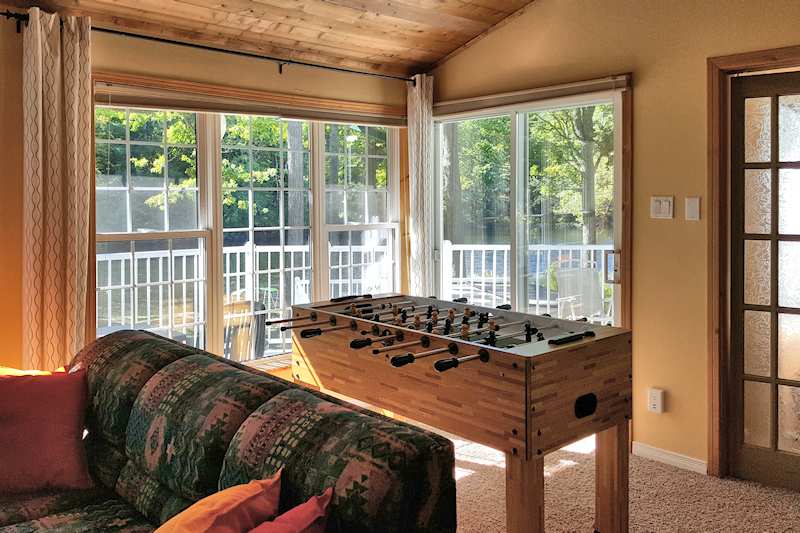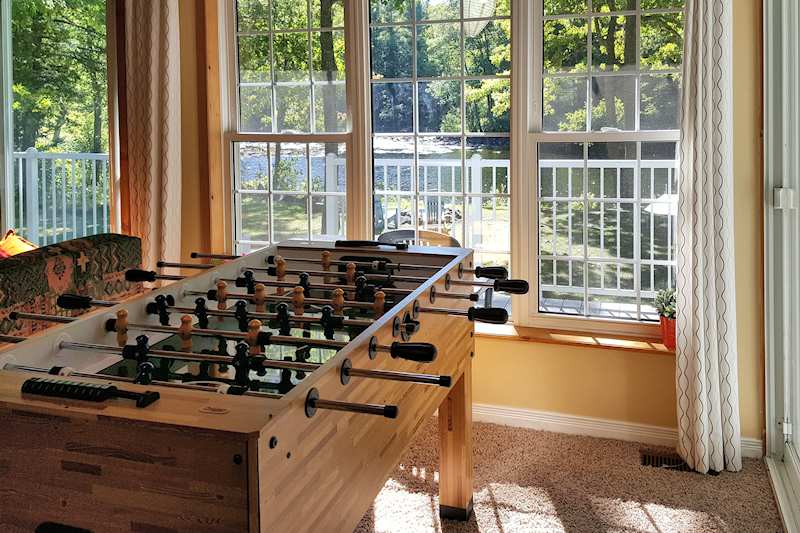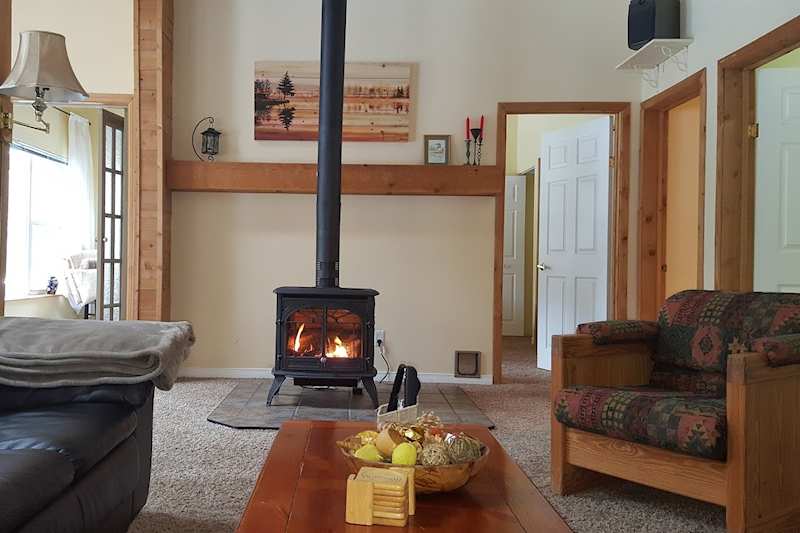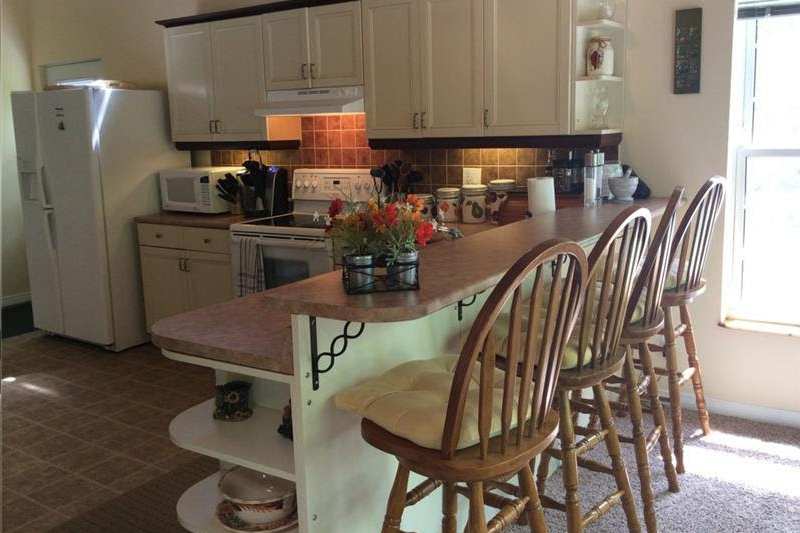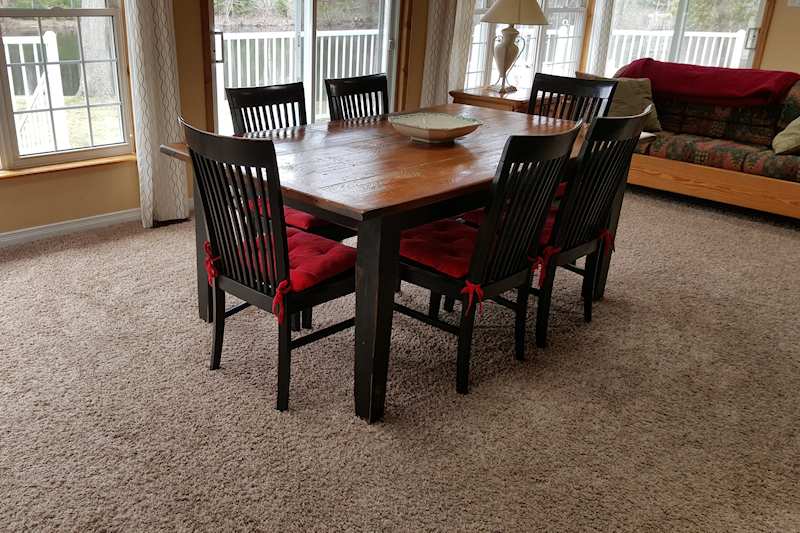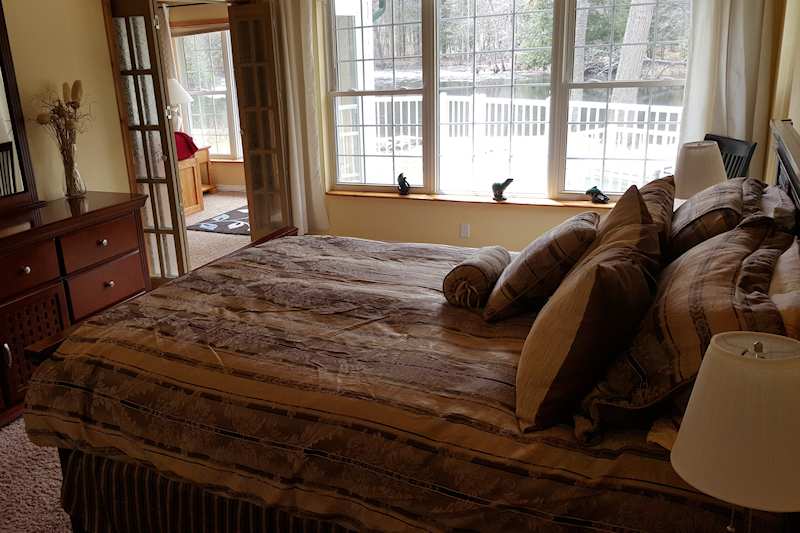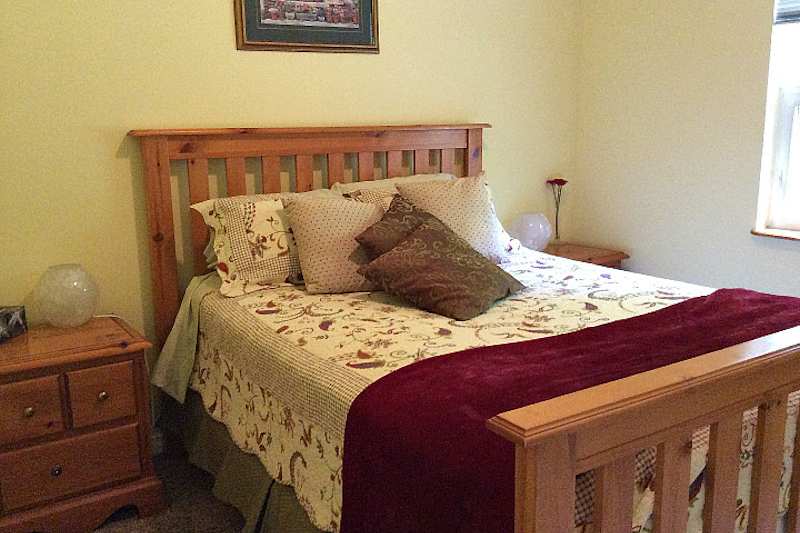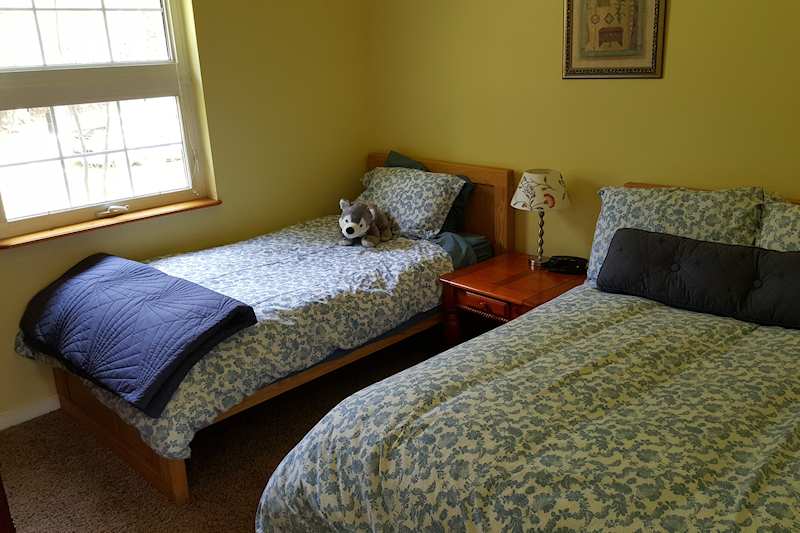 Bedrooms: 3
Bathrooms: 2.0
Area: Kawartha
Town: Havelock
Sleeps: 7
Type: 4 Season
Water: Crowe River
About This Cottage
Fully loaded is the way to describe this super 4-season, pet-friendly cottage rental with a hot tub in the beautiful Kawartha region. We fell in love with this delighful cottage on the beautiful Crowe River. Great fishing, swimming, privacy, and very comfortable accommodation.
Osprey Cottage is in one of our favourite riverside locations on the gently flowing Crowe River, at the eastern edge of the Kawartha region. With a shallow beach area gently sloping out to deeper water for swimming; a south-westerly aspect for sunning and sunset viewing and great fishing right from the shore, this very attractive cottage will suit all the family. The 6-person hot tub is a great attraction for fall and winter.
This is a location for a peaceful vacation – the only access to Crowe Lake is by canoe or kayak so you won't have the incessant buzz of seadoos to spoil the tranquillity. Just sit and watch the osprey diving for fish, enjoy the otters as they cavort in the water, and perhaps get a glimpse of the elk or deer recently seen in the woodland around the cottage.
The exterior of the cottage is lawned, with surrounding woodland, so there is plenty of room for the kids to enjoy being outside when they're not in the water. There is plenty of patio and garden furniture on the deck and the firepit at the water's edge will be the venue for many evenings of marshmallow roasts and fireside conversation.
The owners of this great cottage have furnished with their guests' comfort in mind. All beds are new with top quality mattresses; the kitchen is fully equipped and the living areas have comfortable sofas and chairs. The deck houses a 6-person cedar hot tub with 36 jets and a waterfall feature.
The open-plan kitchen, dining and living areas have cathedral ceilings and skylights and windows all the way across the riverside aspect makes this space very light and airy. The large master bedroom occupies one end of the cottage, and has great views over the river, as well as an ensuite bathroom. Two more bedrooms and another full bathroom are accessed off the living area. The kitchen is well equipped and has a breakfast bar with swivel stools.
A separate pantry area has another double sink unit and washer/dryer.
There's lots to see and do in this lovely area. Provincial Parks, plenty of hiking trails, and pretty riverside towns and villages, will keep the country explorers happy, whilst the kayaks, pedalboat, canoe and fishing equipment may just keep you at the cottage. Whatever your particular country activity there is something for you here.
Unavailable

Selected

Available

Checkin only

Checkout only
Rate and Rental Information
Please note that bookings less than 7 days in advance are subject to confirmation of availability with owner
Saturday to Saturday rentals in High Season and Friday to Friday rentals in Low Season
---

Rate Table


Please note that a $62.15 (including tax) booking fee applies to all bookings

High Season: June 23 - September 4, December 22 - January 7
Weekly (Saturday to Saturday)
$1,975.00
Low Season: September 5 - December 21, January 9 - June 23
Weekly
$1,350.00
Weekends/Short Stays (Minimum 2 Nights)
$750.00
Extra Nights (after 2) - $120.00
Note - after 7th night, pro-rated weekly price applies
Holiday Weekends (3 Nights)
New Years, Christmas
$1,075.00
Extra Nights (after 3) - $225.00
Note - after 7th night, pro-rated weekly price applies
Thanksgiving, Victoria Day, Easter, Family Day
$1,075.00
Extra Nights (after 3) - $120.00
Note - after 7th night, pro-rated weekly price applies
Inside the Cottage
3 bedrooms ( 1 queen, 1 queen, 1 double + twin)
2 bathrooms (3-piece ensuite with shower; 4-piece with bath & shower over)
Large, fully-equipped kitchen with stove, fridge, microwave, dishwasher, Keurig coffee machine, slow cooker, pancake and Belgian waffle griddles
Breakfast bar with four bar stools
Dining table with seating for 8
Living area with wood stove (propane log effect) & pullout couch
Satellite TV (Shaw), DVD, VCR, CD stereo system
High speed satellite wireless internet
Foosball/Soccer table
Washer & dryer
Water cooler
Large selection of books, DVDs, board games, CDs and video games
Outside the Cottage
Large deck accessed from four areas
Outdoor hot tub (36 jets, waterfall feature)
Shallow entry beach area
BBQ (connected to cottage propane line)
Fire pit
Dock
Large grassy area on level lot
Patio furniture, Muskoka chairs, lounging chairs
Pedal boat, 2 kayaks, 3-person canoe, stand-up paddle board and life jackets (3A/3C)
Fishing equipment
Automatic-start generator in case of Hydro outages
Things you need to know:
Sleeps 7 (Maximum 6 Adults)
For low season weekends, midweek and holiday weekend rentals the maximum occupancy is limited to 6 persons
Waterfront is a southwestern exposure
Linens and indoor towels provided for all reservations - please bring your own beach towels
A post-departure cleaning service is included for all rentals; however, the cottage is expected to be left in a tidy condition.
Pets are welcome at this property
Water cooler and one jug of water is supplied - refills available at nearby Cordova Mines General Store
Cottage road is plowed but not sanded in winter - good winter tires or 4WD required
Waterfront
This property has a beautiful level grassy lot that leads right to the waterfront, which has gravelly sand and is shallow, deepening to about 7ft in the middle of the river. The clarity of the water is excellent and there are no weeds. It is great for swimming. There are larger rocks further out into the water so water shoes are recommended.
Trivia
Havelock is home to the annual Havelock Jamboree held in mid-August, claimed to be Canada's largest outdoor country music festival. Attracting thousands of visitors, the Jamboree features some of country music's top names.
Winter Notes
Cottage road is plowed but not sanded in winter - good winter tires or 4WD required
Reviews
August 2016Julian and Elena,Thank for another great week at Osprey Cottage. The weather was great and we spenta lot of time by the water.We enjoyed watching the beavers playing out front.Until next time!AP and friends June 2016Dear Julian and Elena,Thank you so much for sharing your little piece of paradise with us. There is not enoughroom here to write about all the things we enjoyed. We were amazed at the diversity ofwildlife here. We saw deer, fox otter, beaver, heron, osprey and HUGE turtles. Oneturtle was busy digging holes in your parking area. We filled them back in as best wecould. We enjoyed kayaking and boarding. My mother-in-law caught a huge, largemouthbass. You certainly have a lovely place and have set-up with all the comforts one couldask for. Thank you for your gifts of pancake, syrup and jam. We ate it all up. Shadoeloved the dog treats.Kindest regards and respectfully,R and G December 2016Happy 2017!!!Thank you for another great New Year Celebration!Amazing place, wonderful people, loving family – all you need to be happy!Thanks for making it a home away from home. Love it!Z and family and friends July 2016What a great week! Our crew really enjoyed your beautiful cottage. We had anamazing time using the paddle boat and canoe. The weather couldn't have been anybetter. We all enjoyed a relaxing bonfire and the wonderful hot tub. Highlights includewatching National Lampoon's Vacation movie (Thank You!). Wat out for the family ofraccoons living next door. The babies are super cut!Sincerely,The Crew from Windsor July 2016Dear Julian and Elena,We had a splendid two weeks of paradise at Osprey Cottage. Thank you so much forcontinuing in the great tradition of Phil and Heather Bayer. We enjoyed thehummingbirds, the minks, the flock of Canada geese that came up on shore to feed.The herons stalked the frogs and we saw a family of merganser ducks go down river.Monty and Zeke loved laying on the deck in the sun and Monty had a great time playingball in the water. The weather was astounding!Many thanks for sharing this special place. We have made exquisite memories.H, T, T and AM and Z July 2016Lots of favourites BUT each evening 9-10pm, a pair of Gray Owls would perch on therailing or the tree stump out front. Definitely my fav part 🙂B (and perfect weather for all else)P.S. The owls chatter to each other across the forest November 2015Girls weekend.Wonderful weather had a blast. Thursday and Friday temps of 18-20 degrees. We hada fire, sang a lot of songs. Sat in the wonderful hot tub. This cottage is probably one ofthe nicest cottages I have ever been at. Very homey, turn key set up. The view fromthe deck just breath taking. We've decided 3 nights was just not enough time. Willdefinitely be looking into a return, this time perhaps with husbands and kids.Thank you for having us.J, P, L, M, …, and GXO Good thing all the neighbours were not up. We were probably a little loud with thelaughter and singing! November 2016Beautiful place! So peaceful. Has everything we could have wanted. Had such a greattime. Very memorable for sure! Thank you.DBurlington, Ontario November 2016What a great place to have a "Girls Weekend" where we could relax, play games andhave everything at our fingertips! I'm taking with me, great memories of friendship anda beautiful spot!Darlene, OakvilleDitto to the comments from the girls. A beautiful refuge with all the amenities and more!N, BurlingtonK, Ottawa October 2016A wonderful family getaway with many adventures and … thankful for!We enjoyed wild raspberries, wild apples, …, the paddle board and most of all theamazing setting.Thank you for sharing such an inviting getaway home.N, M, S(4) and J(8) December 2016What a magical weekend with our family and doggies. After many canoe rides, wecame to the very clear conclusion that Osprey Cottage is the prettiest and mostwelcoming on the river!! Thank you for sharing your place for our memories!!T and C October 2015Another wonderful, relaxing Thanksgiving here in a natural paradise.We had our first full family canoe and explored new horizons ?Thanksgiving blessings in abundance!Thank youN, M, J(7), S(3) and R the dog(10) October 2016We have been returning guests to the Osprey since 2009. This would be our 5th visit:). We noticed a few changes since Phil and Heather have passed the torch and allwere positive. This weekend was simply a couples getaway…We left the kids at home:). The fall is most def the best time to visit and we will be back in 2017.Our time here was more needed than you know and we took full advantage and enjoyedevery minute. The heron spent every day filling his belly at the rapids…a beautiful siteand great pics!Thank you and see you soon!!M and C October 2016Thank you so much for an amazing experience in your rental cottage. Our family had awonderful time and the cottage was so much like home that the poor weather didn'tdampen our trip. All the amenities of home and then some.We will be back.Thanks again.C, J, C, D and Family October 2016Thanks for providing so many amenities with the cottage. It made the experience evenbetter. This is our 2nd time here and I know we will be back!Thanks again.J, G, L, B, G and J September 2016Thank you so much for making this beautiful cottage available – it truly is a piece ofparadise.We are grateful to be able to share our vacation with our dogs – thank you forcontinuing to offer a pet-friendly alternative.K and C, D, M and P September 2016A wonderful, relaxing weekend spent with friends in a beautiful, serene setting. All ofour needs were met throughout the weekend and we greatly appreciate your hospitalityshown to all of us. Hope to be returning guests.S and C, T and N, E and P
View Favorites
Amenities
BBQ Grill
Beach Access
Satellite TV
Fireplace, Wood/Gas
Dishwasher
Hot Tub
Dock
Pedal Boat
Canoe
Waterfront
WiFi Max 25 GB/wk
Summer: Sat-Sat only
Pets Allowed
WiFi
Winter Rentals
Things to do
---
Distances
Distances shown are "as the crow flies".
Driving distances will be longer.
NOTE
that directions are approximate. Exact directions are provided upon booking